In the words of John McClane himself, "Great game, right?"
Super Bowl XLVIII was one of the most one-sided in history, with the 35-point margin of victory tied for the third largest ever, per ESPN Stats and Info:
The Seahawks' 35-point victory is tied for the 3rd-largest margin of victory in a Super Bowl.

— ESPN Stats & Info (@ESPNStatsInfo) February 3, 2014
On one hand, the Seattle Seahawks' systematic demolition of the Denver Broncos was a thing of beauty. Their defense was too quick for the Broncos offensive line, and their secondary laid the wood to the Denver receivers when they weren't blanketing them and preventing the chance of a completion.
Peyton Manning was a major disappointment, going 34-of-49 for 280 yards, a touchdown and two interceptions.
As ESPN's Skip Bayless pointed out, Manning's legacy suffered in a big way on Sunday night:
Peyton's postseason legacy has taken a huge hit as his playoff record falls to 11-12 and SuperBowl record to 1-2.

— Skip Bayless (@RealSkipBayless) February 3, 2014
This loss was also the 12th of his career in the postseason, which is the most all time among QBs, per ESPN's Numbers Never Lie:
Peyton Manning now has the most career playoff losses for a QB (12).

— Numbers Never Lie (@ESPN_Numbers) February 3, 2014
On the other side, Russell Wilson was the game managing-est game manager to have ever game-managed, throwing for 206 yards and two touchdowns on 18-of-25 passing.
Marshawn Lynch carried the ball just 15 times for 39 yards and a touchdown, such was Seattle's dominance in this game.
There's little doubt that these four plays swung Super Bowl XLVIII the most.
The Safety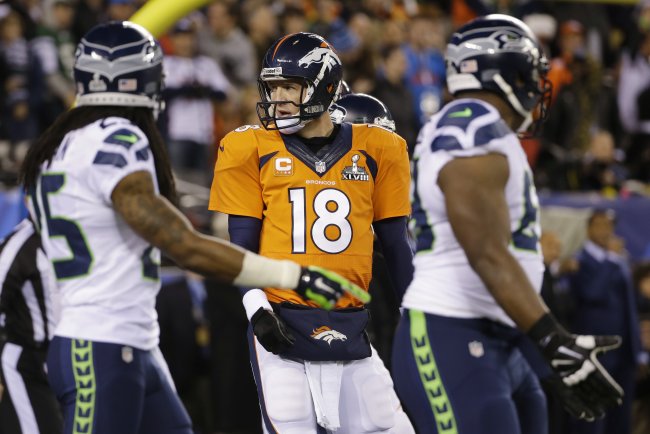 Matt Slocum/Associated Press
When this was the very first play from scrimmage, you should've known it was going to be one of those games.
How often are you going see the Super Bowl start with a safety?
Sure, it was only worth two points, but this was merely the first sign of what would be an action green wave. Everything went the Seahawks' way on Sunday night. Yes, they played great, but even they can't claim too much credit for this safety.
On a side note, it will be interesting to see if anybody tries to blame that on Manning. You know, like he could've used his "Go-Go Gadget" arms or something to catch that terrible snap.
Tom Brady—a true winner—would've done that.
After the game, center Manny Ramirez took responsibility for the play, per USA Today's Lindsay H. Jones.
"We were trying to go on cadence, and we weren't able to. I thought I heard him, and I snapped the ball," he said. "I was shocked. You never expect anything like that to happen. Of course I'll take full blame for that."
The Pick-Six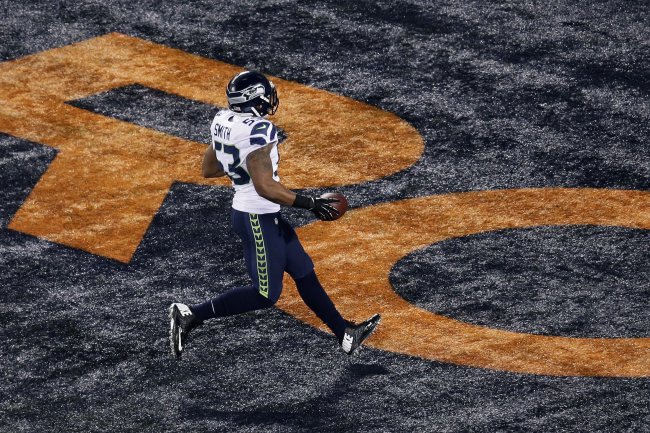 Win McNamee/Getty Images
It's games like these that you sometimes feel Manning deserves all the crap he gets for underperforming in the big game.
In a way, it's fitting that he broke the Super Bowl record for completions. He had some nice stats, but they couldn't overcome his numerous mistakes, particularly this pick-six by Malcolm Smith.
Manning was hit on the throw, but it's a throw he shouldn't have made. He was under intense pressure, and he should have had the awareness to tuck the ball and live to play another down. Instead, the regular-season MVP tried to make something out of nothing, and it cost his team seven points.
Turning this into a three-score game was huge for the Seahawks. For a while, you wondered if they were settling for too many field goals and if the Broncos could put together the scoring drive that would get them right back into the game.
Then Smith went and ripped the momentum right back.
The Return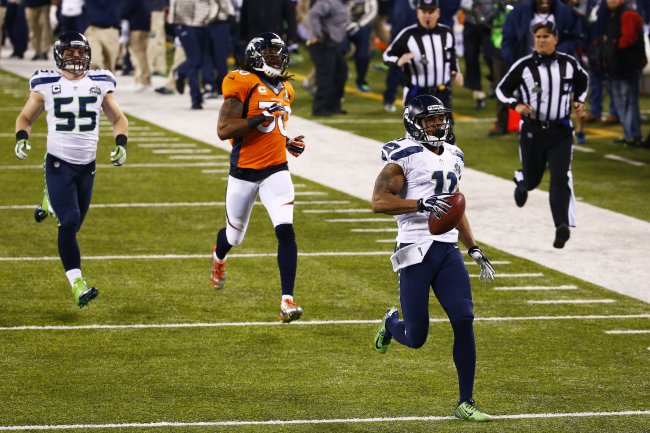 Tom Pennington/Getty Images
It was a bold strategy on the part of the Broncos to let Percy Harvin scamper to the end zone on the second-half kickoff. Normally, they'd do the complete opposite, booting it deep for a touchback. But Denver was anything if not unconventional in this game.
Sure, Manning and the Broncos offense had done almost nothing for the entire first half, but a comeback wasn't impossible. The San Francisco 49ers were down 22 points to the Baltimore Ravens last year and nearly tied the game in the fourth quarter.
But that touchdown return all but ended the notion that this had been or could become a competitive game.
The Capitulation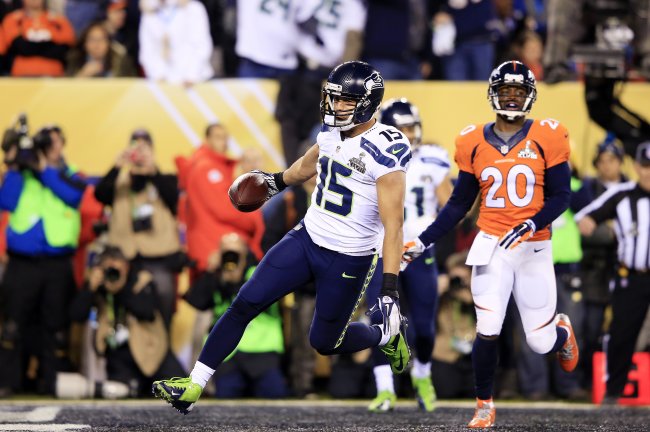 Jamie Squire/Getty Images
No single play encapsulates this game more than Jermaine Kearse's 23-yard touchdown reception in the third quarter. It was an innocuous pass over the middle that turned into a defensive farce, as the Broncos' tackling was terrible.
This TD was merely the icing on top for Seattle—and the moment where Denver was taken out of the game completely. Look at the way Tony Carter offers no resistance as Kearse walks into the end zone.
The Broncos defense had some question marks heading into the game, but its performance on Sunday night was really, really bad.