Alex Oxlade-Chamberlain is back. On a weekend dominated by controversy over the injury to Arsenal's new signing Kim Kallstrom, Oxlade-Chamberlain demonstrated that the Swede may not even be needed. In a central midfield role, "The Ox" showed that he has the potential to cover for the injured Aaron Ramsey.
Midfield was threatening to become an area of some concern for Arsenal. Ramsey's continued thigh problem and Mathieu Flamini's suspension had briefly left Arsenal looking a little light in the area where they'd once looked strongest. The issue was compounded by a minor injury to Jack Wilshere and the revelation of Kallstrom's back problem.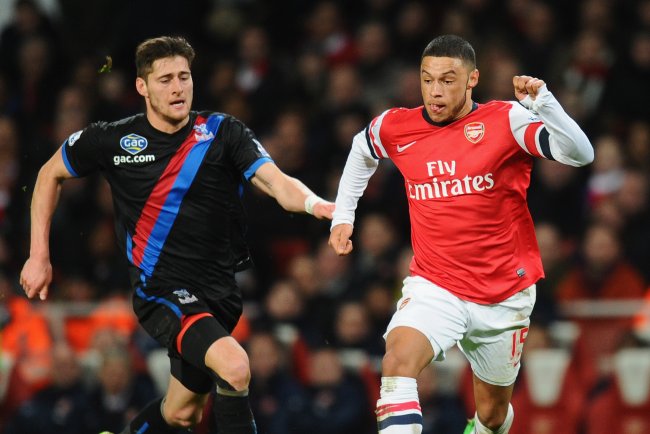 Mike Hewitt/Getty Images
However, Oxlade-Chamberlain has single-handedly assuaged many fears. On his first Premier League start since August, he grabbed both goals to send Arsenal top of the league.
Although most of his football has been played on the flank, Arsene Wenger has long envisaged using Oxlade-Chamberlain as a central midfielder. Speaking to Arsenal.com after the game, Wenger sounded like a man enjoying some vindication:
Look, I always believed that he could play wide and central, I said that many times that his future will be central.

He has proven me right today, by scoring the goals but also by the quality of his performance.
Oxlade-Chamberlain undoubtedly has all the attributes required of a great central midfielder. He possesses a great range of passing, and he has the vision required to spray the ball wide and stretch the play. He's also extremely powerful and capable of withstanding the physical tumult of the central third of the pitch. His squat frame enables him to bounce off other midfielders and into space, and his sharp acceleration allows him to burst away from his marker.
Crucially, he also has an eye for goal. Anyone who has watched Oxlade-Chamberlain take potshots during the pre-match warm-ups knows he has a cannon of a right foot. Unlike many of the Arsenal midfielders, he is prepared to shoot from distance and offers a genuine threat when doing so.
However, his goals against Palace did not come from range. Instead, the first showcased his intelligent movement. Oxlade-Chamberlain darted into the area to meet Santi Cazorla's clipped pass and lob the ball delicately over the advancing Julian Speroni.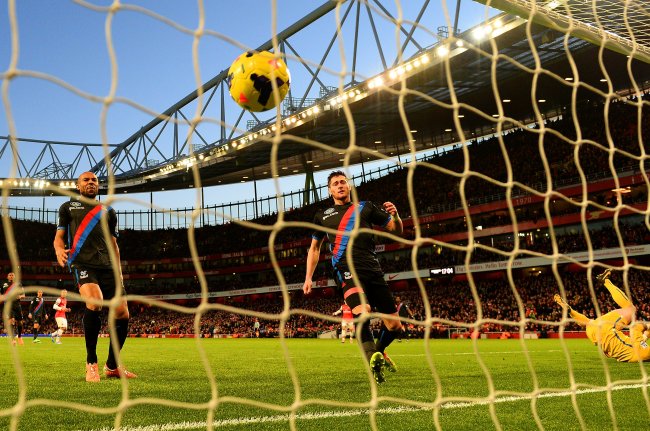 Mike Hewitt/Getty Images
His second goal was even better. This time, Oxlade-Chamberlain exchanged intricate flicks with Olivier Giroud before bursting into the area and firing into the far corner.
Will Alex Oxlade-Chamberlain make England's squad for the World Cup?
Crystal Palace set up an effective defensive wall against Arsenal. However, The Ox charged right through it. His strength on the ball is comparable to that of Everton's Ross Barkley, and it will be an intriguing battle between those two for a place on the plane to Brazil this summer.
The one element Oxlade-Chamberlain might need to add to his game to thrive in midfield is stamina. Against Palace, he visibly tired as the match wore on. However, this can be attributed to the fact that it was his first full 90 minutes for Arsenal this season.
When Theo Walcott suffered a cruciate ligament injury, Alex Oxlade-Chamberlain was hailed as the man to replace him. However, a prolonged spell on the wing will have to wait. Until Aaron Ramsey returns, Oxlade-Chamberlain may have an important job to do as a goalscoring box-to-box midfielder.
James McNicholas is Bleacher Report's lead Arsenal correspondent and will be following the club from a London base throughout the 2013-14 season. Follow him on Twitter here.