Super Bowl XLVIII presents one of the greatest contrasts in NFL history, with the record-breaking Denver Broncos offense facing off against the Seattle Seahawks transcendent defense. As such, the over-under is a reflection of this conflict that no one seems able to resolve with confidence.
Per Bovada, the current over-under for the Super Bowl is 48.5 points. That's a line that seems to favor Denver a bit, implying the public believes the Broncos are likelier to score in the high-20s than in the teens.
The Broncos have not been held under 20 points all season, but the Seahawks are also uniquely equipped to stop Denver's dizzying route combinations, designed to bust man coverages. Whether one bets the over or under depends on how much he or she believes in Seattle's ability to pressure Manning with four rushers and tighten up on third downs.
The over-under might be one of the Super Bowl's most difficult calls, but there are other prop bets you can take advantage of. Using Bovada's lines, let's take a look at some of the prop bets most likely to return great value.
Longest Completion by Russell Wilson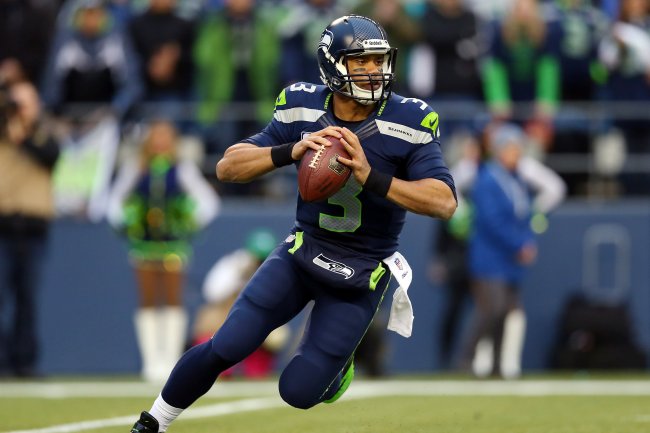 Ronald Martinez/Getty Images
The over-under for Wilson's longest completion is 38.5 yards. That's a hefty piece of real estate, but Wilson did hit 11 passes of at least 39 yards in the regular season, tied for ninth-most in the league, per Pro-Football-Reference.
Over/Under- Wilson's longest pass at 38.5 yards?
Denver conceded just eight, 10th-fewest in the league, but the Broncos are a bit more vulnerable in the secondary without Chris Harris, Jr. The Patriots had a couple of golden opportunities to hit huge plays through the air in the AFC Championship, but errant Tom Brady throws bailed out the Broncos.
Wilson seems quite likely to at least try a couple of deep bombs. According to Pro Football Focus (subscription required), 14.7 percent of his throws traveled 20 or more yards down the field. The Seahawks figure to have some play-action opportunities, and Wilson should generate at least one huge gain for the Seattle offense.
Knowshon Moreno Total Rushing Attempts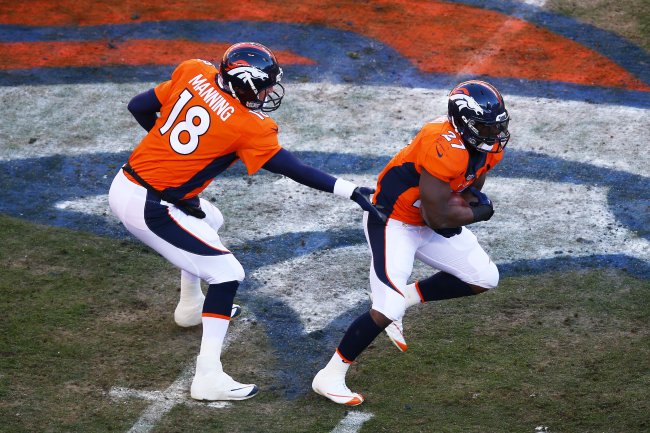 Doug Pensinger/Getty Images
The over-under on Moreno's rushing attempts sits at 15, which feels a bit low. The under would imply that the Broncos either fall behind early or are totally stifled on the ground.
Both propositions seem unlikely. Barring a barrage of turnovers, Denver is unlikely to fall behind by double-digits and abandon the run early. Moreover, with Seattle likely to play sub packages the entire game, Manning should find favorable numbers in the box to audible to a run.
Over/Under- Moreno's rushing attempts at 15?
When looking at Moreno's game-by-game rushing attempts, the line seems to make sense. After all, he had fewer than 15 carries in each of Denver's final four games. But in the Broncos' six one-possession games, Moreno reached the 15-carry threshold in five of them.
With a tight contest expected, look for the Broncos to lean on Moreno throughout, pushing him to the over on this bet.
Will Either Team Score in the Final 3.5 Minutes?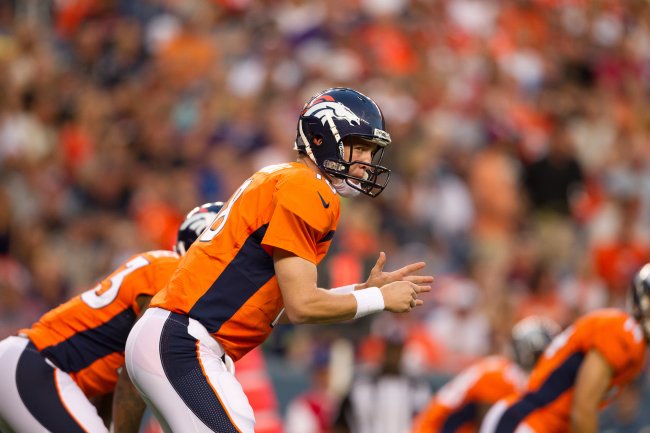 Justin Edmonds/Getty Images
The "no" is actually at plus-140, but looks like a solid bet. Taking the "yes" essentially implies that the game will be close, and that the trailing team will find a way to score.
Will either team score in the final 3.5 minutes?
That's not the only scenario, of course, as a junk-time score could easily occur as well. However, neither team is particularly well-equipped to lead a quick downfield charge against the other's defense. The Broncos passing game figures to have success through chain-moving passes and efficient draw plays that sustain drives, while the Seahawks will likely lean on Marshawn Lynch for much of the contest.
Even with Denver's historic passing game, there figures to be few explosive plays, decreasing the likelihood that either team scores in such a short span of time. If you're looking for an underdog prop to take, this looks like a favorable bet.