Considering that this year's Super Bowl will pit the NFL's best offense against the league's best defense, it's no surprise the game's line has changed drastically over the last few days, and it presents a fascinating facet of the game to examine.
Currently, Vegas Insider has the line for this game favoring Denver by 2.5 points, but that's fluctuated wildly over the last two weeks.
When betting opened, Seattle was favored by one, but Denver has slowly crept into the lead in oddsmakers' minds.
The Broncos have maintained that lead over the last week or so, but it's worth considering the case to be made for each team to be favored by gamblers.
Where: MetLife Stadium; East Rutherford, N.J.
Date and Time: Sunday, Feb. 2, at 6:30 p.m. ET
TV: Fox
Live Stream: Fox Sports Go
Spread: Broncos -2.5, per Vegas Insider (as of Feb. 1)
Over/Under: 48.5, per Vegas Insider (as of Feb. 1)
Denver's Case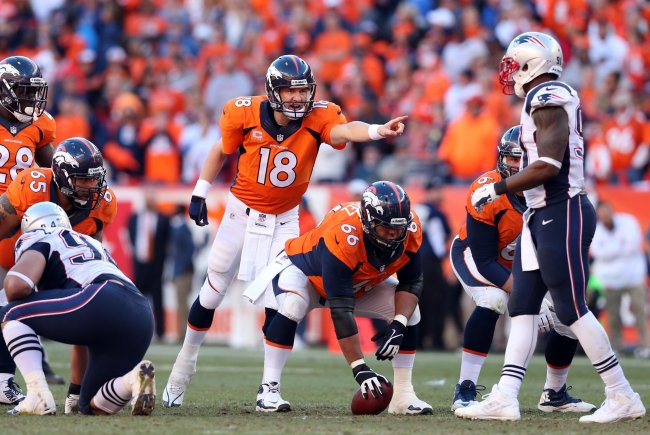 Matthew Emmons-USA TODAY Sports
If there's any reason to think the Broncos should be favored, it begins and ends with Denver's offense.
While its defense was serviceable, Denver's offense has put up 37.9 points per game in the regular season, and Peyton Manning has been dominant.
The Broncos have scored 24 and 26 points in their two playoff games to continue this success, and Manning has been sublime in the postseason. He's completing 72.2 percent of his passes and has four touchdowns against just one interception.
But the defense has improved dramatically in the playoffs to further lend confidence to Denver's side. The Broncos are allowing 289.5 yards per game in the postseason, including just 5.5 yards per play.
The unit's renewed confidence is a big reason why bettors have been so thoroughly pro-Denver recently, and it can't be overlooked when examining the line.
"We kept hearing our offense is always saving us, and that kind of makes you mad," Denver cornerback Dominique Rodgers-Cromartie told Newsday's Bob Glauber. "You have to re-evaluate and check yourself. We definitely did that as a defense."
It's perfectly understandable why Denver has grabbed the lead in the points spread so far, but that's not to say that there isn't a case for Seattle as well.
Seattle's Case
Kyle Terada-USA TODAY Sports
The Seahawks started off as a favorite in this game for a reason.
Defense always seems to earn respect in the playoffs, and Seattle possessed the league's top defense in the regular season, and it has carried it over to the playoffs.
But an even better sign for Seattle's chances might be the history books. Denver may have a potent offense, but that hasn't necessarily always been a good sign for teams in the playoffs, as ESPN.com's John Clayton explains.
One of the amazing stats heading into Super Bowl XLVIII is what has happened to the highest-scoring offensive teams of the past.

Excluding the 2013 Denver Broncos, the eight highest-scoring teams in NFL history all failed to win it all. The 2007 New England Patriots, who averaged 36.8 points a game and had a perfect regular season, lost in the Super Bowl to the New York Giants.

In 2011, the Green Bay Packers averaged 35 points a game and the New Orleans Saints averaged 34.2, ranking third and sixth in NFL history. Both teams lost in the divisional round.

No one can forget the 15-1 season turned in by the 1998 Minnesota Vikings, featuring Cris Carter and Randy Moss. The Vikings averaged 34.75 points a game but were upset by Atlanta in the NFC Championship Game.

Records are meant to be broken, but the highest-scoring teams in history have fallen short. Very strange.
History might not end up meaning anything in this matchup, but it's certainly something to consider when looking at the line.
There's the possibility that gamblers will observe this trend as the game nears as well.
The line may favor the Broncos now, but that could change quickly, as OddsShark's Mike Pickett notes on SB Nation:
Overall, 55% of the money bet on the big game so far against the spread has been backing the Denver Broncos, according to Kevin Bradley of Bovada.lv.

An even more popular choice among bettors has been to take the Broncos on the moneyline at -135 with 57% of moneyline action coming in on Denver.

Seattle at +115 has received 43% of the public's money so far, but that could still rise as the week goes on and sharps arrive to bet on the Super Bowl and throw money behind the Seahawks.
This type of shift shouldn't come as too much of a surprise. Between Seattle's dominant defense and its offense's ability to run the ball, the Seahawks will make a formidable opponent for Denver.
It's hard to tell exactly where this line will end up as kickoff approaches, but it'll still be worth watching.
Neither team will take a commanding lead, but bettors will be acutely aware of the slightest shift in this line.