Updates From Monday, Feb. 3
Rob Harris of The Associated Press provides a statement from Brian McDermott discussing his status with Leeds United:
Brian McDermott confirms he was told on Friday by Leeds he was being "relieved on his duties." On Saturday he was told "that isn't the case"

— Rob Harris (@RobHarris) February 3, 2014
McDermott: "Why would you walk away from being Leeds United manager? It makes no sense."

— Rob Harris (@RobHarris) February 3, 2014
How did McDermott discover he was Leeds manager again? "I saw for the first time on my iPad"

— Rob Harris (@RobHarris) February 3, 2014
McDermott says an Italian player he doesn't know was at Leeds training today. Doesn't know if has been sanctioned by Football League

— Rob Harris (@RobHarris) February 3, 2014
McDermott on sacking/non-sacking at Leeds: "This situation should never happen to a football manager"

— Rob Harris (@RobHarris) February 3, 2014
Henry Winter of the Daily Telegraph provides an additional statement from McDermott:
McDermott "it's been difficult. I've had certain reassurances about my position. (But) We don't know who new owners will be" #lufc

— Henry Winter (@henrywinter) February 3, 2014
Updates From Saturday, Feb. 1
According to Leeds United's website, McDermott is still the club's manager:
The club would like to make it clear that Brian McDermott remains our first team manager. He has not been dismissed from his post as has been suggested and we look forward to him continuing in his role with us in taking Leeds United forwards.
Phil Hay of The Yorkshire Evening Post provides more insight into what's going on at the Championship club:
Talk that Paul Hunt has been reinstated as acting CEO. Also suggestions that Nigel Gibbs will now be taking the team today.

— Phil Hay (@PhilHayYEP) February 1, 2014
Club are now making efforts to reinstate McDermott. You really could not make this up. #lufc

— Phil Hay (@PhilHayYEP) February 1, 2014
As it stands, McDermott is due to attend today's game and watch from a box in the East Stand. #lufc

— Phil Hay (@PhilHayYEP) February 1, 2014
Original Text
Brian McDermott has been relieved of his duties as Leeds United manager, bringing an end to his 10-month reign in the position.
Sky Sports News and the Daily Mail confirmed the news, with Neil Redfearn reportedly stepping into the role until a successor is appointed:
SKY SOURCES: Brian McDermott sacked by Leeds #SSN

— Sky Sports News (@SkySportsNews) January 31, 2014
BREAKING: Neil Redfearn is set to take temporary charge of Leeds United following the sacking of McDermott #lufc

— MailOnline Sport (@MailSport) January 31, 2014
Stan Collymore adds another interesting detail:
The decision is likely to be related to the impending takeover of the club, with BBC Sport reporting earlier on transfer deadline day that Italian businessman Massimo Cellino is closing in on a stake in the club, thought to be in the region of 75 percent.
As things stand, Leeds sit 12th in the Championship table, having won just one of their last nine league outings.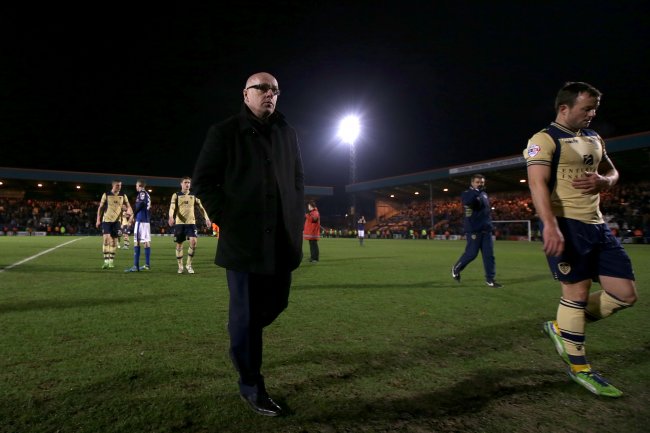 Jan Kruger/Getty Images
It's admittedly the poorest stretch of form that the club have gone through this season, but Leeds nonetheless sit just eight points away from the playoff places.
The decision shows a lack of faith in McDermott's ability to set the track straight, with BBC Sport's Ben Smith giving his opinion:
Incredible decision to sack Brian McDermott. Leeds are not doing themselves any favours.

— Ben Smith (@BenSmithBBC) January 31, 2014
Forward Ross McCormack would also appear to be upset with the boardroom's decision, per talkSPORT's Stan Collymore:
Ross McCormack 'I'm happy at Leeds but I'm gutted by the departure of the gaffer".

— Stan Collymore (@StanCollymore) January 31, 2014
Irrespective of how bad their current plight may seem, McDermott was reported by the Yorkshire Evening Post as saying that he would never resign from his position:
I'm a long way from home but I'd never do that, I'd never do it to the players or the staff or the supporters. They deserve better. When I was brought here, I was brought here on a three-year contract to stabilise the club and take them forward.

As far as I'm concerned, that hasn't changed. But I'm desperate to see an end to this. You keep getting light at the end of the tunnel but it doesn't happen. We need (the takeover) resolving at the top and we need the right people in place.
The Whites are but the latest club to be affected by foreign ownership in a negative manner, with no guarantee that another helmsman will come in to produce something more positive.
What's more, the decision to sack McDermott at the very end of the transfer window, meaning the club must now wait until the summer for more business, doesn't strike as being a prudent call.
The search now begins to find a replacement for the 52-year-old, who assumed the position in April 2013.