There is no favorite in Super Bowl XLVIII.
That is what bettors have learned over the past week and change, as the line has rarely moved thanks to the strength vs. strength matchup that is the showdown between the Seattle Seahawks and Denver Broncos.
The same can be said for the over/under portion of the bet, which is a fragile thing that shows just how uncertain the oddsmakers are when it comes to the propensity for a high-scoring affair when the No. 1 pass attack meets the No. 1 pass defense.
A bit of a deep dive is necessary to obtain anything close to confidence in where to throw money down in this matchup.
When: Sunday, Feb. 2, at 6:30 p.m. ET
Where: MetLife Stadium, East Rutherford, N.J.
TV: Fox
Live Stream: Fox Sports Go
Betting Lines (via Bovada)
Over/Under: 48
Spread: Denver (-3)
The Safe Bet: Over 48 Points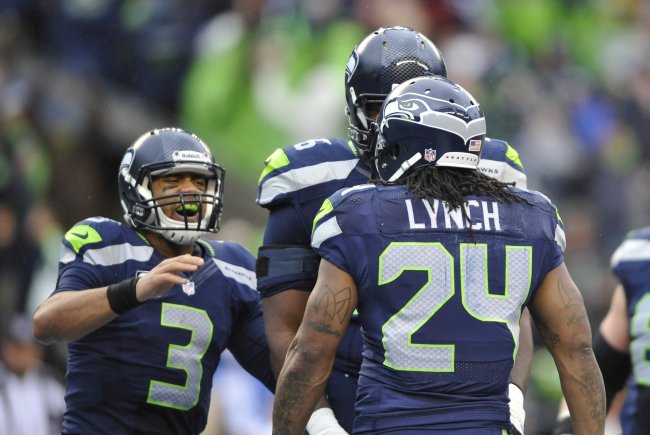 Steven Bisig-USA TODAY Sports
This is quite the scary number. After all, this year's Super Bowl is an anomaly as an outdoor, cold-weather event.
There is also the potential for Seattle and cornerback Richard Sherman to help silence an offense that set the single-season record for most points scored (606).
The problem is, Sherman (but mostly the rest of the defensive backs) relied on a strong pass rush to help limit the time they were in coverage. As ESPN details, Manning's offensive line has had no issue giving him time to throw—and he was elite under pressure, anyway:
Manning was pressured on a league-low 14 percent of his dropbacks this season. He had the best completion percentage under duress this season, but the pressure still affects his play, making his protection so important.
As long as the weather stays precipitation-free, which it should (per Weather.com), Manning will have his usual lengthy amount of time behind his wall of protectors to move the defense with his eyes and find the open man—after countless mind games at the line of scrimmage (with a dash of "Omaha").
This is not to say the Seahawks will not score points, because they will. Running back Marshawn Lynch will see to that. The violent runner has three touchdowns in two playoff games so far, and legend Emmitt Smith is one of many who sing his praises, via NFL.com's Marc Sessler:
Emmitt Smith on Marshawn Lynch: I haven't seen anyone out there quite like him' #Seahawks http://t.co/yqsAbHU4JG

— Marc Sessler (@MarcSesslerNFL) January 27, 2014
To summarize, this game may easily go north of the required number.
The Iffy Bet: Denver (-3)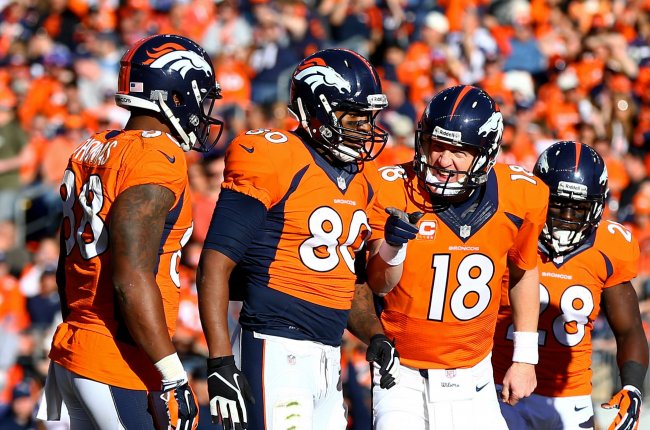 Mark J. Rebilas-USA TODAY Sports
At first glance, this is a matchup that favors the Seahawks and their bruising ground game that is suited for a battle in the environment. Sporting News explains that the line in Denver's favor here is inflated thanks to the weather and casual bettors:
While the Seahawks opened as short favorites across Las Vegas, there was heavy early action on the Broncos, and within about 30 minutes of original numbers being posted, Denver became the favorite all over town.

"As soon as we posted it (Seattle -1.5), we immediately got Denver action, both large and small," said South Point sports book director Bert Osborne, who moved Denver to the 1-point favorite within 18 minutes of putting the game on the board, to -2 later Sunday evening, and then to -2.5 on Monday.
There is still plenty of reason to believe that Denver can cover the spread. For one, the forecast has since been more positive as of late. Two, well, Peyton Manning. The future Hall of Famer will surely be able to score, and the Seahawks offense has struggled as of late.
Seattle can certainly attempt to dictate the tempo early, but the plan goes out the window in a hurry if Manning can orchestrate a few scoring drives. This will force Seattle to the air, which has been the Achilles' heel of the offense all season.
Denver may seem like an all-too-obvious pick, but sometimes that is the way to go.