Jake Roberts, Ryback and a fan upset about the Royal Rumble starred in the best WWE social media of the week.
News both positive and negative following the Rumble comprised much of the WWE-related tweets, Instagram photos and viral videos. The best reaction to CM Punk quitting WWE had Ryback continue his Twitter excellence. Renee Young sneaked onto the list as well with a token of her experience announcing for NXT.
One of the most welcomed headlines of the week featured Roberts, the newest inductee into the WWE Hall of Fame.
The company announced on Monday's Raw that "The Snake" would join The Ultimate Warrior in the 2014 class. WWE also welcomed him via Twitter:
Welcome to the Hall @JakeSnakeDDT! #WWEHOF #WM30 eu pic.twitter.com/DPRrVp7rGx

— WWE Universe (@WWEUniverse) January 28, 2014
Diamond Dallas Page added a moving message. Page has aided Roberts in his road to redemption, working to help him escape his issues with alcohol and leading him to the best shape he's been in for years with DDP Yoga:
Jake Roberts is LIVING proof that its Never over as long as u #NEVERGIVEUP I'm VERY PROUD of my Friend! @JakeSnakeDDT http://t.co/I6UxfBGqGk

— DDPYOGA.com (@DDPYoga) January 28, 2014
Roberts himself had a memorable response to the news of his induction:
The prodigal son is welcomed home. Thank you WWE & all my supporters for sticking by me. I hope all are enjoying as much as I am.

— JakeSnakeDDT (@JakeSnakeDDT) January 28, 2014
Before hearing of the DDT master's honor, WWE fans experienced the 2014 Royal Rumble. Batista fans went hope happy, as did those pulling for Roman Reigns. The former won the match, while the latter broke the record for most eliminations in a single Rumble.
Anyone pulling for Daniel Bryan, though, left with disappointment weighing them down.
Bryan had a fantastic match against Bray Wyatt but was not part of the 30-man main event. The Pittsburgh, Pa. fans booed Batista's win and for one fan at home, the result inspired him to go on a rampage.
In a video with NSFW language, this fan erupts in a fit of destructive fury post-Royal Rumble:
Anyone who saw the same guy freak out after The Rock beat Punk at last year's Rumble wasn't surprised to see him become unglued once more. Both meltdowns feel awfully pre-planned, but WWE fans know a thing or two about enjoying things of a scripted nature.
One of the highlights of the night was seeing Sheamus back in action. After tearing his shoulder up at Money in the Bank, he stepped away from the ring and spent several months recovering.
As many expected, "The Celtic Warrior" returned at the Rumble. Judging by the number of likes and views for this Instagram shot of Sheamus backstage, fans are happy to have him back: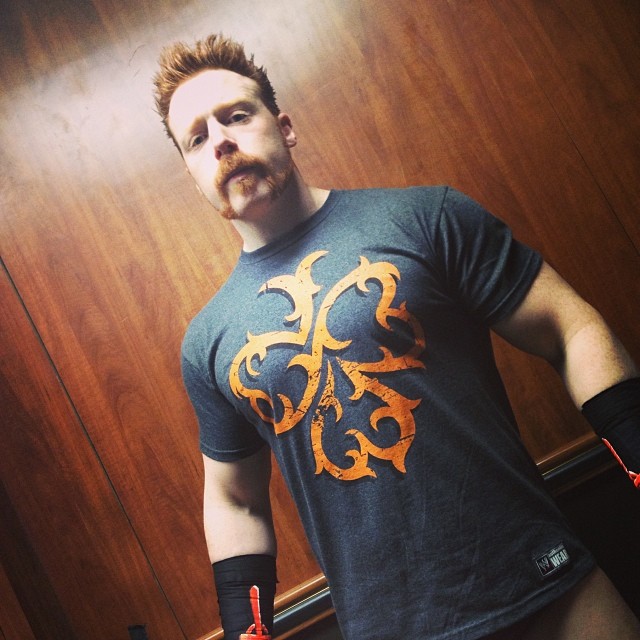 Photo from Instagram
The Rumble's and MLB's recent decisions to use more instant replay inspired WWE to post a countdown video of moments where replay would have made a significant difference in various matches.
The clip shows that replay would have disallowed Steve Austin's 1997 Rumble win, Eddie Guerrero's WrestleMania XX win over Kurt Angle and Sgt. Slaughter's victory over The Ultimate Warrior at the 1991 Royal Rumble:
On Sunday, Alexander Rusev became the second NXT prospect to make his debut at the Rumble. Fans who watch NXT on a regular basis are likely seeing the wrestler who will make the 2015 Rumble his coming-out party. Will it be Sami Zayn, Tyler Breeze or maybe "the realest guy in the room," Enzo Amore?
Interviewer and commentator Young has been calling NXT matches in addition to her WWE duties. She's the only female at the announcers' desk and pointed out how much her co-workers lose it when she's around:
Men overreact when a lady joins the commentary booth. #nxt #wwe http://t.co/mS2yPwccOb

— Renee Young (@ReneeYoungWWE) January 31, 2014
The biggest news of the week besides the uproar over Bryan not getting a crack at the WrestleMania main event was Punk leaving the company. Many fans reacted with stunned faces. Ryback's reaction was simply hilarious. It's shown here via retweet (h/t WrestleChat.net) thanks to Ryback's "eat, tweet, delete, repeat" policy:
LOL! RT @Ryback22: I call dibs on GTS, Pepsi Plunge and running knee in corner. I am sure Sheamus will take the rest.

— WrestleChat.net (@WrestleChatNet) January 29, 2014
He continues to blend kayfabe and reality via Twitter, forming an equally irksome and endearing character on the medium. Should he actually start using any of Punk's moves, it would draw more heat on him than he's ever had in his career.
Imagine "The Big Guy" hitting the Go To Sleep and calling it Wake Up. He would just give that fan in the Rumble video one more reason to freak out.