Australia vs. England, 2nd T20: Video Highlights, Scorecard and Report
January 31, 2014

Darrian Traynor/Getty Images
England's miserable tour of Australia was completed as they lost the T20 series to their hosts with a crushing eight-wicket defeat in Melbourne.
The tourists lost the Test series 5-0, the ODI series 4-1, and now find themselves 2-0 down with just one match of the tour left to play in Sydney on Sunday.
There were familiar themes—England's batting cost them dearly, slumping to 130-9 from their 20 overs after having won the toss and opted to bat first.
Australia vs. England: Scorecard, 2nd T20, Melbourne
England Innings
Batsman
Dismissal
Bowler
Runs
Mins
Balls
Hales
c Starc
b Hazlewood
16
25
13
Lumb
c Coulter-Nile
b Hazlewood
18
14
15
Wright
c Hodge
b Starc
0
5
2
Root
run out (Maxwell)
18
20
14
Morgan
run out (Hodge)
6
5
3
Buttler
lbw
b Coulter-Nile
22
32
27
Bopara
c Maxwell
b Muirhead
6
14
11
Bresnan
b Hazlewood
18
34
19
Broad
not out
18
23
15
Tredwell
b Hazlewood
0
1
Extras
0nb 4w 0b 4lb
8
Total
for 9
130
(20.0 ovs)
Bowler
Overs
Maidens
Runs
Wickets
Hodge
1.0
0
10
0
Coulter-Nile
4.0
0
29
1
Starc
4.0
0
19
1
Hazlewood
4.0
0
30
4
Maxwell
1.0
0
7
0
Muirhead
4.0
0
17
1
White
2.0
0
14
0
Australia Innings
Batsman
Dismissal
Bowler
Runs
Mins
Balls
White
not out
58
64
45
Finch
lbw
b Bresnan
10
21
11
Maxwell
c Bresnan
b Tredwell
2
7
5
Bailey
not out
60
32
28
Extras
0nb 1w 0b 0lb
1
Total
for 2
131
(14.5 ovs)
Bowler
Overs
Maidens
Runs
Wickets
Broad
3.0
0
29
0
Dernbach
3.0
0
42
0
Bresnan
3.0
0
11
1
Tredwell
3.5
0
37
1
Bopara
2.0
0
12
0
BBC
Australia made a quick start in the chase through Cameron White, and there was no way back for the tourists once George Bailey got going. There were 5.1 overs in hand when the target was chased down.
England's batting, which looked strong on paper, underperformed. However, Australia's fielding was also exemplary.
England's T20 batting plan fixated on big hits but air shots and miscues have proved costly - get bat on ball

— Derek Pringle (@derekpringle) January 31, 2014
Brad Hodge, the 39-year-old recalled to international duty for the first time in half a decade, led the way with a sharp catch low to his right to dismiss dangerman Luke Wright for a duck. He then helped run out Eoin Morgan with a pinpoint throw.
Perhaps the pick of the bunch was the athletic work from Glenn Maxwell to clean up Joe Root via a run out.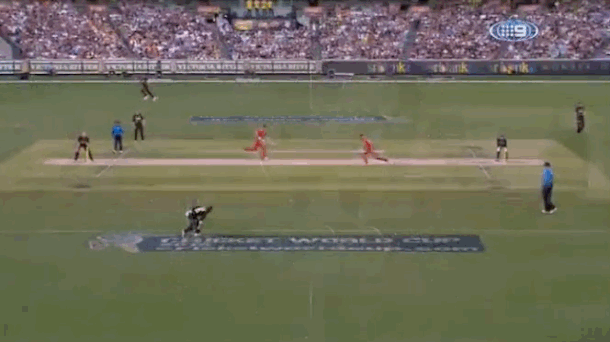 GIF
Once the heart had been ripped out of England's batting, there was no way back, with Jos Buttler's 22 the highest knock by an England batsman.
Even that took 27 balls to compile.
Josh Hazlewood, striking twice in the final over, ended with four wickets for the hosts.
The warning signs for England were clear enough, but the first over of the chase told its own story. Cameron White swatted Stuart Broad away for three boundaries.
England could not get themselves back into the game—the losses of Aaron Finch (10) and Glenn Maxwell (2) doing little to slow Australia's inevitable progress to victory.
Bailey hit the ball long, doing particular damage to spinner James Tredwell, while White moved past his half-century, maximising his opportunity in the absence of David Warner and Shane Watson.
Bailey also got to his own landmark, punching 60 in 28 deliveries.
It was a near-flawless display from Australia, soured only perhaps by the fact that Hodge didn't get a chance to get a bat on his comeback.