Why Zach Randolph Has Been the Memphis Grizzlies' MVP so Far
February 5, 2014

Bill Kostroun/Associated Press
While Mike Conley has been garnering praise and accolades across the NBA for stepping up his game this season for the Memphis Grizzlies, it has been Zach Randolph's quietly-great season that has kept the Grizzlies in playoff contention, and thus makes him deserving of team MVP.
The stellar play of Randolph has allowed the Memphis Grizzlies to remain in the playoff hunt this season in the ultra-tough Western Conference; they are currently 26-21 and just a game behind the Dallas Mavericks for the eighth seed. 

Lance Murphey/Associated Press
Randolph is second on the team (behind Conley) in scoring at 17.4 points per game and ranks eighth in the NBA in rebounds this season with 10.7 per game. While his rebounding numbers have dipped slightly, Randolph has raised his scoring average by two points from last season, a year in which he made his second All-Star team.
Conley and Z-Bo have undeniably been the Grizzlies' best players and make an excellent tandem, but while the former has been surprising, the latter has been steadfast, and that is what gives him the edge this year.
Dependability may not be the flashiest trait when describing a team's most valuable player, but it certainly doesn't hurt Randolph's case, especially this season.
Without Z-Bo, the Grizzlies would have been completely defanged; injuries have ravaged this Memphis squad this year, and key players have spent long stretches in street clothes, chief among them Marc Gasol, who missed 23 games early on the season. Randolph has played in 45 of Memphis' 47 games this year, and started in each of those appearances.
He's also logging 34.2 minutes per game, nearly keeping pace with Conley for most on the team despite having six years on the young guard entering his prime.
The loss of Gasol—reigning defensive player of the year—accentuated the need for Randolph's fearless style of play. Memphis has garnered a respectable 13th in defensive efficiency this season so far, but it can be difficult to prop up a squad that relies on a frontcourt tandem when one of those two isn't ready to tango for most of the season, a point echoed by Memphis coach Dave Joerger, via Adam Johnson of memphisport.com:
"He's really carried us through a tough stretch with Marc being out and he's really helped us find our identity without Quincy (Pondexter) and Tony (Allen). He's been pretty steady and has helped us to compete. He's a guy who's always double-teamed, but creates shots for other people."
Randolph doesn't look like a player who should be double-teamed, let alone the guy set to carry a team to a playoff spot. He has broad shoulders and trunks for legs, but lacks definition. He has little in the way of a vertical, as many Grizzlies fans can certainly attest.
What the crafty lefty does have is an uncanny sense of leverage and angles in the post (especially on the left block), an old man's game if you will. Randolph's finely-tuned senses will have him dominating shuffleboard games in his retirement days, but for now he uses his powers to create space in the post. For prime examples, check out the two plays starting at 2:18 in this video via NBA.com.
His shot chart reflects his propensity for scoring around the basket, particularly from the left block, where he's got the best post-game this side of Al Jefferson.
This may demonstrate predictability, but Randolph draws in defenders to the left block, and his more athletic teammates orbit around his constant presence in the low post.
Randolph has also improved his passing ability, to a career-best 2.7 assists per game. Many of those assists come from Randolph dishing back out to teammates after drawing defenders in to the area he has staked out on the left block (for an example of Randolph's deft touch, check out the video below). This attention is also responsible for some of the improvement in Conley's scoring game, as Randolph has become the sole focus in the post.
And if Randolph's excellent play wasn't enough, he has the leadership intangibles that make him an integral part of the Memphis roster. 
He gets bonus points from fans for literally giving the shirt off his back.
And who besides a truly mighty grizzly bear like Randolph can take down the freak athlete that is Blake Griffin?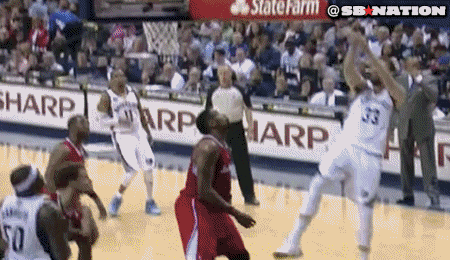 Seth Rosenthal, SB Nation
That clip is from last season, but you can always count on a player willing to mix it up with one of the most fearsome forwards in the game today.
And remember that point about durability? Well, with Mike Conley now set to miss up to a week of action thanks to a sprained right ankle, the Grizzlies' playoff hopes will rest squarely on the shoulders of Zach Randolph, and the team's MVP must be ready to rise to that challenge.