Will the Amazing 2013 Youth Movement in MLB Continue This Spring?
Use your ← → (arrow) keys to browse more stories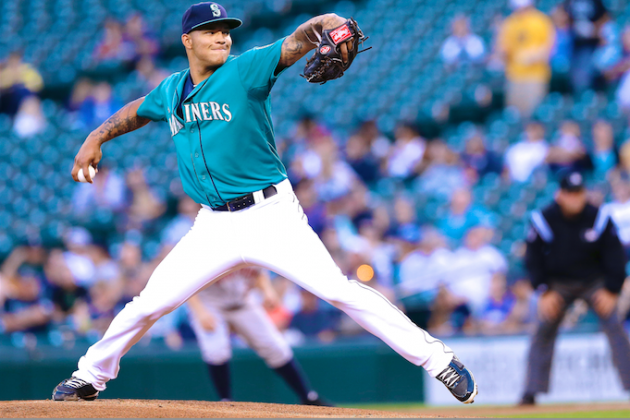 Ted S. Warren/AP Images

The arrival of generational stars Bryce Harper, Mike Trout and Manny Machado in the major leagues during the 2012 season set a new standard for all future rookie classes.
Yet, in spite of the lofty expectations, the overall influx of young talent in the major leagues last season as a whole was more impressive than the now legendary 2012 class.
In fact, 30 of Prospect Pipeline's preseason top 100 prospects for 2013 debuted in the major leagues last year, including 12 players that ranked in the top 25.
Many of those top-ranked prospects, such as Wil Myers, Jose Fernandez, Yasiel Puig, Gerrit Cole, Zack Wheeler and Christian Yelich, made an immediate impact and quickly justified the hype ascribed to them at the onset of their respective professional careers. However, except for Fernandez, who to everyone's surprise opened the season in the Marlins starting rotation after pitching at High-A in 2012, all of the aforementioned players were promoted to the major leagues later in the season.
Thankfully, fans won't have to wait until the latter months of the regular season for a glimpse at the future of baseball, as many of this year's top-ranked prospects are expected to start the season in the major leagues.
So, in anticipation of the start of spring training, here's a rundown of major league-ready prospects capable of making an impact out of the gate in 2014.
Jackie Bradley, OF, Boston Red Sox
Jackie Bradley made the Boston Red Sox's Opening Day roster in 2013 thanks to an eye-opening performance in spring training (1.120 OPS, 13 R, 7 XBH) as well as injuries to several of the team's outfielders.
However, the 23-year-old outfielder struggled to establish rhythm at the plate and posted a dismal .392 OPS through 12 games in April. After that, he spent the season bouncing between Triple-A Pawtucket and the major leagues. Bradley would ultimately appear in 37 games with the Red Sox, though he batted just .189/.280/.337 with eight extra-base hits in 107 plate appearances.
Though he didn't shine in his time with the Red Sox last season, Bradley's experience in the major leagues should pay enormous dividends as he prepares to take over for Jacoby Ellsbury as the team's everyday center fielder. The gig will be his to lose—which is also why the organization recently signed Grady Sizemore—so expect the Red Sox to keep him on a short, performance-based leash.
Billy Hamilton, OF, Cincinnati Reds
Billy Hamilton took baseball by storm last season as a September call-up, going 4-of-4 in stolen-base attempts and scoring three runs as a pinch runner before logging his first career at-bat.
The Cincinnati Reds gave Hamilton three starts over the final month of the season to see what he could do, and the 23-year-old responded by batting .500 (7-for-14) with four runs scored, two doubles and six stolen bases in those games.
With Hamilton tabbed as the Reds' Opening Day center fielder, the organization is finally ready to find out what it has in Hamilton. But will he become the star that his tools suggest, or merely an insanely fast reserve outfielder? One thing is certain, though: If Hamilton comes remotely close to reaching his sky-high ceiling, he could become a frequent All-Star and one of the game's premier up-the-middle players.
Kolten Wong, 2B, St. Louis Cardinals
The Cardinals promoted Kolten Wong to the major leagues in the middle of August to add depth in anticipation of a playoff run. Besides a two-game outburst from August 19-20, when he combined to go 5-for-10 with a double and three stolen bases, the 23-year-old struggled to make the most of his limited playing time and batted only .153/.194/.169 in 62 plate appearances spanning 32 games.
With an above-average glove and potential plus hit tool, Wong is ready for an everyday gig in the major leagues. And with Matt Carpenter expected to take over at the hot corner in the wake of the offseason trade of David Freese, he'll likely have every opportunity in spring training to prove he's ready for an everyday gig at the highest level.
Xander Bogaerts, SS/3B, Boston Red Sox
Regarded as Boston's top prospect for the last two seasons, Xander Bogaerts was promoted to the major leagues in late August to bolster the team's roster for the stretch run. While the recently turned 21-year-old's playing time was limited, he still impressed by batting .250/.320/.364 in 18 games and playing both positions on the left side of the infield.
The Red Sox decided to include him on their postseason roster, and the youngster validated their decision by batting .296/.412/.481 with nine runs scored, four extra-base hits and six walks in 12 games after emerging as the starting third baseman during the ALCS.
Bogaerts has the ceiling of one of baseball's top players, with the potential to offer All-Star-caliber production at a premium position. Even if he's forced to slide over to the hot corner, the bat should make him a perennial All-Star.
As of now, and unless the Red Sox bring back Stephen Drew on a one-year deal, the 21-year-old is poised to open the season as the everyday shortstop.
Kevin Gausman, RHP, Baltimore Orioles
It was a busy 2013 season for Kevin Gausman, as he was rushed to the major leagues as a starter in May (7.66 ERA in 24.2 innings) before finally finding success as a reliever in September. On the year, the 22-year-old appeared in 15 games out of the bullpen, posting a 3.52 ERA and 29-7 strikeout-to-walk rate in 23 innings.
The 6'3" right-hander has easy velocity at 94-99 mph with his four-seam fastball; his two-seamer registers a few ticks slower, but features more arm-side run. Gausman's changeup is a legitimate plus-plus pitch in the low- to mid-80s with devastating, splitter-like drop, and he's made noticeable strides improving his slider over the last year.
In general, Gausman's electric arsenal and plus command profile give him an insanely high ceiling, and with a more consistent and effective breaking ball, he could realize that potential in short order. The right-hander will begin the 2014 season in the team's big-league rotation and has the potential to emerge as one of the best young starters in baseball.
Taijuan Walker, RHP, Seattle Mariners
Taijuan Walker opened the 2013 season by mastering the Southern League, posting a 2.46 ERA and a 96-30 strikeout-to-walk ratio in 84 innings at Double-A Jackson after struggling at the level during the previous year.
The 21-year-old received a promotion to Triple-A Tacoma in late June where he, in spite of being one of the younger pitchers at the level, held his own with a 3.61 ERA and 64 strikeouts in 57.1 innings in the hitter-friendly Pacific Coast League.
Given his success at both levels and overall maturation as a pitcher, the Mariners rewarded Walker with a promotion to the major leagues in late August. The right-hander didn't disappoint, either, as he registered a 3.60 ERA and 12-4 strikeout-to-walk rate in 15 innings spanning three starts.
Manager Lloyd McClendon has already stated that he expects Walker to open the season in the starting rotation, though he'll likely face competition during spring training with five other pitchers vying for one spot.
However, in order for Walker to both make the Opening Day roster and stick in the major leagues next season, he will need to show improved control compared to his 2013 campaign (particularly his time spent at Triple-A). Walker certainly has the raw stuff to be effective and hold his own at the highest level—as he demonstrated last September—but he still lacks the efficiency needed to work deep into games.
All videos courtesy of MLB Advanced Media