The Golden State Warriors built an early lead and managed to surge ahead in the second half of a 111-92 win over the Los Angeles Clippers at Oracle Arena on Thursday, Jan. 30.
FINAL: Warriors 111 - Clippers 92. BOX: http://t.co/n6WWxcwT06 pic.twitter.com/Xs8phlsoP4

— Golden St. Warriors (@warriors) January 31, 2014
As dynamic and explosive as the Warriors' backcourt has been for much of the 2013-14 season, it wound up being the front line of David Lee and Andrew Bogut that made the difference for the victorious home team.
Lee and Bogut combined for 28 rebounds—10 of those on the offensive glass—and scored a total of 36 points, with Lee putting up 22. It was important to combat the league's leading rebounder in Clippers center DeAndre Jordan, and Golden State's tandem did a great job.
That's not to say dynamic point guard Stephen Curry didn't perform well.
With a dizzying array of ball handling skills and sweet drives to the hoop, the upcoming All-Star Game starter was 8-of-10 shooting and drained all four of his three-point attempts in scoring 22 points and dishing out seven assists.
Dubs out-shot (49.5% to 40.8%), out-rebounded (53-34) & out-assisted (24-17) the Clippers. Also outscored them 66-22 in the paint.

— Golden St. Warriors (@warriors) January 31, 2014
Dan Woike of the Orange County Register weighed in while witnessing Curry's brilliance:
If the NBA had the equivalent of the Silver Slugger, Steph Curry would win for PGs, right?

— Dan Woike (@DanWoikeSports) January 31, 2014
What would normally have been a tantalizing matchup between Curry and Clippers superstar Chris Paul, who is injured and did not play, turned into a mismatch that LA had no answer for all evening in Oakland.
Curry led an excellent start for the Warriors, who won the first quarter 32-21 thanks largely to the 25-year-old sharpshooter's 12 points, four assists and zero turnovers.
Even Harrison Barnes—who has struggled in recent games—got in on the act in scoring 10 points and throwing down this monster dunk in the second quarter:
The second-year role player was one of six Warriors in double figures. However, Golden State let the Clippers close to within eight points at halftime, prompting Marcus Thompson of the Bay Area News Group to dish out some criticism:
Warriors closing out this quarter like they are allergic to big leads

— Marcus Thompson (@ThompsonScribe) January 31, 2014
But between plays like Barnes', Curry's slashing ability, Lee's moves in the post and Bogut's put-back baskets, it makes sense that Golden State was able to have a massive advantage in points in the paint, 66-22.
The Clippers made just one shot and seemed lethargic in a third quarter in which they were outscored 26-11. When Bogut tossed in a desperation 20-footer during the middle of the quarter, he paid tribute to a legend to demonstrate how little was going wrong for the hosts:
Andrew Bogut with the Michael Jordan shrug after hitting a 20-footer. #Warriors 73, Clippers 58 (7:24, 3rd)

— Rusty Simmons (@Rusty_SFChron) January 31, 2014
A decent run in the final 12-minute stretch saw LA shrink the lead, but it wasn't nearly enough to entertain thoughts of a comeback. Curry's alley-oop to Andre Iguodala and step-back three-pointer with under three minutes to go extended the lead to 109-87 to ice it.
#Clippers got it to 13, but GSW scored twice on two possessions. Rivers then calls for Bullock, Mullens and Hollins.

— Dan Woike (@DanWoikeSports) January 31, 2014
Here is an evaluation of some of the game's notable stars, along with a quick look at what lies immediately ahead for both squads.
Grades
Stephen Curry, G, Golden State Warriors: A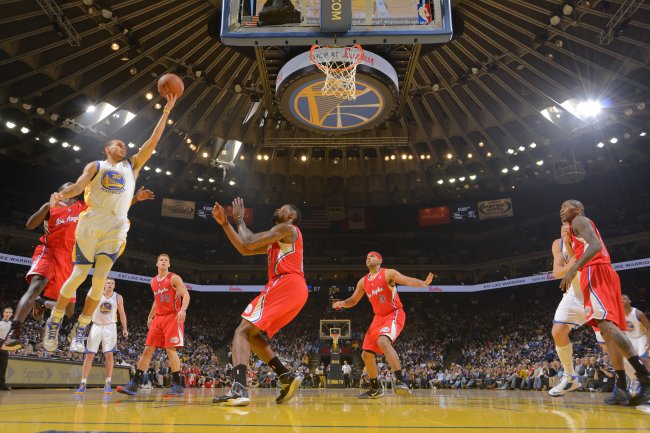 Rocky Widner/Getty Images
Something about the versatility that defines Curry's offensive arsenal can glue even otherwise uninterested fans to a game he's playing in when he's on.
Thursday was another instance in which Curry was in full force, letting the game come to him, not pressing the issue with poor shot selection or too many unforced passing errors. Between his efficient shooting percentage and the control he had over the contest, Curry deserves the highest grade.
Blake Griffin, F, Los Angeles Clippers: C
Sure, the 2009 No. 1 overall pick led all scorers with 27, but his lack of presence on the boards (three rebounds) was what brings down his grade. Additionally, he still needs to work on his free throws. Griffin just five of 10 from the charity stripe.
Against such a lethal offensive team in Golden State, there wasn't enough defensive effort from Griffin or the Clippers as a whole.
Andrew Bogut, C, Golden State Warriors: A
The big man was a critical fixture in limiting the Clippers in a pivotal third quarter and prevented Griffin from having his way near the hoop.
Check out the gaudy numbers Bogut posted, courtesy of GSWStats' official Twitter account:
Andrew Bogut's line: 14 points, 17 rebounds, 3 blocks. 1st Warrior to post those numbers in a reg. season game since Andris Biedrins in 2008

— GSWStats (@gswstats) January 31, 2014
Bogut did pile up five fouls in that stretch but his seven offensive rebounds kept a ton of possessions alive for Golden State, keeping the momentum going against a dangerous, playoff-caliber opponent playing hard in the absence of its biggest star in Paul.
Darren Collison, G, Los Angeles Clippers: B
A second-quarter surge keyed by Collison helped LA cut the halftime deficit to single digits. Unfortunately for the visitors, the ice-cold third quarter was their undoing.
To be fair to Collison, he did his part by getting to the line often and hitting all seven of his attempts. It just wasn't enough to stem the tide the Warriors can sometimes mount when running foes out of Oracle Arena.
What's Next?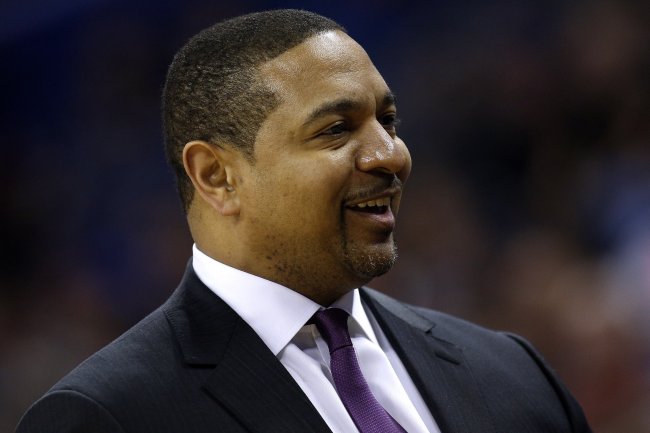 Jonathan Bachman/Associated Press
Golden State (28-19) should keep the momentum going when it hits the road to take on the Utah Jazz on Friday. Utah is near the bottom of the Western Conference but have won their past two games, and this will be a quick turnaround for the Warriors.
As for the Clippers (33-16), their next opponent also happens to be the Jazz, but they will be in the friendly confines of the Staples Center on Saturday, Feb. 1.