UFC Fight Night 36: Preliminary Card Predictions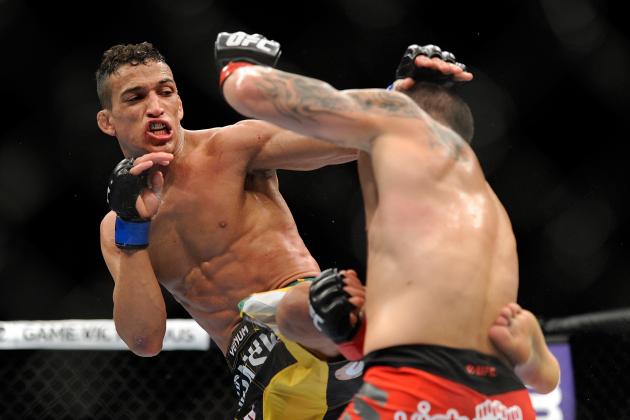 David Becker/Associated Press

The UFC makes its return to Brazil with UFC Fight Night 36, headlined by middleweights Lyoto Machida and Gegard Mousasi. The card has a ton of Brazilian talent looking to strut their stuff, as many prospects will look to break out on this card.
Before the main card, though, we have an interesting looking preliminary card. Boasting names like Iuri Alcantara, Rodrigo Damm and Maximo Blanco, the prelims could be chock-full of excitement and explosive finishes.
With the prelim predictions, I have hit a snag to start off 2014. After starting off 5-1 in Singapore, I have hit the .500 mark in the last two set of picks (10-10). Hopefully a rebound is in order for this predictor.
Without further ado, here are the prelim picks for UFC Fight Night 36.
Riley's Record in 2014: 15-11

Last Event: UFC 169 (4-3)

Begin Slideshow

»
Kicking things off, we head to the featherweight division, as late replacement Brazilian Douglas Silva takes on fellow debutant Zubair Tuhugov of Russia. Silva takes this bout on just over a week's notice for Thiago Tavares, who was originally slated to fight Tuhugov on the main card.
Tuhugov, at age 23, is already 15-3 in his pro MMA career, debuting in 2010. He was a member of the Fight Nights promotion in Russia where many of the Russians moving to the UFC seem to be coming from.
He is a well-rounded fighter, but his striking seems to be his crown jewel. In fact, his latest outing against Vaso Bakocevic produced a spinning-back-kick knockout that garnered him the attention he's gotten.
He now takes on a guy in Silva who is an unprecedented 22-0 (1 NC) in his 23-fight career. The Brazilian is similarly a striker, owning 18 of his wins by knockout, including three head-kick KOs and two via knees.
Many believe his record to be padded, which may be the case, but his most recent bouts in the Jungle Fight promotion have seen him take on some good competition with big success. The biggest win in his three-fight stint with Jungle Fight is his KO of the respected Fabiano Nogueira.
This promises to be a striking battle, as both men love to bang. Despite the questionable track record of most of Silva's opponents, I think he is the better fighter here and should be able to beat Tuhugov.
Prediction: Silva def. Tuhugov via TKO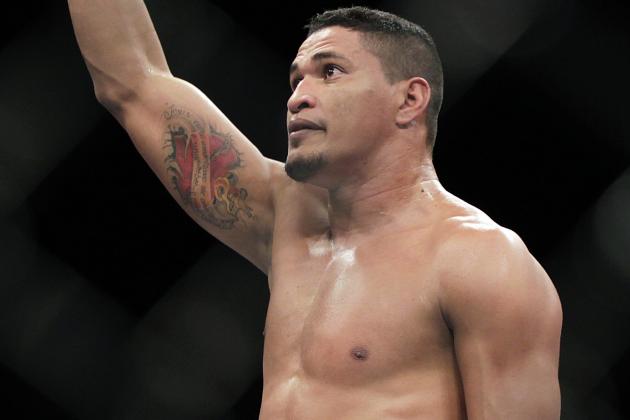 Andre Penner/Associated Press

Moving on, we go to a bout in the welterweight division, as debuting Russian Albert Tumenov meets three-fight UFC veteran Ildemar Alcantara.
Alcantara started off his UFC career with two big wins, taking Wagner Prado via submission at light heavyweight before dropping two weight classes and taking out Leandro Silva. However, in his most recent outing, he was outgrappled to a decision by Igor Araujo.
Alcantara is more known for his stand-up than his ground game, even though he is well-rounded. More than half of his wins come via knockout, showing that he has good power when he lands.
He will be taking on a UFC newcomer with a fair amount of hype behind him in Tumenov. The Russian is a striker with deadly power, putting away eight of his 12 victims via knockout.
His latest win was the most impressive, as he downed Yasubey Enomoto with a nasty head kick and punches. He will need to use that striking to make Alcantara uncomfortable, something he will do en route to a stoppage.
Prediction: Tumenov def. Alcantara via TKO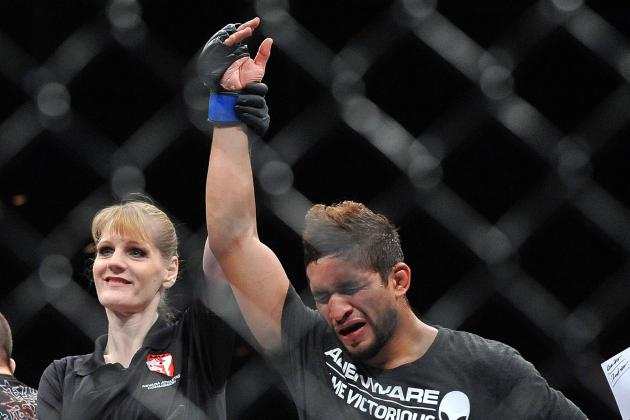 Gary A. Vasquez-USA TODAY Sports

Next up are the featherweights, as Venezuelan mad man Maximo Blanco takes on the cowboy-hat-wearing Brazilian Felipe Arantes.
Arantes is 2-2-1 in the UFC and has not been able to break up to the next level of the division. Despite impressive wins over Godofredo Pepey and Antonio Carvalho, "Sertanejo" has tripped up against Iuri Alcantara and Kevin Souza, while drawing with Milton Vieira.
He is a good striker on the feet that showed his ground-and-pound can be nasty against Pepey. Once he got on top of Pepey, he destroyed him with some of the scariest elbows and punches seen in recent memory.
He will want to stay off his back against Blanco, a man noted for his wrestling and power ground-and-pound. Blanco is 1-2 in the UFC, however, the last loss he took was from an illegal knee against Akira Corassani. That was a fight where he was landing powerful shots and could have put the Swede away had it not been for the illegal blow.
One has to think that Blanco's wrestling will prevail over Arantes' takedown defense. This will be important in the clinch, as Blanco is good in close and can land some nasty stuff. The Venezuelan should take this.
Prediction: Blanco def. Arantes via decision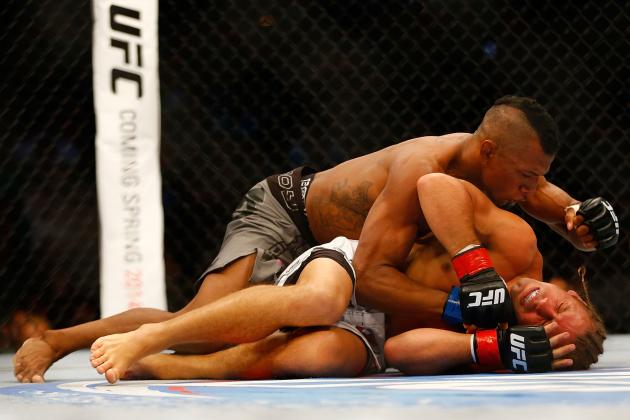 Jared Wickerham/Getty Images

A pair of top-15 bantamweights are scheduled to duke it out next, as the second of the Alcantara brothers, Iuri, meets up against Bellator vet Wilson Reis.
Reis made his debut on short notice at UFC 165, where as an underdog he outwrestled and grappled Ivan Menjivar to a decision. He is noted for his ground game, but it has been his striking and striking defense in the past that has failed him.
That will be great for Alcantara, who is a powerful striker with good physical strength and solid hips on the takedown defense. Save for his loss to Urijah Faber, Alcantara has looked strong since dropping to 135, holding a win over Iliarde Santos and what should have been a win over Pedro Nobre (no contest for illegal strikes).
Reis has shown in his bouts with Patricio Freire that his chin can be touched, and Alcantara has a similar style to Freire. Expect Iuri to land punches in bunches, hurting Reis and eventually putting him away.
Prediction: Alcantara def. Reis via TKO
Tom Szczerbowski-USA TODAY Sport

A hulking lightweight is set to make his return to the cage as Francisco Trinaldo of Brazil welcomes Jesse Ronson to his native land.
Ronson made his debut on short notice last fight, stepping up to take on Michel Prazeres. Despite getting outworked early, Ronson found his feet late in the fight, but it was too late, as he would drop a close decision.
Ronson is well-rounded and should rely on his cardio for this fight. If he can weather the early storm, Trinaldo will tire out and be susceptible to a finish.
That is Trinaldo's weakness, but his strengths are his power and his physical strength. He is able to muscle guys to the ground and outgrapple them when he is fresh.
I am going to go with the upset here, as I think Ronson with a full training camp is an impressive fighter. He will find himself in sticky situations early, but his conditioning will lead him to the promised land.
Prediction: Ronson def. Trinaldo via decision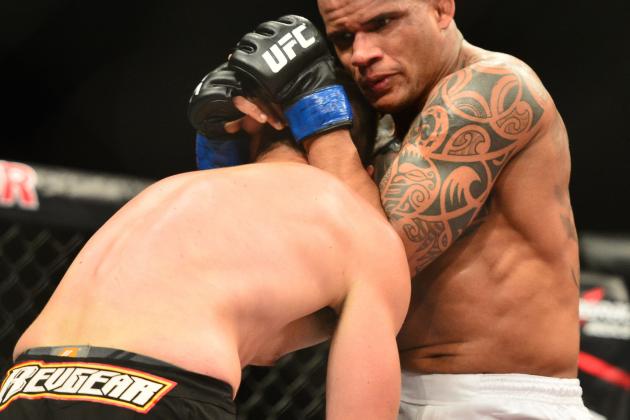 Jason Silva-USA TODAY Sports

Next up are the lightweights, as Ivan Jorge welcomes Rodrigo Damm back to 155 pounds. Damm does this in response to several weight cuts which have put his physical health in jeopardy.
Damm has flip-flopped between wins and losses in his three-fight UFC career. After choking out Anistavio Gasparzinho in his UFC debut, he was bested in a close bout to Antonio Carvalho. However, in his most recent outing, Damm got back in the win column, taking a close bout against Mizuto Hirota.
His strength is on the ground, but that will be tough against a strong defensive grappler like Ivan Jorge.
"Batman" took his UFC debut on late notice at welterweight in a critically-panned bout where he won a decision over Keith Wisniewski. Like Damm, Jorge is best on the ground, though he showed he can handle himself on the feet against Wisniewski.
This bout will come down to who can fight the more balanced fight. In terms of well-roundedness, I think Jorge edges out Damm, which should lead to a close decision win for Batman.
Prediction: Jorge def. Damm via decision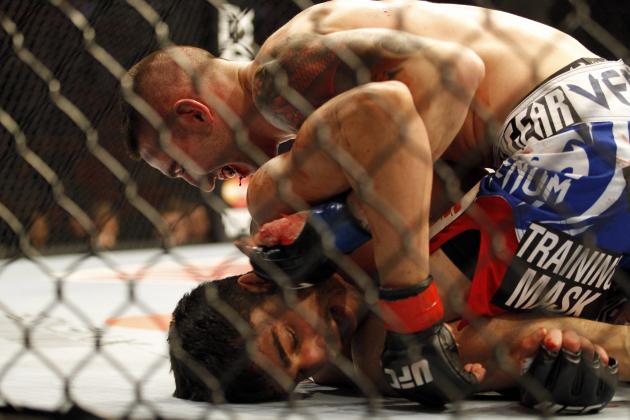 Joe Nicholson-USA TODAY Sports

A pair of Ultimate Fighter: Live castmates are set to meet in the lightweight division, as Joe Lauzon disciple Joe Proctor meets up with jiu-jitsu ace Cristiano Marcello.
Marcello, most famous for choking out Charles "Krazy Horse" Bennett backstage at a Pride event, is the former jiu-jitsu coach of Chute Boxe. That is obviously his strength, as nine of his 13 wins have come via tapout.
He has received mixed results in the UFC. He was brutally knocked out by Sam Sicilia and decisioned by Kazuki Tokudome, but won a controversial decision over Reza Madadi. His striking is still improving, but he should stick to his grappling in this fight, as it is superior.
Proctor brings an underrated ground game with him to the cage, as the Lauzon teammate has a game similar but less refined than the long-time UFC vet.
Proctor is just 1-1 with the company. He knocked out Jeremy Larsen quickly in his debut, but was outwrestled by Ramsey Nijem in the follow up fight.
On the feet, this is closely contested. On the ground, Marcello has a huge advantage. That edge should get him by.
Prediction: Marcello def. Proctor via decision