New planes need to be tested, and companies can get creative with the routes that the planes take during tests flights.
A new Seattle Seahawks-themed 747-8 freighter made its test run over the State of Washington on Thursday. Check out the aircraft, via @BoeingAirplanes:
Hello Seattle! @Seahawks 747-8 flies over the Jet City to salute all the 12s. Photo: http://t.co/9zvmrFhdHs #GoHawks #SB48 #Boeing

— Boeing Airplanes (@BoeingAirplanes) January 30, 2014
With the Seahawks taking on the Denver Broncos in Super Bowl XLVIII on Sunday, it made sense for the plane to honor "The 12th Man" during the test flight. That's right, the plane outlined a "12" in the sky.
Nice touch.
It took the jet around five hours to complete the run.
For those wondering, there are some pretty interesting facts about the plane. GeekWire's Taylor Soper shared a cool graphic: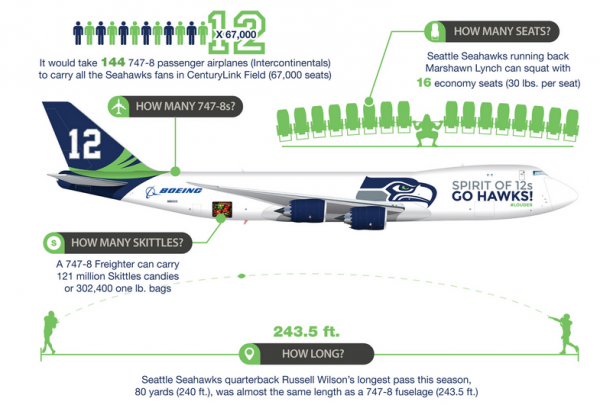 via GeekWire.com
[FlightAware, Boeing, h/t reader Steve]