Where Will Charlie Strong's First Texas Class Rank Among in-State Rivals?
Use your ← → (arrow) keys to browse more stories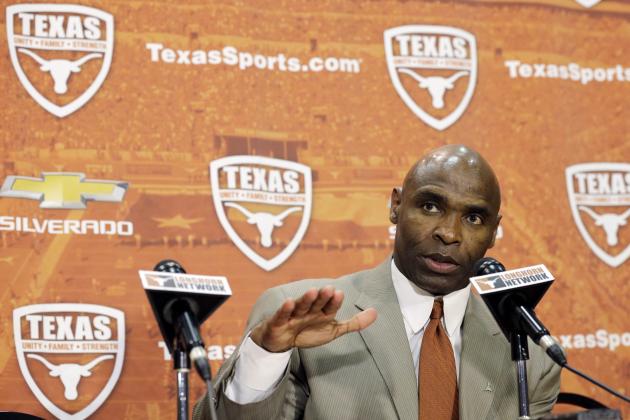 Eric Gay/Associated Press

January hasn't exactly been kind to Texas head coach Charlie Strong. The Longhorns have lost four commitments on the defensive side of the ball over the last several weeks.
Most recently, 4-star Houston (Cypress Falls) linebacker Otaro Alaka flipped his pledge from Texas to Texas A&M. Though the Longhorns no longer play the Aggies on the gridiron, it's still a bitter loss on the recruiting trail.
It's not all bad, though. Texas holds on to the No. 12 class in the country. Major recruits like 4-star dual-threat quarterback Jerrod Heard remain committed to the Horns.
The key for Strong is to hold on to the class in place while making as big an impact as possible in the state of Texas in a short amount of time. Texas is one of the best recruiting hotbeds in the country and Strong must make a dent with the best in-state talent.
So where does Texas project to finish among its in-state rivals when all the national letters of intent are signed?
5. TCU
The Frogs have made up a lot of ground over the past week on the recruiting trail. Now with 21 commits, TCU has cracked the Top 50 classes nationally, but still ranks as the No. 8 class in the Big 12.
The Frogs didn't beat out Texas for many recruits, but an exception would be 3-star wide receiver Emanuel Porter. Porter is a soft commit and he has an official visit scheduled with the Horns on Friday. Obviously, things could change for him.
TCU head coach Gary Patterson knows he faces tougher recruiting opposition in the Big 12. When it comes to the '14 class, he's not challenging the Longhorns much.
Who has the best recruiting class in Texas?
4. Texas Tech
One thing head coach Kliff Kingsbury and his staff have done remarkably well in this class is address the need along the defensive line. The Red Raiders have four D-line commits, two of which are early enrollees. The average weight of those four: 306 pounds.
Texas Tech is definitely beefing up, so to speak.
Texas is also looking to upgrade its defensive tackle spot after losing three commits earlier this month—Zaycoven Henderson, Trey Lealaimatafao and Courtney Garnett—in a staggering 24-hour window. However, the Horns may not go the in-state route. Poona Ford out of South Carolina and Chris Nelson out of Florida appear to be on their way to committing to Texas.
Tech's class is solid, but will it rank better than Texas' next month? Not without some major surprises on both sides.
3. Baylor
Baylor has a Top-25 class that's loaded at the top. 5-star wide receiver KD Cannon and 4-star athlete Davion Hall are rated as two of the top 10 players in the state of Texas. In fact, Baylor and Texas both have four commits that rank among the top 25 in-state players.
You could make an argument, then, that the Bears are right there with the Horns when it comes to dominating in-state recruiting.
Some late pushes by Texas along the offensive and defensive lines could give the Horns an edge. Regardless of what the rankings say, though, Baylor's class is shaping up to be stellar. When it comes to the second-best class in the state, the battle is going to be close.
2. Texas
A handful of playersfrom Texas in January. Don't worry, Longhorn fans. The world isn't ending. All things considered, Texas is still on its way to a nice-looking class that has top-10 potential.
Besides, Strong will be more accurately judged by how he does in the '15 class, '16 class and so on.
Texas will try to flip some commits over the next week. Per ESPN's Max Olsen, the Longhorns are looking to make a run at Cy Creek offensive tackle Elijah Rodriguez.
Houston Cy Creek OT Elijah Rodriguez, a Colorado commit, is taking official visit to Texas this weekend http://t.co/1BVRuf4CJm

— Max Olson (@max_olson) January 30, 2014
As mentioned above, Texas has four commits among the top 25 players in the state. That's low by the Longhorns' standards, but there's some context. Of those top 25 players, 24 are committed to 12 different schools in six different conferences.
Point being, everyone's getting their hand in that cookie jar.
1. Texas A&M
What Texas fans do need to be worried about from a long-term perspective, however, is how the program compares to Texas A&M. The Aggies have been crushing it on the recruiting trail with the No. 3 class in the nation. As long as Kevin Sumlin is coaching in College Station, don't expect A&M to lag in recruiting.
A&M has pulled in 11 of the state's top 50 players, including defensive end Miles Garrett, the No. 1 player in the state. For the record, Texas has eight.
For the Horns to be successful, they cannot yield too much ground in-state to its competitors. Right now, A&M definitely has the momentum. The Longhorns can't count on its 2005-06 championship and quarterback Vince Young anymore. It's all about Heisman Trophy winner Johnny Manziel and the SEC.
Texas definitely has ground to make up.
Ben Kercheval is the lead writer for Big 12 football. All recruiting information reflects 247Sports Composite rankings.