There is just one day left in the transfer window. For Arsene Wenger and Arsenal, time is running out.
Since the start of last summer, Wenger has searched high and low for a striker. Prior to the August deadline, attempts to sign Luis Suarez, Gonzalo Higuain and Demba Ba all failed to come to fruition. Arsenal were forced to head into the season with only the unconvincing pair of Nicklas Bendtner and Yaya Sanogo to support Olivier Giroud.
Will Arsenal sign anyone in this transfer window?
Arsenal have been fortunate thus far. Giroud has been relatively free of injury and poor form. Sanogo has been largely absent, but Bendtner has managed to score a couple of crucial goals. However, relying on this trio for the remainder of the season would be a significant risk. A serious injury to Theo Walcott merely exacerbated a preexisting need for a new forward.
If ever there was a time to take a gamble, this is it.
Arsenal are in the midst of a closely fought title race, and have just been knocked off the top spot by a rampant Manchester City. However, all is far from lost. This season still represents Arsenal's best chance in a decade of winning the league. To allow that to slip by without doing everything possible to bolster their challenge would be foolish in the extreme.
The problem, of course, is a lack of options. Big clubs are famously reluctant to allow their best players to move in January. Juan Mata's transfer to Manchester United is the exception rather than the rule—and only possibly because of his unhappiness and being benched ahead of the impending World Cup. A high-profile move for someone like Diego Costa at Atletico Madrid always looked improbable at best.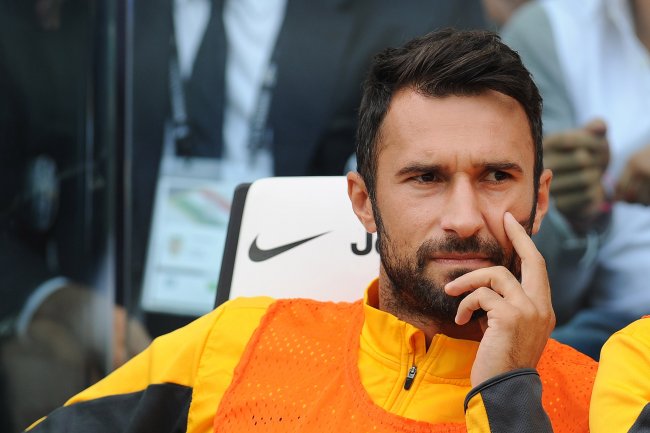 Valerio Pennicino/Getty Images
That's why Mirko Vucinic seemed like an excellent option. The Montenegro international has become surplus to requirements at Juventus but remains a quality player. The collapse of a potential move to Inter Milan left him in limbo, and Arsenal looked like the obvious beneficiaries. Rumours swirled of a potential six-month loan move, according to Italian newspaper Tuttosport (h/t Yahoo Eurosport).
It seemed to suit all parties. Vucinic would jump ahead of Bendtner in the pecking order and get plenty of playing time as Giroud's immediate back-up. Arsenal would sign a striker blessed with great technical ability and intelligent movement. Juventus, meanwhile, would off-load a player taking up space on their wage bill whom they could reinvest elsewhere.
While talk of a potential move for Julian Draxler, per the Mirror's John Cross, had generated more excitement among the Arsenal fans, Vucinic seemed a more pragmatic and sensible signing. He has the experience of winning titles in Italy, and he plays in the position where Arsenal are most obviously lacking.
However, the latest news suggests any potential deal is now off. James Dodd of talkSPORT has spoken directly to the player's agent, who has confirmed that the forward has opted to stay at Juventus. That has been corroborated by Italian football journalist Gianluca Di Marzio, via his reporter, David Amoyal.
Di Marzio: it appears Vucinic has turned down both Valencia and Arsenal and wants to remain at Juve

— David Amoyal (@DavidAmoyal) January 30, 2014
One can only assume that Vucinic has received some assurances about his playing time in the second half of the season.
For Arsenal, it's a significant blow. With a matter of hours left in the window, another option has disappeared off the table. Speaking to Arsenal.com, Arsene Wenger said the Gunners were still "active" but admitted they were "not close" to a deal.
The clock is ticking, and Arsenal fans are beginning to fret.
James McNicholas is Bleacher Report's lead Arsenal correspondent and will be following the club from a London base throughout the 2013-14 season. Follow him on Twitter here