On Wednesday night at Stamford Bridge, Chelsea had 39 shots, 13 corners and 63 percent of the possession against West Ham, but they could not manage a goal versus a resilient, determined Hammers side.
The 0-0 draw was far from the result the Blues wanted as they failed to take advantage of Arsenal's Tuesday draw.
To make matters worse, Manchester City thumped Spurs on Wednesday in North London to extend their lead over Chelsea to three points.
So just how did Sam Allardyce's Hammers fend off a rampant Chelsea attack for 90 minutes?
We examine just that in the latest edition of film focus.
West Ham Parked the Bus Early
West Ham set the tone early for how they wanted to defend the Chelsea attack that started Willian, Oscar and Eden Hazard behind the lone forward, Samuel Eto'o.
The tactics of the Hammers were pretty straightforward as they sat back on the edge of the penalty area, daring Chelsea to shoot from distance.
The Hammers also made it a point to put two men on whoever was in possession of the ball. As you can see in this snapshot from the 19th minute, there are a pair of West Ham defenders on both players looking to receive a throw-in from Cesar Azpilicueta.
NBC Sports Extra Time
This was a trend throughout the entire game, but in the first half, Chelsea did not know how to deal with the pressure as they kept taking shots from long range.
In the 42nd minute, Hazard tried to test West Ham keeper Adrian with a shot, but a few Hammers defenders were there to get in the way of his shot.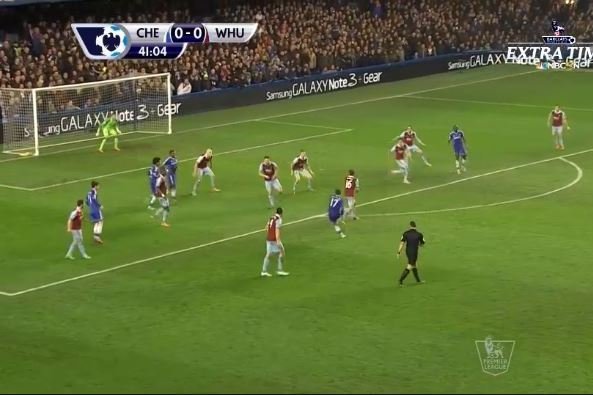 NBC Sports Extra Time
Allardyce's men amassed a total of 14 blocked shots as they employed this strategy for the duration of the match.
Chelsea's Frustration Sinks In
On numerous occasions in the first half, Chelsea players did aim at Adrian from outside the penalty area.
The reason for that was the pressure that the Hammers put on every single dribble of the ball.
Mourinho: It's difficult to play a match when only one team wants to play. Because West Ham need points they came here the way they did.#CFC

— Chelsea FC (@chelseafc) January 29, 2014
Coming into the game in the bottom three, West Ham knew that they had to rescue a point from their visit to Stamford Bridge in order to propel them forward into a crucial stretch of matches in February.
In the first half, only three of Chelsea's 10 shots made it on target, while West Ham managed just one attempt for the entire first 45 minutes.
Holes Begin to Open Up in Second Half
As expected, Chelsea came out firing in the second half, and they created a decent amount of space in the opening minutes of the second stanza.
With two defenders focused squarely on him, Hazard had a chance to pass the ball into space for John Obi Mikel in the 48th minute.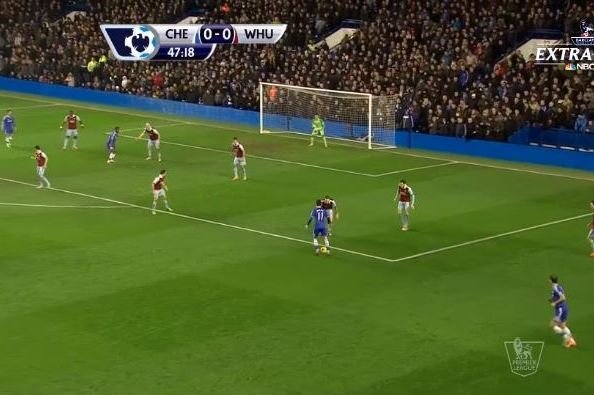 NBC Sports Extra Time
Mikel was able to sneak through the four Hammers standing in what looks like a rectangle to hit a shot that was eventually blocked.
Just three minutes later, Willian used his vision to find a hole in the West Ham defense to let Hazard burst free toward goal.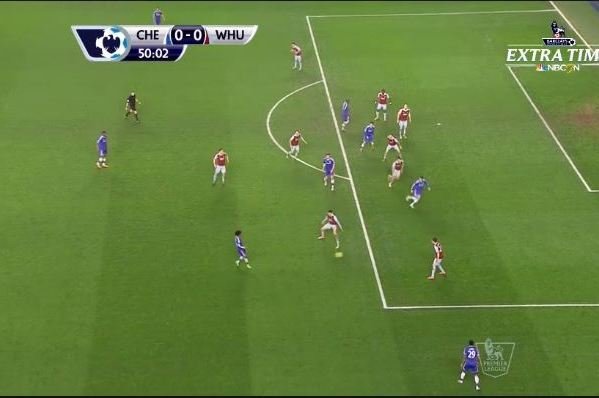 NBC Sports Extra Time
Neither of these chances resulted in goals, but Mourinho must have picked up on this because he made a change in the 63rd minute that changed the landscape of the game.
Lampard Substitution Flips Game on Its Head
When Frank Lampard entered the match in the 63rd minute for Azpilicueta, he immediately altered the Chelsea formation as they kept just one holding midfielder in front of the back four.
Lampard had the license to move forward and look for gaps in the West Ham defense, and he found one just seconds after entering the fray.
With Willian driving down the left wing, Lampard jogged forward with the move and was left wide open by the Hammers back line, who failed to account for a new player in the Chelsea attack.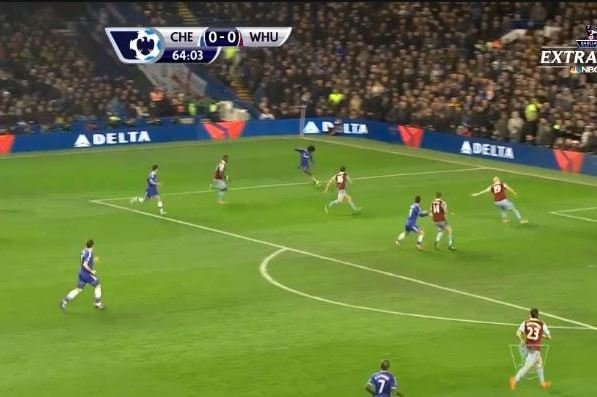 NBC Sports Extra Time
In the 72nd minute, Lampard was also allowed some space as he found room between five West Ham players in the box.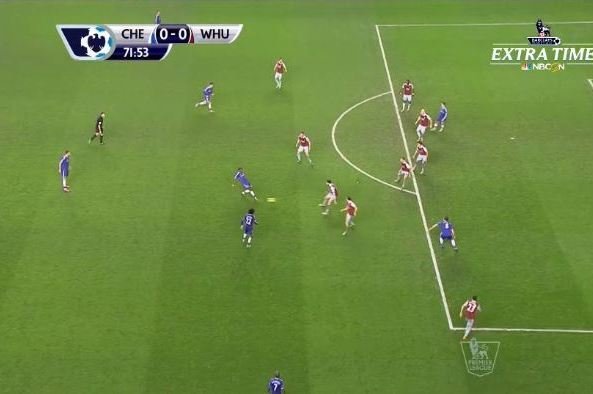 NBC Sports Extra Time
Unfortunately for the former West Ham player, both of his shots resulted in blocks as the Hammers scurried back to deny Lampard of challenging Adrian, but that would not be the case for the rest of the match.
Final Few Minutes Test West Ham's Resolve
A final barrage of attacks came from Chelsea in the final stage of the match with Lampard's 97th-minute shot on goal being attempt No. 39 for the Blues.
On two more occasions, Lampard broke free from his markers and had an opportunity to send the Stamford Bridge faithful home on a happy note.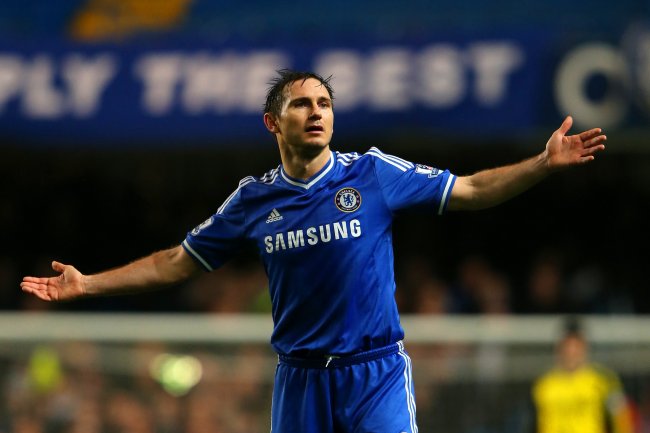 Ian Walton/Getty Images
In the 92nd minute, Lampard was left open for a shot, but three defenders recovered well to block it.
On that 97th-minute shot, Adrian made a fine save to ensure the Hammers a point.
BIG SAM: "Thank goodness Lampard didn't score against us again. It was brilliant, considering we played the last ten minutes with ten men."

— West Ham United FC (@whufc_official) January 29, 2014
Before Lampard's two strikes, Branislav Ivanovic was left open to fire just wide on goal in the 87th minute as well.
If the game had lasted a few more minutes, there would be no doubt that Chelsea would have scored based on all the open looks they were getting late.
Mourinho: 'My respect to West Ham's spirit and effort but my team tried everything so I cannot complain about my players.' #CFC

— Chelsea FC (@chelseafc) January 29, 2014
Follow Joe on Twitter, @JTansey90.