The 2014 NHL Stadium Series rolled on as the New York Rangers pulled out a 2-1 victory over the New York Islanders in Yankee Stadium on Wednesday, Jan. 29.
This loss was a big blow to the diminishing playoff hopes of the Islanders (21-27-8, 50 points). Meanwhile, the win was just another statement for the surging Rangers (29-23-3, 61 points).
Although not everyone is a fan of the outdoor games, it is hard to argue the aesthetic appeal. The outdoor lighting gives the game a great look on TV, and it has to offer a great view, although a little distant, for those in attendance.
Assuming those in attendance could keep their chattering teeth from blurring their vision beyond the point of recognition:
New Yorkers: Hardy souls, good eggs. Big crowd here for #Rangers, #Islanders at Yankee Stadium. Temp? 22. Plummeting pic.twitter.com/WkocHWfwlI

— Brian McNally (@bmcnally14) January 30, 2014
The increasingly cold temperatures certainly didn't keep actor Michael J. Fox from enjoying the action:
"This is like house sitting for God." Michael J Fox on watching Islanders/Rangers at Yankee Stadium.

— Andy Johnson (@AndyJohnsonB5Q) January 30, 2014
This was the second venture into Yankee Stadium in less than a week for the Rangers. On Sunday, they beat the Devils, 7-3. All of this gives Rangers players a chance to be a part of this fun stat:
Henrik Lundqvist of the New York Rangers plays his 2nd game this week in Yankee Stadium: two games more than ARod will play there this year.

— Bob Linfors (@blinfors) January 30, 2014
Meanwhile, it was Islanders goalie Evgeni Nabokov who looked like the outdoor veteran:
Ed Mulholland-USA TODAY Sports
The first period was full of effort, but as the teams adjusted to the cold weather and the bumpy ice, there were no goals or serious threats.
The second period played out much like the first—until the final two minutes. Each team was getting some decent runs on goal, but neither could control the action or puck enough to turn that into a score.
Brock Nelson finally broke the seal on the goals by sliding a shot past the Rangers Henrik Lundqvist. That gave the Islanders a 1-0 lead. A lead that lasted 40 whole seconds.
That is when Benoit Pouliot pulled his team even by beating the beanie-wearing Islanders goalie.
GOAL!!!! #NYR answer right back with 46.3 seconds to play in second period, Benoit Pouliot crashes crease for the goal!!! We are tied 1-1

— New York Rangers (@NYRangers) January 30, 2014
The flow of goals appeared to carry over into the third period.
Daniel Carcillo gave the Rangers a 2-1 lead less than five minutes into the final stanza. The outdoor goal from this former member of the Los Angeles Kings left some downright shocked:
Former #LAKing, Daniel Carcillo has scored an outdoor hockey goal. Maybe NY is now considered hell cause it has most definitely frozen over.

— Joel Goodling (@JoelGoodling) January 30, 2014
The goal flow came to an abrupt end with Carcillo's score, however. With the bouncing puck, plummeting temperatures and increasing winds, both offenses were kept off the board for the remainder of the night.
Although it certainly wasn't for a lack of effort. In all, 65 shots were fired on goal, with the Rangers holding a slight 34-31 edge.
Key Player Grades
Benoit Pouliot, Rangers: B+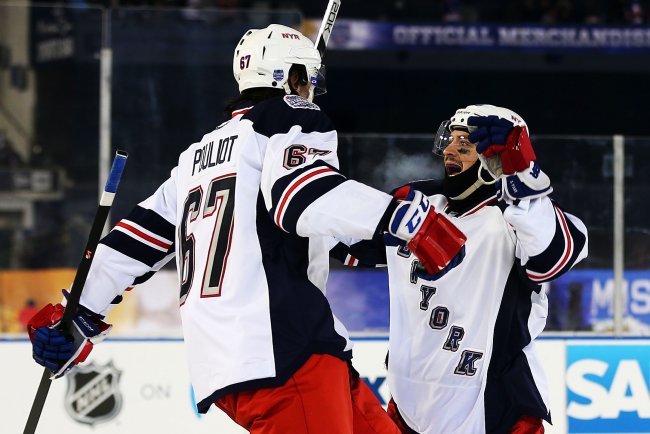 Elsa/Getty Images
The goal by Pouliot adds to what has been a fine season for the veteran:
Benoit Pouliot has played in 344 NHL games, but he looks the best he has since leaving the Sudbury Wolves, according to Pierre.

— Michael Hurley (@michaelFhurley) January 30, 2014
He got off to a dreadfully slow start, but he has settled into his role with the Rangers and is now paying big dividends. He received just under 11 minutes of ice time in this contest, but he fired off three shots and had two hits.
Henrik Lundqvist, Rangers: A-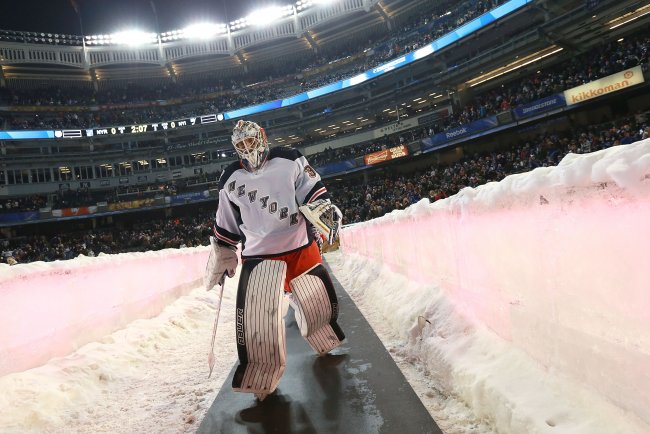 Dave Sandford/Getty Images
Lundqvist has been rounding into form and getting stronger as the season rolls along.
On this night, he proved once again that he is right at home outdoors:
Great back and forth game for @NYRangers vs NY Isles. 3 for 3 in Stadium Series. @HLundqvist30 with another solid game. #LetsGoRangers #NYR

— Brian O'Halloran (@BrianCOHalloran) January 30, 2014
Lundqvist stopped 30 of the 31 shots he faced. As the night got colder and the Islanders started firing off more shots, Lundqvist only got better, and that led his team to its narrow victory.
Evgeni Nabokov, Islanders: B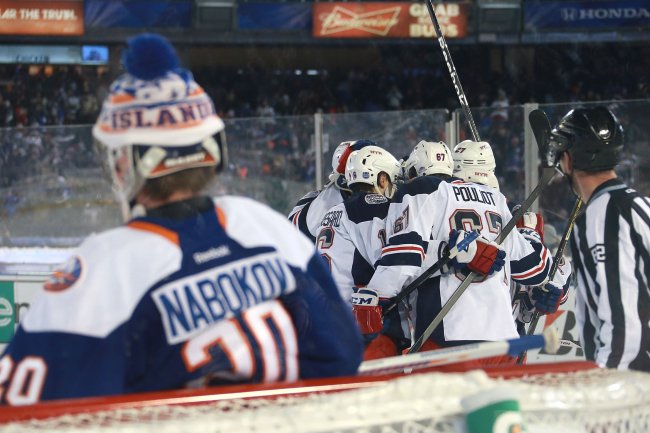 Dave Sandford/Getty Images
Considering the following fact, this was a rather amazing performance:
Evgeni Nabokov suffered a lower-body injury Jan. 6. This will be his first start since. He relieved Poulin in 6-3 loss to BOS two days ago.

— Andrew Gross (@AGrossRecord) January 29, 2014
It couldn't have been easy to make his return to action in the frigid temperatures, though his hat likely helped.
He wound up saving 32 of 34 shots on the night. Although he will be troubled by allowing the winning score, he did what he could to keep his team in it.
What's Next?
Up next for both teams is a date against each other—indoors this time—at Madison Square Garden on Jan. 31.
The NHL will host two more outdoor games this season. On March 1, the Pittsburgh Penguins will take on the Chicago Blackhawks at Soldier Field, while the Ottawa Senators and Vancouver Canucks will drop the puck at BC Place in Vancouver on March 2.