Reevaluating New York Jets' Worst Player Contracts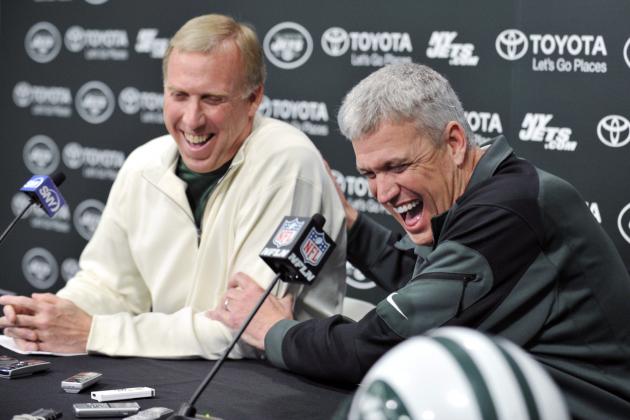 Bill Kostroun/Associated Press
They've wrapped up 2013, time to decide who stays and who goes
Five players—cornerback Antonio Cromartie, offensive tackle D'Brickashaw Ferguson, wide receiver Santonio Holmes, center Nick Mangold and quarterback Mark Sanchez—consume almost $58 million of the New York Jets' 2014 salary cap. That's the ninth-highest such figure in the NFL.
That may change soon. General manager John Idzik will most likely cut three of those five, Cromartie, Holmes and Sanchez saving $26.05 million in cap space. The sixth-highest cap consumer, linebacker David Harris, may go as well, saving another $5 million.
Ferguson and Mangold are safe. They consume almost $19 million of cap room, but cutting them would remove the most stable elements of the Jets' offensive line. It would also reduce the Jets' available cap by $100,000.
That brings us to this article's subject, the Jets' worst player contracts.
Here's the basis for analysis:
Market value: Regardless of how good a player is, there is a practical limit to his compensation. If his contract breaks the bank for his position, he'd better be Canton material. Otherwise, he may do his team more harm than good by consuming salary-cap resources that could help fill other needs.
Darrelle Revis' $16 million average (compensation) per year (APY) is an example. He earns about 60 percent more per year than any other cornerback. Players such as Denver's Champ Bailey, Dallas' Brandon Carr and St. Louis' Cortland Finnegan come closest to Revis, with APYs around $10 million.
In doing so, Revis consumes roughly 12.7 percent of the estimated $126.3 million salary cap for 2014. Maybe he's worth it, but the Jets' bean counters are happy that it's Tampa Bay's problem. The Jets have no such issues in 2014.
Check that, maybe one. It depends on if you view Mark Sanchez as a starter or reserve. He's overpaid in either case, but as a backup quarterback, his current contract breaks the bank.
Flexibility: To be effective, a contract must be flexible. The player must receive the promised funds if he plays well and face removal from the team if he does not. Some contracts work against this. They pay large signing bonuses up front that count against the cap in equal installments.
You've probably heard the term "dead money." Dead money is money that the player has received that has yet to count against the cap. Should the player leave the team before the contract expires, all of that money counts against the cap that year, in other words, the installment plan ends.
If dead money exceeds other cap elements such as base salary and annual bonuses, releasing a player actually decreases available cap space. The Jets faced that situation in 2013 with Mark Sanchez and Santonio Holmes. Unless you think the Jets should cut Quinton Coples, Ferguson, Dee Milliner, Sheldon Richardson or Geno Smith, dead money is not an issue in 2014.
There is, however, another flexibility issue the Jets must face: bonus timing. In addition to signing bonuses, players often receive annual roster and workout bonuses. Releasing players who would earn the largest such bonuses before their due dates is key to maximizing cap savings.
The Jets' current roster bonus obligations round to $10.8 million; their workout bonus obligations round to $2.7 million. Of that $13.5 million, Cromartie, Harris, Holmes and Sanchez consume just over $9 million, $8 million of which are roster bonuses.
Those bonuses typically come early in the league year, which begins on March 11. The roster bonuses are usually due within a few days of the league year's start. Workout bonuses are due sometime in May, after players complete an optional offseason workout.
If a team delays its decisions on a player and has to pay a roster or workout bonus, it's probably because they're trying to work out a trade. Darrelle Revis collected his roster bonus from the Jets in 2013 for that reason.
Price vs. Performance: This is the Jets' biggest contract issue in 2014. Players who negotiate huge deals have an obligation to produce. To put it another way, you would hope that the Jets' top five cap consumers were ninth-best in productivity as well as in price. Otherwise, the team officials who negotiated those contracts deservedly come under fire. That's part of what sealed Mike Tannenbaum's fate. Had Mark Sanchez and Santonio Holmes had elite seasons, their contracts would have experienced less scrutiny.
Those are the factors that determine a contract's suitability. There are plenty of other talking points, such as the percentage of guaranteed money, that we could add to the discussion. Nitpickers will also find the salary cap discussion doesn't dot every "i" and cross every "t," but there are better places to don the green eyeshades and discuss the fine print.
Players under their rookie contracts aren't included here. The rules that govern those contracts result in top performers, such as the Jets' defensive end Muhammad Wilkerson, playing for a discount. Wilkerson will undoubtedly resolve that, if not through a contract extension this year, through testing the free-agent market in 2015.
That's enough prequel. It's time to look at some contracts.
SOURCES
Begin Slideshow

»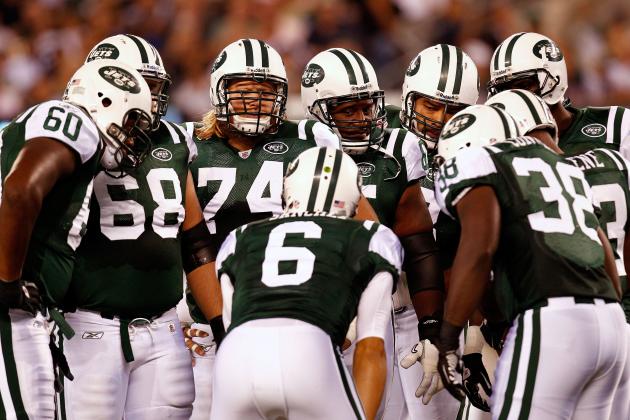 Jeff Zelevansky/Getty Images
No. 60 D'Brickashaw Ferguson and No. 74 Nick Mangold began protecting Jets' quarterback in 2006.
Center Nick Mangold and left offensive tackle D'Brickashaw Ferguson are two of the Jets' top five cap-space consumers. As such, their contracts merit discussion whether they're good or bad.
Mangold: Mangold's cap value for 2014 is $7.2 million. He has the second-highest average compensation per year (APY) of any center in football, $7.7 million. He deserves it.
He's been to the Pro Bowl in five of his eight seasons, including 2013. He's also been a model of durability, starting every game except two over that span. He's been, in short, the offensive line's anchor. Releasing him would save $1.2 million in cap space, but it would be a case of being penny-wise and pound-foolish.
Ferguson: Ferguson has never missed a start in his eight-year career, but there are signs that he is no longer performing like the fifth-best left tackle in football that his $11.7 cap number and $10 million APY assumes. He hasn't made a Pro Bowl since 2011, his third in three years.
Ferguson's contract runs through 2017. A restructuring that ties the non-guaranteed money to performance incentives such as Pro Bowl appearances could be a way to preserve the contract's face value while making his actual compensation more appropriate.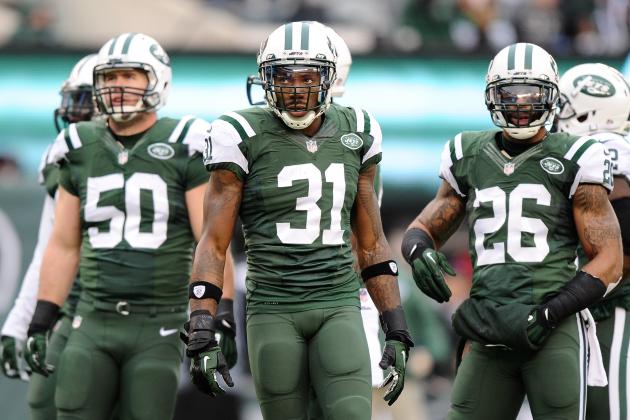 Maddie Meyer/Getty Images
Antonio Cromartie (center) with Garrett McIntyre (left) and Dawan Landry (right).
2014 cap number: $15 million (rounded to nearest million)
APY: $8 million
Cromartie's average compensation per year, or APY, is 12th-highest among NFL cornerbacks. He signed his current deal before the 2011 season.
It was a good buy for the Jets in 2012 when Cromartie assumed Darrelle Revis' role after the keeper of Revis Island tore his ACL. Cromartie earned a Pro Bowl bid. Despite going to the Pro Bowl again in 2013, Cromartie's contract no longer looks as good.
Consider the Jets' last two games. Rookie Dee Milliner covered the opponents' leading receivers in both. In fact, Milliner out-performed Cromartie in both tackles and passes defended and tied him in interceptions. That's a consequence of teams testing the rookie cornerback. They may not test Milliner so much in 2014.
The big games he surrendered were what made Cromartie's year disappointing. They began in Week 1, when he surrendered 154 receiving yards to Tampa Bay's Vincent Jackson. Big-money cornerbacks are supposed to prevent performances like that. Mostly, Cromartie did not.
A hip injury may have been at least partially responsible. The fact that he didn't miss a game is a testament to his will and endurance.
If, however, he can't recapture the form that made trading Darrelle Revis possible, he shouldn't get that level of pay.
Cutting Cromartie would free $9.5 million in cap space, if the Jets do it soon. Cromartie's contract includes a $5 million roster bonus, the largest on the team, and a $200,000 workout bonus. The Jets must cut Cromartie before these bonuses come in order to free the maximum amount.
Cromartie is an example of someone whose play justified his contract at first, but it fell victim to circumstances beyond his control. That's why his deal is the best of the worst.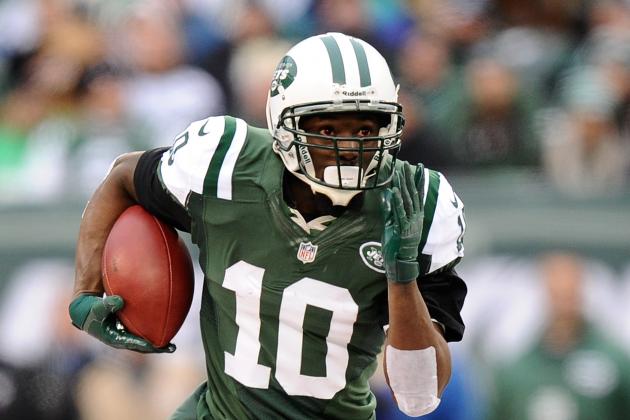 Maddie Meyer/Getty Images
Holmes never brought his Super Bowl XLIII MVP form to the Jets consistently.
2014 cap number: $11 million (rounded to nearest million)
APY: $8.4 million
If Santonio Holmes is the 15th-best wide receiver in the NFL, he hasn't played that way for the Jets. They've paid him as if he were anyway. (They actually paid him better, but he took a pay cut to start the 2013 season.)
Holmes has never come close to matching the 79-catch, 1,248-yard and five–touchdown year he enjoyed in 2009, his last year with the Pittsburgh Steelers. That year, he tied San Diego's Antonio Gates for 16th place in receptions and finished seventh in receiving yards. When the Jets traded a fifth-round draft pick for him, they expected similar results.
They never got it. In two years and 28 games, (he began 2010 by serving a four-game suspension) Holmes caught 103 passes for 1,400 yards and 14 touchdowns. That performance earned Holmes his huge contract. Had it been his seasonal average, no one would have objected.
Injuries marred 2012 and 2013, meaning that Holmes could never redeem himself. Now he's vulnerable, as the Jets would gain $8.25 million in cap room by releasing him before his $1.25 million in roster and workout bonuses come due.
Holmes' future with the Jets depends on their ability to revive their offensive skill positions via the draft and free agency. If the Jets get a couple of game-breaking wide receivers, Holmes' days with the Jets are over. If they only get one, he could be back, but under far less lucrative circumstances. Jeremy Kerley earned just under $1.5 million in 2013, putting him around the middle of the wide receiving pack. That's probably what Holmes deserves.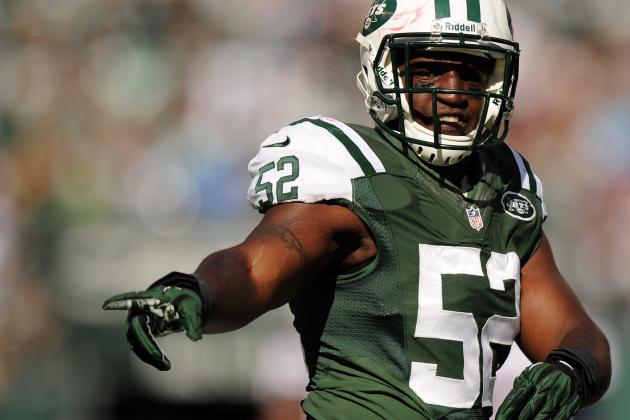 Maddie Meyer/Getty Images
David Harris is a valuable player for whom the Jets paid too much.
2014 cap number: $7.2 million
APY: $9 million
The Jets pay David Harris as if he's the fourth-best linebacker in the NFL. He has never made the Pro Bowl.
Harris is a nice player. He's consistently been one of the Jets' leading tacklers. He has been a vital cog in the Jets linebacking corps. He simply costs too much for the level of play he delivers.
At the right price, Harris is worth keeping. If the Jets could spread his compensation over two years instead of one, he'd make similar money to Arizona's Karlos Dansby, an inside linebacker with similar statistics.
At least with Harris, the Jets have time to negotiate. There's no roster bonus and a $100,000 workout bonus. That gives the Jets and Harris a couple months to talk and helps this contract's rank.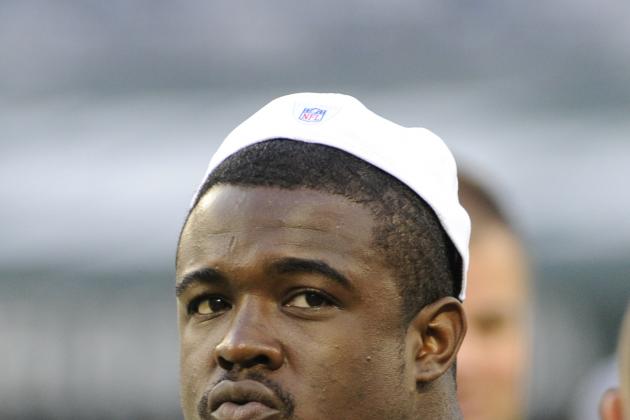 Bill Kostroun/Associated Press
Legal and medical issues have interrupted Mike Goodson's Jets career.
2014 cap number: $2 million (rounded to nearest million)
APY: $2.3 million
Mike Goodson evokes thoughts of the New York Knicks' J.R. Smith. When he plays to his potential, he's the "sixth man of the year." When his dark side takes over, he's overpaid.
Under his current deal, Goodson's annual pay per year is 33rd among NFL running backs. His $2.3 million APY surpasses that of the Colts' Donald Brown, the Bucs' Doug Martin and his teammate Chris Ivory. Brown, Martin and Ivory each gained over 450 yards rushing.
That might be fine if Goodson were a game-breaking change-of-pace back. If he lived up to the "good J.R." parallel, Goodson's price point might not be in question.
Unfortunately, everything began to unravel in May of 2013 when he was arrested on drug and weapons charges. Legal and personal issues kept Goodson out of training camp until the last week. A four-game suspension kept him out of uniform until Week 5.
In Week 5 and Week 6, he showed hints of the explosiveness that could have justified his contract had he lasted the season, but he injured his knee during a tackle attempt. That ended his first and perhaps only Jets campaign.
Goodson has been long on potential and short on durability since his career began. He's demonstrated remarkable versatility in being a potential game-breaking ball-carrier, pass receiver and kick returner. It's just that between being susceptible to injury and making questionable off-field choices, Goodson has not been a credit to himself, his team or the NFL.
The Jets can free $1.3 million in cap space by releasing Goodson before his $650,000 roster bonus comes due. They might postpone additional action until his trials on drug and weapons charges conclude. Even if he wins them both, he'll probably be available at a substantial discount, perhaps the veterans' minimum.
In his two games with the Jets, Goodson showed why John Idzik rolled the dice on him. His injury and legal battles showed why Idzik gambled too much.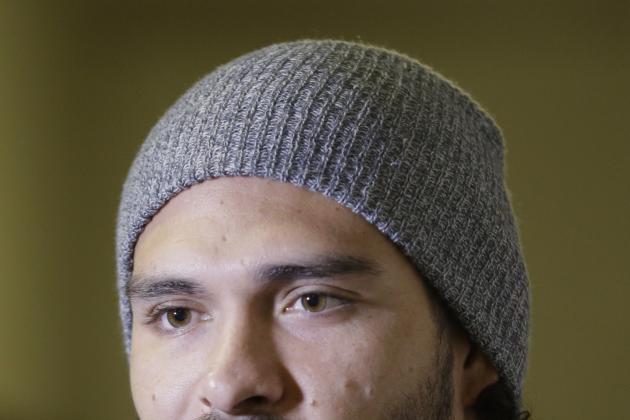 Julio Cortez/Associated Press
He was 4-2 in the playoffs, but Mark Sanchez regressed after 2010.
2014 cap number: $13.1 million
APY: $13.5 million
Mark Sanchez's average pay per year is the 13th-highest among NFL quarterbacks. It surpasses that of starters like Kansas City's Alex Smith and New England's Tom Brady.
His contract is worse than those of Antonio Cromartie and Santonio Holmes for one reason: They both achieved the performance levels that their contract anticipated at some point in their careers. Holmes did it before he joined the Jets, but he still did it. Sanchez, on the other hand, never has.
If you consider passing yards alone, he has been close, 15th in 2010. Passing yards, however, don't measure all elements of a quarterback's game. The NFL passer rating at least tries to do so. That's where Sanchez's deficiencies show. He's ranked far lower in passer rating than in passing yardage. Low completion percentage and too many interceptions relative to touchdowns are the main reasons.
He seemed to be earning a chance at redemption in 2013 until a season-ending shoulder injury gave the starting quarterback job to Geno Smith. Now, it seems like holding a "Smith-Sanchez II" this coming preseason would be counterproductive. Let there be competition for the starting quarterback's job, but don't let Sanchez's shadow haunt Smith. It would be 2012 all over again, with Sanchez playing the role of Tim Tebow.
That's why Sanchez's has earned the dubious No. 1 ranking. Unlike the other four, no amount of tweaking is enough to make his return viable.
It's time for Sanchez to go. His departure will free $8.3 million in cap room if his $2.5 million in roster and workout bonuses don't come due. Then it's best for Sanchez to seek a new football home. He'll earn much less, perhaps $2 million to $2.5 million a year, but he'll have the chance at redemption that his Snoopy Bowl injury took from him in 2013.
Follow Philip Schawillie on Twitter; @digitaltechguid