Tottenham's Danny Rose picked up a controversial red card on Wednesday, Jan. 29, as Spurs hosted Manchester City.
The red card led to Yaya Toure converting a penalty shot to give Manchester City a 2-0 lead, en route to a 5-1 win, as the match hit the 51st minute.
Updates from Friday, Jan. 31
The FA announced that Rose's one-game suspension has been overturned:
Danny Rose's one-match suspension has been withdrawn with immediate effect, after the Tottenham Hotspur player's wrongful dismissal claim was upheld by an Independent Regulatory Commission.


Original Text
On Jan. 30, BBC reported action Tottenham was planning to take in wake of the red card:
Tottenham are to appeal against the red card Danny Rose received during their match with Manchester City on Wednesday #THFC

— BBC Sport (@BBCSport) January 30, 2014
Le Parisien's Julien Laurens didn't think Rose's tackle was worth the red card:
Penalty to City + red card for Rose after tackle on Dzeko. Replay shows Rose got the ball, linesman gave it. Touré scores. 0-2, 51'

— Julien Laurens (@LaurensJulien) January 29, 2014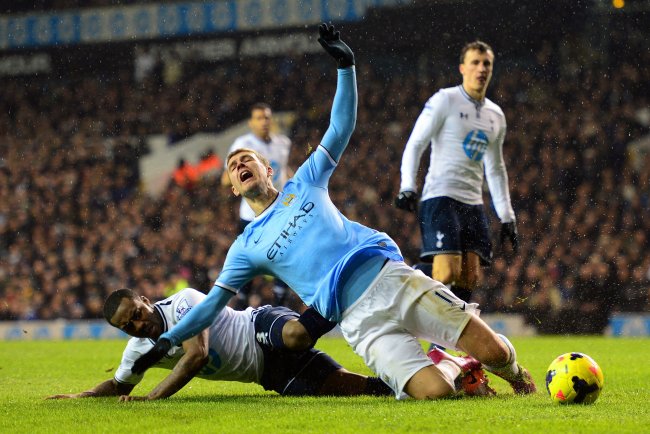 Jamie McDonald/Getty Images
The quick answer as to how Tottenham will cope with Rose's absence? Not well.
It's hard enough to deal with the viscous firepower of the Citizens with 11 men on the pitch, let alone only 10. So, it is not all that shocking that Edin Dzeko was able to stretch the Citizens' lead to 3-0 in the 53rd minute.
The Spurs displayed their resolve by not giving up on the match, and a goal from Etienne Capoue pulled the score to 3-1 in the 59th minute.

First goal for Spurs - Etienne Capoue. #THFC pic.twitter.com/nREGVaz63J

— Addicted to Spurs (@AddictedtoSpurs) January 29, 2014
Still, that proved to be Tottenham's last hurrah.
This match will be a bitter pill to swallow. There is no denying that the penalty was a severe blow. Tottenham were playing well and giving Manchester City a real battle for three points.
With Rose off the pitch, however, the Spurs were doomed. Without picking up a point from this match, the Spurs are three points shy of Liverpool for the important fourth spot in the table and just one point clear of Everton for fifth.
The good news for Spurs is that their next league action will not be as fierce as it was for this match. Should the Citizens pick up three points from this match, they will overtake Arsenal for first in the table.
Meanwhile, Hull City sit in 13th in the table. Hull have lost four straight league matches with the last being a 1-0 setback to Crystal Palace.
Although Rose's absence from the back line will leave the goal a little more vulnerable, Hull's attack is struggling. They haven't scored a single goal in the current four-match league losing streak.