STAMFORD BRIDGE, LONDON—And so the Premier League pendulum swings, only this time it isn't in Chelsea's favor.
The Blues missed a golden opportunity to capitalize on Arsenal's draw with Southampton 24 hours ahead of their fixture against West Ham United on Wednesday. Instead, they were left ruing a glut of missed opportunities that sees them slip three points behind new leaders Manchester City, losing vital ground.
Indeed, as Chelsea's fans were exiting Stamford Bridge, they were asking the same question on everyone's minds: "Is this the night City won the title?"
Manuel Pellegrini's men were being hosted by Tottenham Hotspur just a few miles north of Fulham Road and the contrast between their performance and Chelsea's was significant.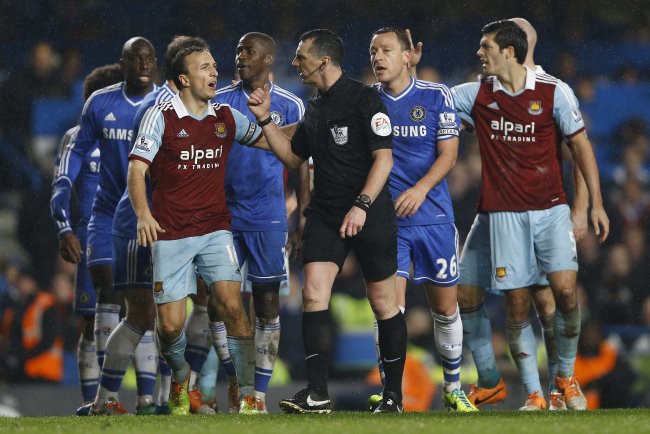 Kirsty Wigglesworth/Associated Press
While City were thrashing the Spurs 5-1, the Blues toiled against a stubborn West Ham who, not so long ago, were on the receiving end of a City beating themselves having lost 9-0 on aggregate in the Capital One Cup semi-final.
The finger will be pointed at Chelsea's attacking players for not breaking the deadlock against the Hammers, but credit must be given to Sam Allardyce and his team, who put in a gutsy display. It was something Mourinho himself agreed with.
"They need points and to come and play the way they did, is it acceptable? Maybe it is," he reflected.
That's where the compliments ended, however, with the Chelsea manager equally frustrated by West Ham's "dated" tactics.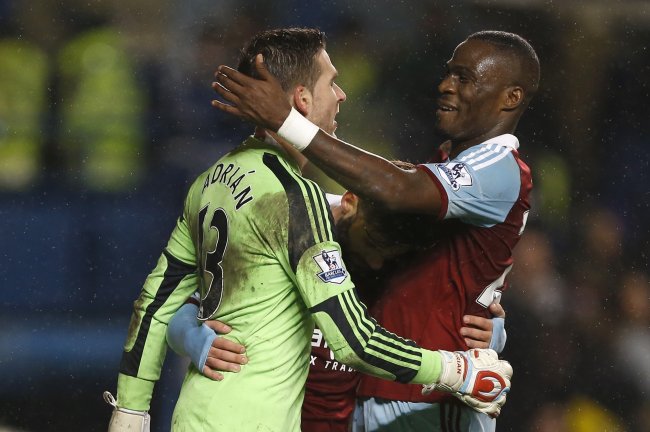 Kirsty Wigglesworth/Associated Press
"[West Ham's tactics are] not the Premier League," Mourinho continued. "This is not the best football in the world. This is football from the 19th century."
The gathered journalists struggled to hide their delight at this latest soundbite from Mourinho, and the man himself couldn't disguise his disappointment at a missed opportunity for Chelsea to leave their mark on the title race.
A point isn't exactly a travesty, but Mourinho sees it for the bigger picture. And that's one that shows his players have much to learn if they are to become true contenders for the biggest prizes.
It's not often his teams fail to make the most of their rivals' slip ups. It's at moments such as the West Ham game when the Portuguese has historically been at his most ruthless, turning the screw at any opportunity.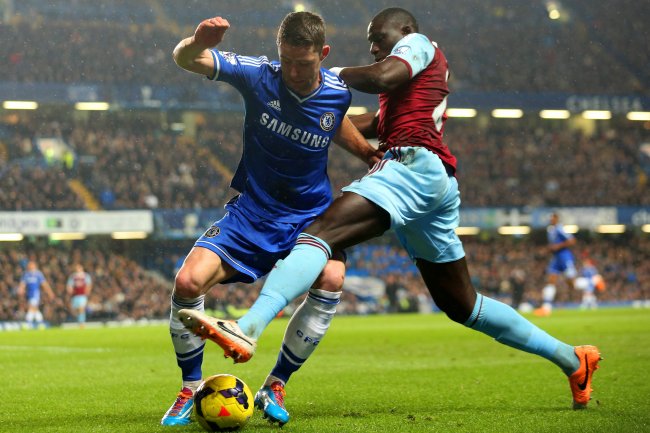 Ian Walton/Getty Images
Not on Wednesday.
Chelsea may have harassed, hounded and dominated the Hammers, but with 39 shots on goal, they still couldn't find a way through. In years gone by, they would have.
To make matters worse, next up is a trip to Etihad Stadium to face City on Feb. 3, where a defeat will surely end the Premier League as a going concern for the Blues.
"I don't give a s***!" was Allardyce's retort to Mourinho's critique of his tactics.
With a point in the bag, he has every reason not to. For Chelsea, however, it potentially leaves their title challenge in it.
Garry Hayes is Bleacher Report's lead Chelsea correspondent and will be following the club from a London base throughout the 2013-14 season. Follow him on Twitter here @garryhayes.