The 2014 Winter Olympics will be held in Sochi, Russia's, Fisht Olympic Stadium, where opening ceremonies will commence on Friday, Feb. 7.
Before the massive spectacle that celebrates the beginning to this diverse, biennial competition gets underway, it's a great opportunity to delve into the history and consume some fast facts about the venue.
the Fisht Stadium right now, our performers prepare for the #OpeningCeremony #Sochi2014 #seeyouinsochi pic.twitter.com/SZkjGnaP2n

— Sochi 2014 (@Sochi2014) January 26, 2014
The new 40,000-seat stadium is located in the newly designed Olympic Park, driven by the architecture firm Populous. It is named for Mount Fisht and cost $603.5 million to build, according to TheSnowMag.com's Brian Pinelli.
Fisht Olympic Stadium is situated close to the coastline of the Black Sea and within view of some stunning scenery of the Imeretinskaya Valley and the Caucasus Mountains to the north.
This is the first time Russia has hosted any Olympic Games since the 1980 Summer Olympics took place in the nation's capital of Moscow. Sixty-five countries boycotted the Olympics in protest of the then-Soviet Union's invasion of Afghanistan, per RFERL.org's Tom Balmforth.
Russia has been a source of controversy once again for some of the strict policies and the dominant reign of president Vladimir Putin.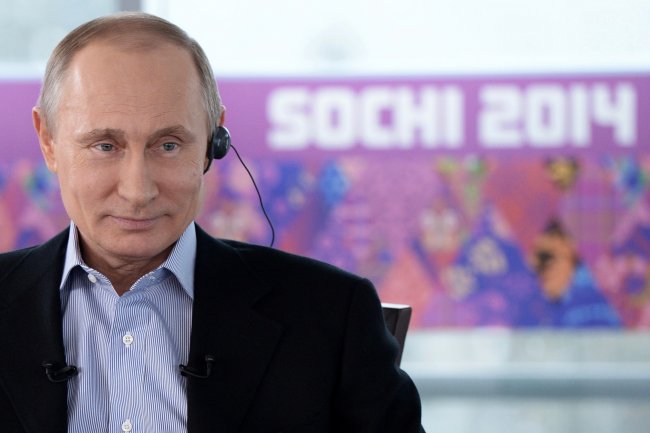 Alexei Nikolsky/Associated Press
By erecting this stadium and pouring tons of funds into the Winter Olympics, Sochi has a chance to establish Russia as a legitimate hosting country for major sporting events in the future.
It also helps that many events will make their inaugural appearances in the Winter Games and that all the arenas where competitions will be held are close together in the quaint layout, per Sochi 2014's official Twitter account:
12 winter sports events will make their @Olympics debut in #Sochi2014! Which are you most excited to see? Image©Getty pic.twitter.com/gAAQ6Dq0RF

— Sochi 2014 (@Sochi2014) January 29, 2014
For the 1st time at the #Olympics, all ice arenas are within walking distance of each other #sochi2014 #seeyouinsochi pic.twitter.com/VmUxHRgeXo

— Sochi 2014 (@Sochi2014) January 29, 2014
Sergey Butov is the editor-in-chief of Sport-Express, a Russian newspaper, and he is one of the torchbearers. He visited the site and captured an inside look as final preparations were being made on Wednesday, Jan. 29:
Inside Fisht Olympic stadium 9 days before Opening Ceremony #sochi2014 pic.twitter.com/9ixqNkhDFv

— Sergey Butov (@sergeybutov) January 29, 2014
Notice the elegant roof, which is a "translucent polycarbonate" design meant to reflect the aesthetically pleasing landscape that surrounds the stadium, per Sochi2014.com.
Once the Olympics come to a conclusion, the Russian national football team will use Fisht Olympic Stadium as a training facility and also to hold their international matches. The venue will also play host to shows and other entertainment, increasing its appeal for the music industry in doing so.
What do you rate Fisht Olympic Stadium on a scale of 1-10?
The seating capacity can stretch to as much as 45,000 for FIFA World Cup matches and can downsize to 25,000 for local matches. That should allow the stadium to continue bringing in good business and a diverse blend of football—provided the Sochi Games are executed smoothly.
In addressing safety concerns, organizing committee chief Dmitry Chernyshenko said Wednesday, during a conference call, that there will be plenty of security, per the AP's Stephen Wilson.
"I can assure you that Sochi will be among the most security-friendly games and all the procedures will be very gentle and smooth," said Chernyshenko.
With 100,000 security personnel expected to be working at the Winter Games, according to Balmforth, there will be one law enforcement officer for every 3.43 people in Sochi's population of approximately 343,000.
Putin has driven an effort to pour a lot of resources into and build up the infrastructure of Sochi to be a formidable host site.
With the savvy architectural plans, excellent backdrop and a high-class Fisht Olympic Stadium serving as the centerpiece, the Sochi Games have a strong chance to be a success.
Note: Information about Fisht Olympic Stadium was obtained through Populous.com and Sochi2014.com.