A ticket to Super Bowl XLVIII will cost you, just not nearly as much as expected.
According to StubHub spokesman Cameron Papp via The New York Daily News' Christian Red, the average cost of a Super Bowl ticket on the popular site was around $3,100 as of Monday, Jan. 27. That's a significant drop considering the average prices were around $7,700 the previous week following the conference championship games.
As of Wednesday, Jan. 29, tickets on StubHub were going for as cheap as $1,679.
Seatgeek.com's Connor Gregoire describes the market as being in a "tailspin" and projects this year's Super Bowl to be the least expensive of the past decade, per The New York Post's Jeane MacIntosh:
There's effectively no way that this game will be the most expensive Super Bowl ever when it's all said and done. It looks increasingly that this year's Super Bowl will be the least expensive since XXXVI in 2002 [when] tickets were selling far under face value on game day.
With the potential for snow in the New York metropolitan area this time of year, it's possible that prices could drop even further before game day.
But with kickoff fast approaching, let's take a look at the latest listings for Feb. 2's showdown between the Seattle Seahawks and Denver Broncos.
When: Sunday, Feb. 2, at 6:30 p.m. ET
Where: MetLife Stadium, East Rutherford, N.J.
Watch: Fox
Live Stream: Fox Sports Go
Spread: Denver (-3), according to Bovada.lv.
Super Bowl XLVIII Ticket Prices

| | | |
| --- | --- | --- |
| Section | Lowest Ticket Price | Highest Priced Ticket |
| Lower Level Center | $4,012 | $10,786 |
| Lower Level End Zone | $2,000 | $11,500 |
| Lower Level Red Zone | $2,508 | $11,301 |
| Lower Level Corner | $2,006 | $4,993 |
| Mid-Level End Zone | $1,805 | $3,972 |
| Club Center | $4,041 | $11,046 |
| Club Corner | $1,856 | $10,635 |
| Coaches Club | $5,569 | $11,400 |
| Upper Level Center | $1,906 | $11,690 |
| Upper Level End Zone | $1,595 | $3,937 |
| Upper Level Red Zone | $1,650 | $5,373 |
| Upper Level Corner | $1,500 | $6,662 |
Tiqiq.com
Weather Forecast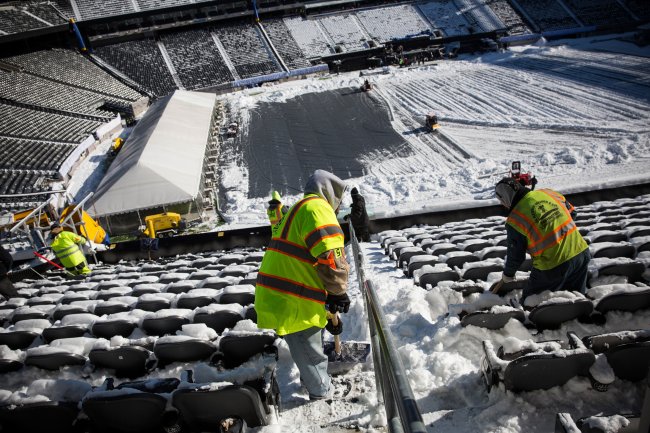 Andrew Burton/Getty Images
The weather will have a huge impact on ticket sales in the final moments leading up to Super Sunday. While snow was once in the weekend forecast, it appears that there will be clear conditions for kickoff.
ESPN sports business reporter Darren Rovell points out how the conditions could influence sales:
If Super Bowl were today, we would see tickets sell for face value or below. Can't be outside without a face mask on.

— darren rovell (@darrenrovell) January 29, 2014
According to Weather.com, the projected high temperature for Feb. 2 in East Rutherford, N.J., is 43 degrees Fahrenheit, with a low of 28 degrees. There will be a zero percent chance of precipitation during the day and only a 20 percent chance through the night.
Therefore, there's a good chance temperatures will be above freezing at kickoff and for much of the game. While some brave football fans hoping to snag cheap tickets at the last minute will be wishing for snow, brokers will be breathing a sigh of relief in the wake of the latest game-day forecast.
Travel Issues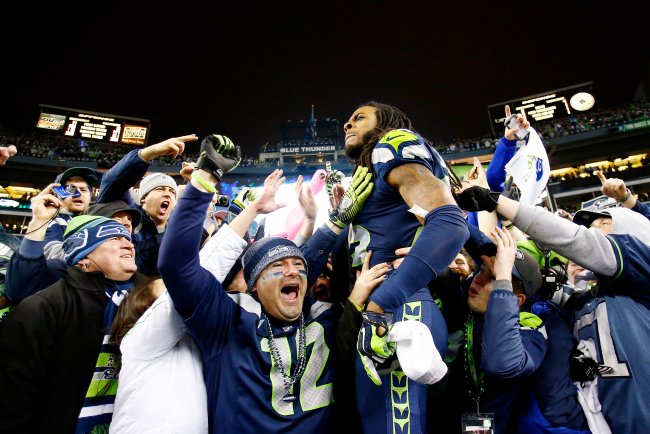 Jonathan Ferrey/Getty Images
Another cause for the plummeting ticket prices at Super Bowl XLVIII is the fact that both teams are closer to the West Coast. Not to mention the two cities are a combined 4,700 miles away from the Big Apple.
For that reason, Papp isn't surprised by the price decrease, per Red:
It's not that surprising to see the decrease leading up to the event. Denver and Seattle are not close, although you generally have fans who are strong followers of their teams. If the Patriots had made it, it may have made it easier for brokers.
While diehard fans aren't making any excuses, the incredible distance and the expenses that come with it have no doubt turned many fans off to the idea of visiting the East Coast to watch their favorite team play for the title.

And as Tiqiq.com's Chris Matcovich mentions via MacIntosh, the result could be a "buyer's paradise" this weekend: "Realistically, if sales don't start to pick up in the next few days, this weekend will be a buyer's paradise."
So although a trip to Super Bowl XLVIII will cost you somewhere in the thousands, there's tremendous value to be had in comparison to past years.
Follow Bleacher Report Featured Columnist Patrick Clarke on Twitter.