It isn't over until the fat lady sings.
Arsenal's transfer window had appeared to be closing without a great deal of fuss. Despite the fans calling for new additions, Arsene Wenger seemed content to retain his existing squad for the remainder of the season. On Jan. 10, Wenger told ESPN.co.uk that Arsenal "have no shortage unless we have some other big injuries."
However, circumstances have dramatically changed almost overnight. That big injury has arrived and robbed the Gunners of an invaluable player.
Just before the game against Southampton, whispers started that Aaron Ramsey might have suffered a recurrence of his thigh injury. When the matchday squad was announced, his name was conspicuously absent.
In his post-match press conference, Wenger admitted to Arsenal.com:
Aaron Ramsey is out for longer than we expected because he had a little setback in training yesterday. So I couldn't bring him here. It's the same muscle, he did [damage it] a bit again so we have to be cautious this time.
He is tentative in his prognosis, but the wider media seem to believe he is simply shielding the Arsenal fans from the painful truth. According to Wayne Veysey of Goal.com, Ramsey will miss the next four to six weeks, ruling him out of crucial games against Liverpool, Manchester United and Bayern Munich.
That news was compounded by the fact that Mathieu Flamini will also miss a similar period after being given a straight red card against Southampton.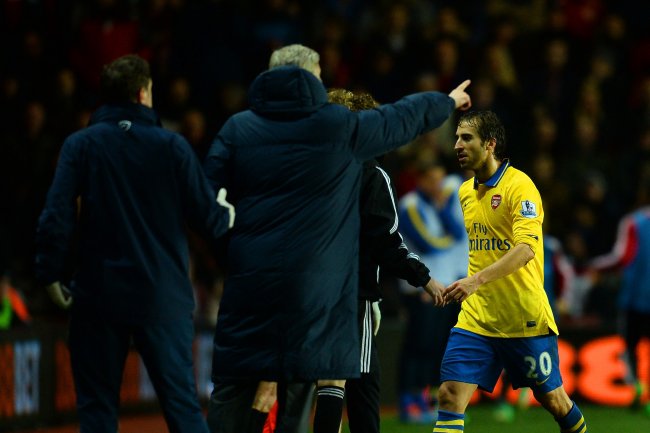 Mike Hewitt/Getty Images
It's a big setback for the Arsenal midfield.
Flamini can be relatively easily replaced, as Arsenal have another capable defensive midfielder in Mikel Arteta. However, Ramsey is a different matter entirely. He has been the Gunners' standout player of the season thus far. To lose him on the eve of such a vital period is a tremendous blow.
Now, Wenger is being forced to consider his options.
When asked about the prospect of doing business between now and the end of Friday, the Arsenal manager told Sky Sports:
"I have nothing to tell you tonight, maybe I hope we have something to tell you because we lost a few players now."
It's a significant shift in attitude from the Frenchman.
He now has a matter of days in which to address the problem. Wenger's primary aim will surely be to add goals to his squad. Arsenal are notoriously short of strikers. Wenger may have hoped that with 13 goals already to his name, Ramsey could alleviate some of the goalscoring burden on Olivier Giroud.
In the immediate future, that's no longer possible.
All the signs point to Wenger pursuing his interest in Schalke's Julian Draxler. Draxler ticks so many boxes. He could replace Theo Walcott's pace and dribbling ability on the flank. He has the shooting ability to supplement Arsenal's goal threat. What's more, as an attacking midfielder, he could help compensate for Ramsey's absence.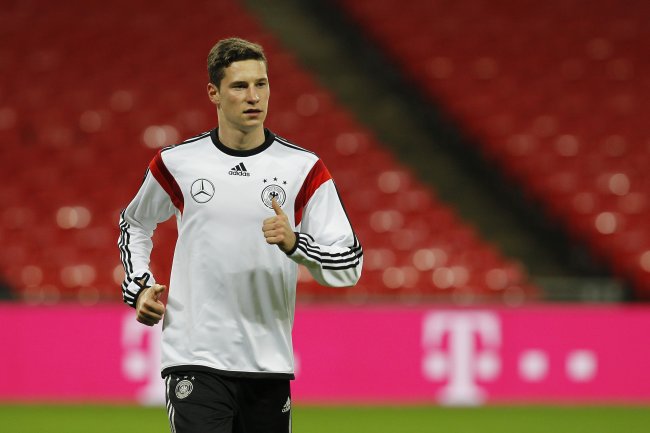 Charlie Crowhurst/Getty Images
According to Charles Reynolds of The Independent, Arsenal have stepped up their negotiations and are keen to push through a deal before Friday's deadline.
There's not long to go. Arsenal must act fast and decisively if they're to get the reinforcements Wenger has finally admitted they need.
James McNicholas is Bleacher Report's lead Arsenal correspondent and will be following the club from a London base throughout the 2013-14 season. Follow him on Twitter here.