The Dutch football federation and FIFA have been informed that Tottenham were offered FC Twente striker Luc Castaignos under false pretences.
Tottenham, having signed Nacer Chadli from the Eredivisie side in the summer, were recently contacted regarding the transfer of Castaignos by an unnamed Croatian.
As reported by Sky Sports, an official statement from Twente said:
There has been an attempted fraud when a forged mandate, giving a person the authority to act of our behalf, surfaced. Unbeknown to FC Twente, a player has been offered with this forged document to an English club.

The forgery has been made known to the KNVB, with the request to pass it on to UEFA and FIFA and take the appropriate measures.
Meanwhile, Twente finance director Gert-Jan Nijweide added:
"We have recently been informed of this scam from England. We have sent a letter to the persons who have used the false document, ordering them to stop immediately."
The Premier League side were contacted by a middle man, with a false mandate to sell the player, with a forged signature from Twente chairman Joop Munsterman.
Upon receiving the document and the offer, Tottenham contacted Twente to authenticate it, only to find out that it was a scam.
Tottenham's vigilance and willingness to clarify the situation stopped it going any further, and for that, they should be given credit.
Castaignos fits the profile of the kind of player to interest former Spurs boss Andre Villas-Boas. He is young and athletic with sound technical ability and has the potential to develop and improve.
European football expert Tor-Kristian Karlsen rated him as one of the top five strikers outside of the major European leagues:
1) Martinez (FC Porto) 2) Mitroglou (Olympiacos) 3) Luiz Adriano (Shakhtar Donetsk) 4) Batshuayi (Standard Liege) 5) Castaignos (FC Twente)

— Tor-Kristian Karlsen (@karlsentk) December 5, 2013
However, as reported by Massimo Marioni of Metro, Tottenham's new first-team coach Tim Sherwood has repeatedly stressed that the side don't need any new signings in the January transfer window.
Following the sale of Jermain Defoe to Toronto, Tottenham will be left with Emmanuel Adebayor and Roberto Soldado as the only senior strikers, something that could hinder their hopes of a top-four finish if they suffer from injury or a loss of form.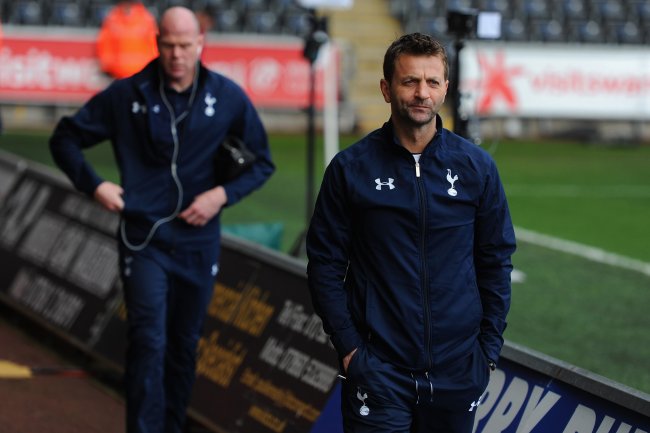 Stu Forster/Getty Images
Sherwood prefers a 4-4-2 formation and is gambling by only keeping two strikers in his squad, especially with the taxing Europa League schedule to factor in.
Having already promoted Nabil Bentaleb and Zeki Fryers into the first-team squad, Sherwood may do the same with promising attacker Harry Kane or opt to use a midfielder such as Christian Eriksen or Gylfi Sigurdsson in an advanced role.