Baseball Beauties MLB Highlights Week of June 1st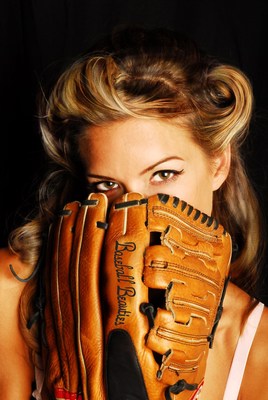 There were so many great stories to cover this week! We picked the ones that we felt to be the most meaningful.
Enjoy the sideshow & please feel free to comment! We want to know what you think about these stories!
Baseball Beauties = Brains, Beauty & Baseball!!! Baseball Commentary & Community for the female fan)
Oh, Mannywood!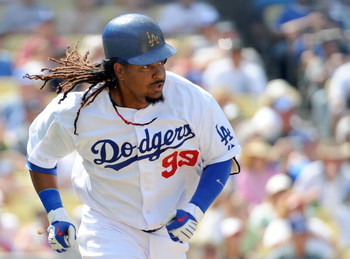 The saga continues… However it's not looking very good for Manny who dropped to fifth in NL All-Star voting.
Monday's results showed that the Los Angeles Dodgers star had received 635,530 votes, trailing behind Milwaukee's Ryan Braun (908,745), Philadelphia's Raul Ibanez (817,849), the Cubs' Alfonso Soriano (775,319) and Beltran (741,875).
Manny hit .348 with six home runs and 20 RBIs in 27 games before he was suspended May 7, which is pretty impressive, but may not be enough to get him to the All-Star game this year.
I can't see!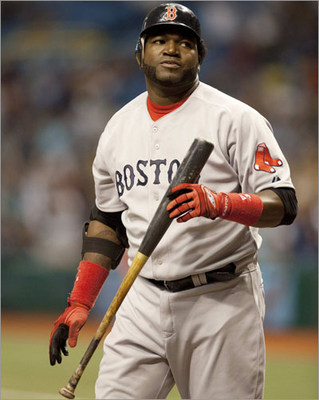 After Manny, I want to mention Big Papi aka David Ortiz who is hitting .187 with one homer. Pretty pitiful.
Papi said that he is considering having his eyes examined.
Not sure if his eyesight is the problem here! It may be just an excuse for his poor performance this year…
Congratulations, Jim Thome!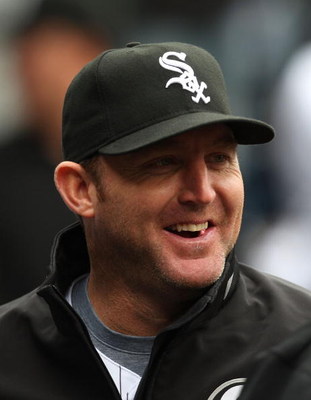 He hit the 550th homer of his career on Monday in the eighth inning to put the White Sox ahead and beat the Oakland Athletics 6-2.
He is 13th on the career homers list and has nine this season.
But that was the only win the White Sox had against the A's during that home stand; surprisingly struggling Oakland took the series by storm, winning three out of four games.
Baseball wouldn't be the same without the Yankees!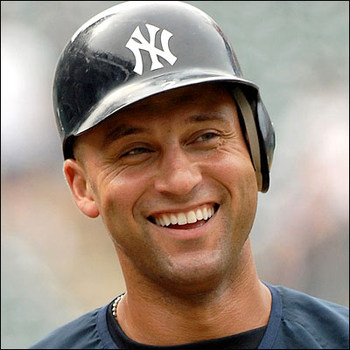 They had a good week setting a new errorless record in 5-2 win against Cleveland on Monday night.
Joba Chamberlain allowed two runs in a career-high eight innings and the Yankees set a record for consecutive games without making an error.
The New York Yankees are 14-4 during the errorless streak.
Also, Derek Jeter's single in the 3rd was the 2,600th hit of his career, extending his season-high hitting streak to 15 games.
Speaking of Jeter, lets clear up some rumors that have been circulating around, Derek is not off the market yet.
You can relax, ladies; Jeter confirmed that he isn't engaged—yet! But it might happen soon…. Let's hope not!
"Really?"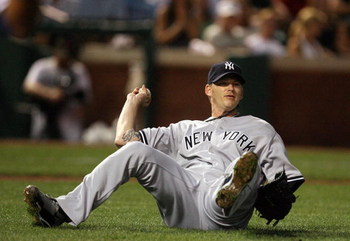 Yankees pitcher A.J. Burnett was suspended for 6 games on Thursday for throwing high-and-tight (trying to hit him in the skull!) to Texas' Nelson Cruz earlier this week.
This was the first time he'd been suspended, he seemed a bit surprised by the severity, and said: "Really?"
Yes, you are suspended A.J. and if you want everyone to believe that you weren't trying to get Cruz in the temple, you're not fooling anyone!
Just a small note: there has been a home run in all 26 games at the new Yankee Stadium.
Get Better, Josh!
I was really sad to hear that Texas Rangers outfielder Josh Hamilton went on the disabled list again Tuesday with an abdominal strain that could sideline him from two weeks to two months.
The injury is much like a sports hernia, and a second opinion is needed before it is determined whether surgery is needed.
I love Josh and I think that he has a great story and I enjoyed watching him hit all those balls last year at the All-Star Game, but I think that his baseball career may be coming to an end soon =( at least at the level that he used to play.
Let's hope that I'm wrong!
Goodbye, Tom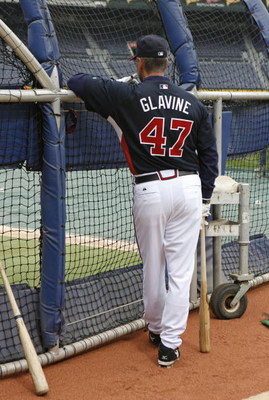 Another team that had the spotlight this week was the Atlanta Braves. They acquired All-Star center fielder Nate McLouth from the Pittsburgh Pirates in exchange for three minor leaguers on Wednesday, in hopes to improve Atlanta's offense.
McLouth, 27 set career highs last season with a .276 batting average, 26 homers and 94 RBIs. This was a great move because the Braves desperately needed more offense from an outfield!
In the same week, the Braves released Tom Glavine a 305-game winner. Boy, he was surprised!
The team felt it had a better chance to win with a younger pitcher in the rotation.
"This was not a business decision," GM Frank Wren said. "This was a performance decision." "The comeback was not working," Wren said. "Our evaluation was he would not be successful."
It was evident that Glavine was very taken back and upset by what happen and said that "a couple" teams have expressed interest in him as a pitcher and others have called about consulting or other jobs.
He didn't name the teams but said "it's going to take a lot to convince him to pitch for another team."
Did he really get these calls, not sure…but it's still too bad.
If we compare Glavine to Randy Johnson, Glavine has 5 more wins and because he is not a power pitcher should have a longer career than Johnson!
Who knows, in the next three years by the time Glavine is Johnson's ripe age of 46, he may be up to 350 wins.
You never know, I wish the Braves kept him on their team for a bit longer since it was his dream to retire a Brave (maybe it's not his dream anymore).
Twitter vs. La Russa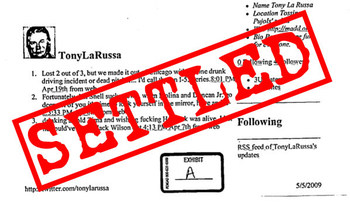 When I saw this story, it's wasn't on MLB.com, ESPN, or Yahoo Sports; the story was delivered by a popular tech BLOG/Site Mashable.com.
The headline read: St. Louis Cardinals manager Tony La Russa is suing the social-networking site Twitter, claiming an unauthorized page using his name damaged his reputation and caused emotional distress.
Wow! Everyone's on Twitter!
Do I think that La Russa has a case? No, because this happens to people all the time and Twitter can't be responsible for everyone's profiles being "Authentic."
It really sucks that someone did this, but in my opinion La Russa needs to create an official Twitter page and be done with the whole thing!
And to my surprise Twitter decided to settle with La Russa.
Twitter will most likely pay damages in the form of La Russa's legal fees, and perhaps make a donation to the baseball manager's charity and animal shelter, the Animal Rescue Foundation (ARF).
At least the money will go to a good cause. Who wants to sue Twitter next?
Farewell....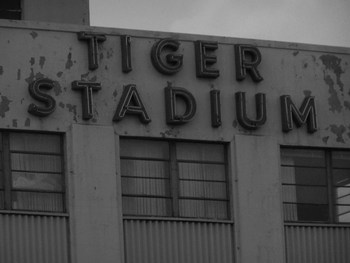 Two historic stadiums are in the news this week.
First of all, in sad news what remains of the historic Tiger Stadium will be demolished after the city rejected a $33.4 million dollar proposal by a non-profit group to preserve and renovate the old ball park.
Gate 2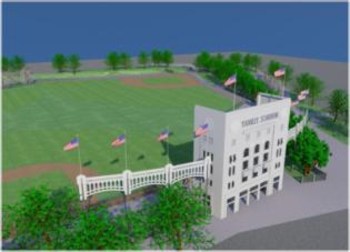 At another historic stadium site, perhaps one of the most historic, a group has come forward who wants to preserve Gate 2 of the old stadium as an entry to the planned Heritage Park, which will include a baseball field and two softball fields once the demolition ends.
Gate 2 was one of the least-adulterated parts of the stadium in its mid-70's renovation, and its aesthetics remain:
It's as imposing structure with stunning arches, the perfect gateway for fans to pay tribute to the past while looking across the street to witness the present at none other than the old Yankees ball park.
History was made!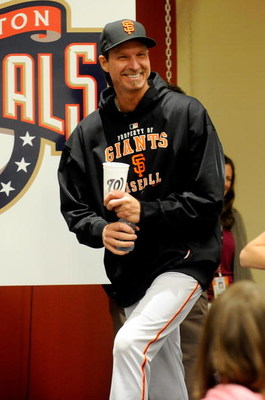 Randy Johnson, aka The Big Unit obtained his 300th win on June 4, becoming a member of the small group of 24 pitchers that have reached that milestone, and only the sixth left-hander to do so.
He threw a two-hit ball over six innings.
Johnson became the first pitcher to do it on his first try since Tom Seaver in 1985 and Randy also became the second oldest to do so.
Only four pitchers have averaged at least 15 wins over the last six full seasons, and the career leader among those four (Roy Halladay) has only 140 wins at age 32, putting him about a decade away from 300 at his present pace.
The only contenders above 200 wins are 46-year-old Jaime Moyer (250), 36-year-old Andy Pettitte (220), 37-year-old Pedro Martinez (214) and 42-year-old John Smoltz (210).
Barry & the Feds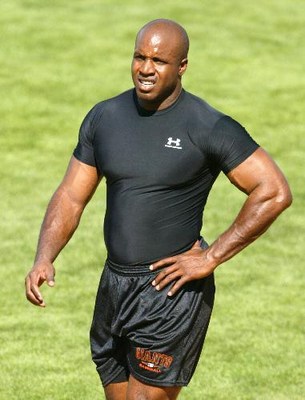 In other Giants news, Federal prosecutors urged an appeals court to allow them to present evidence they say shows Barry Bonds knowingly used steroids, arguing Monday it was mistakenly thrown out by a trial court judge on the eve of his perjury trial earlier this year.
Among the evidence that prosecutors say is key to their case are three urine samples they say belong to Bonds, and tested positive for the steroids Methenolone and Nandrolone.
Prosecutors claim Bonds' personal trainer, Greg Anderson, collected the samples for testing at the Bay Area laboratory Co-Operative, the headquarters of a massive sports doping ring busted by Federal investigators in 2003.
The evidence was originally banned by a U.S. District Court judge since it was connected to Anderson and he had refused to testify at Bonds' trial.
Anderson told the jury he would rather go to jail than testify. District Court Judge Susan Illston, said there was no way to prove that the evidence is what prosecutors said it was without Anderson's testimony.
Anderson previously spent more than a year in jail for his refusal to testify before the grand jury.
Discipline = Ichiro!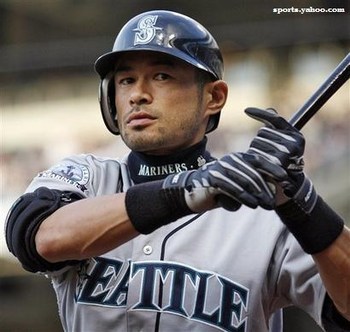 Ichiro Suzuki of the Seattle Mariners has gone from being on the DL at the beginning of the year missing the team's first eight games with a bleeding ulcer to riding a hit streak to 27 so far, a franchise record and personal best.
With his leadoff single Tuesday against Baltimore Suzuki pushed his streak total to seven that he has had in his career of 20 hit streaks, which ties him with Hall of Famer George Sisler for fourth on the all-time list.
Three players (Pete Rose, Ty Cobb and Willie Keeler) share the record with eight streaks of 20 or more games.
Suzuki, who turns 36 in October, had missed just three games in the last five seasons combined before being sidelined this year with the bleeding ulcer.
One American League scout said this of Suzuki, "he's showing no signs of decline unlike other guys his age. He looks great and he's teeing off on everything..."
The Minnesota Twins ended Suzuki's streak at 27 Friday night and took advantage of two mishaps in the 10th inning to beat the Mariners 2-1.
It's okay, Ichiro, just start a new streak tomorrow! I am sure that Mariner fans are just happy that you are helping the team and providing them a much better season than last year so far.
Longoria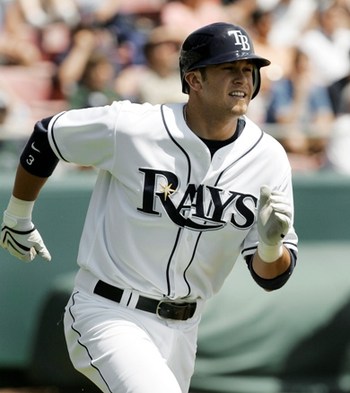 Evan Longoria of the Rays, who left Tuesday night's game with a tight left hamstring, hopes to be back in the lineup this weekend in New York facing the Yankees.
The third baseman who leads the American League in total All Star votes said he was hoping to play Friday night and Saturday for sure.
Luckily for Evan, the game Friday night was postponed due to weather, giving him more time to rest.
He injured his hamstring Tuesday night against the Royals while running out a ground ball in the sixth.
Girls Rule!!!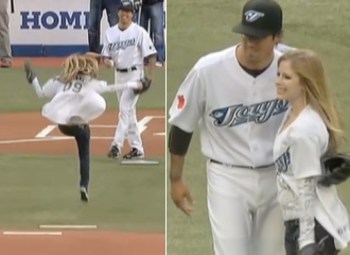 Avril Lavigne got to throughout the first pitch at the Blue Jays game on Wednesday night.
Her pitch was described as: something of a cross between a Jiu-Jitsu kick and Ron Santo's clicking of the heels, probably could have been better, too.
I think that she did a decent job and also mentioned that she used to play baseball, which is awesome! She wasn't wearing stiletto heels on the field either, remember Mariah Carey? That was such a joke! Go Girl to Avril, you rock!!!
RIP Richard Jacobs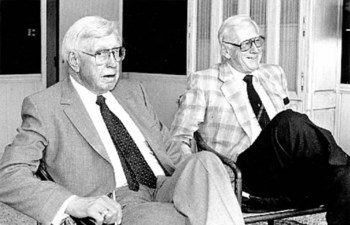 On a sad note former Indians owner Richard Jacobs died at 83.
Cleveland Mayor Frank Jackson said the city "has lost not only an exceptional businessman, but also a friend committed to revitalizing Cleveland."
Jacobs will be missed.
Keep Reading