NFL Honors Awards 2014: Bleacher Report's Final Expert Awards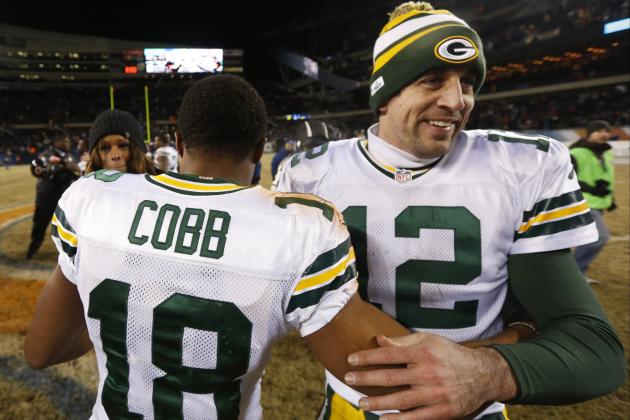 Charles Rex Arbogast/Associated Press

With the NFL handing out annual awards the day before Super Bowl XLVIII, Bleacher Report decided to piece together an award ceremony of its own.
All the typical awards are accounted for, but we've added a few "specialty" awards for some extra flavor.
The B/R contingent of NFL Lead Writers were asked to give their selections along with explanations.
Begin Slideshow

»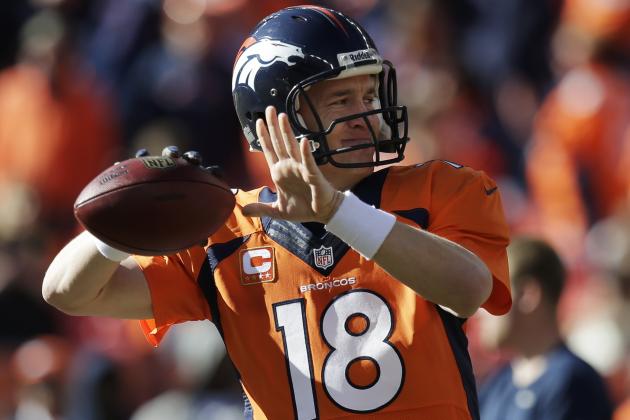 Julie Jacobson/Associated Press

Peyton Manning, quarterback, Denver Broncos (Consensus)
Formality City. Peyton Manning set the single-season passing yard record and the single-season touchdown record in 2013, his Denver Broncos went 13-3, captured the No. 1 seed in the AFC playoffs and marched on to the Super Bowl.
[Exhale]
While he certainly had a talented collection of offensive personnel around him, Manning made the absolute most of it—Demaryius Thomas and Eric Decker went over 1,200 yards receiving with double-digit touchdown totals and they were among five weapons who caught at least 60 passes during the regular season.
National NFL Lead Writer Ty Schalter was succinct in his explanation for picking Manning: "The best statistical season by any quarterback, ever. He used all his weapons at maximum effectiveness, played great when it counted."
Oh, and tight end Julius Thomas, who had one career reception before this year, caught 65 passes for 788 yards with 12 touchdowns before the playoffs.
Manning was the easy choice here.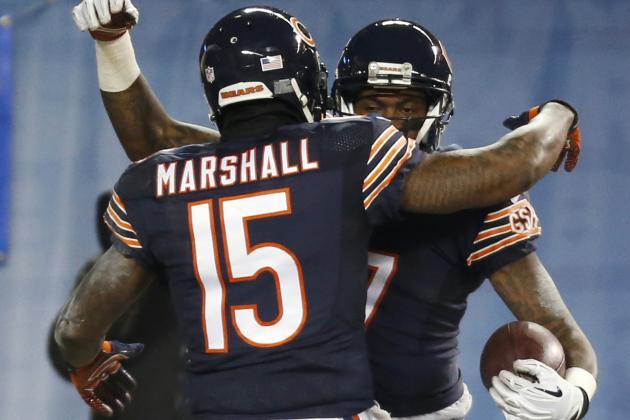 Charles Rex Arbogast/Associated Press

TIE: Brandon Marshall, wide receiver, Chicago Bears; Charles Tillman, cornerback, Chicago Bears (4 votes each)
NFC North Lead Writer Zach Kruse wrote the following about his Brandon Marshall vote: "Few players have supported such an important cause as strongly as Marshall has with mental health."
Conversely, National NFL Lead Writer Michael Schottey said this about Charles Tillman: "At home, Peanut Tillman works with children's hospitals to provide things like iPads and gaming systems for the kids. Abroad, he's building schools and is a fixture in the USO."
Either way, the Chicago Bears should feel good about having Marshall and Tillman in their locker room, for their efforts on and off the field.
Others receiving votes: Thomas Davis, linebacker, Carolina Panthers (3)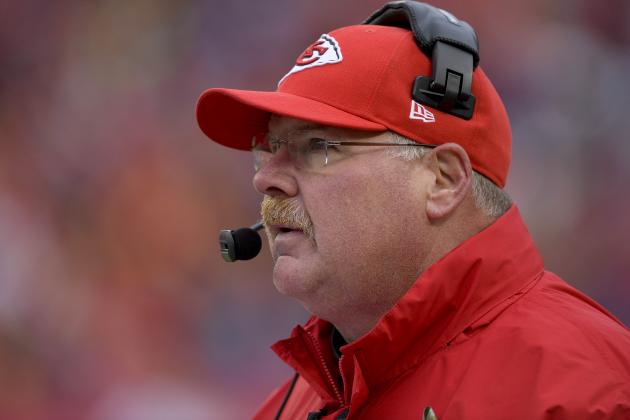 Reed Hoffmann/Associated Press

Andy Reid, Kansas City Chiefs (four votes)
From 2-14 under Romeo Crennel to 11-5 and a playoff berth—yeah, Andy Reid is a logical 2013 Coach of the Year selection.
Sure, blowing a 38-10 third-quarter lead in the Wild Card Round to the Colts in Indianapolis wasn't precisely the perfect way to end a magical season for the Chiefs but holding that four-touchdown advantage would have been much easier if All-Pro running back Jamaal Charles hadn't gotten injured in the first quarter on a seemingly innocuous tackle.
NFC North Lead Writer Zach Kruse directly acknowledged Kansas City's vast improvement in the win column, which led to Reid getting his vote: "Reid was the glue Kansas City needed to finally put together talent and wins. A nine-win jump over just one season is impressive."
Others receiving votes: Ron Rivera, Carolina Panthers (three); Bill Belichick, New England Patriots (three); Pete Carroll, Seattle Seahawks (one)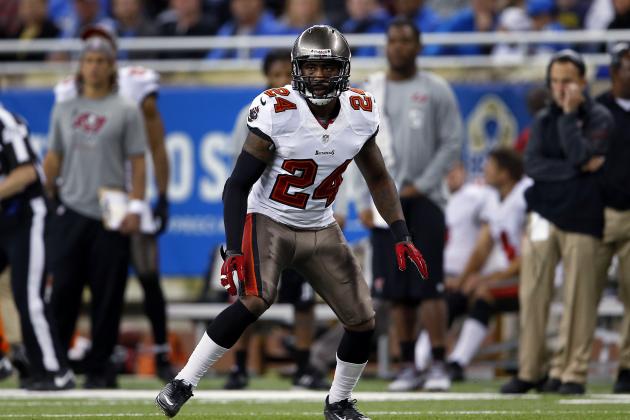 Paul Sancya/Associated Press

Darrelle Revis, cornerback, Tampa Bay Buccaneers (five votes)
Coming off an ACL tear that put an early end to his 2012 campaign, Darrelle Revis not only needed to "come back" in 2013, but he needed to return to elite form.
And he did.
Although the Tampa Bay Buccaneers had a disappointing season, Revis was patient with his rehab and stood out in a positive way. NFC South Lead Writer Knox Bardeen explained: "Revis made the right decisions while rehabbing his knee injury and then played through a tough situation with the Buccaneers and still produced at an incredibly high level. He's not the best cornerback in the league anymore, but he's close."
Lovie Smith likely won't necessarily incorporate more man coverage for Revis in 2014, but as a brilliant defensive mind, he'll get the best out of him.
Others receiving votes: Brent Grimes, cornerback, Miami Dolphins (two); Philip Rivers, quarterback, San Diego Chargers (two); Brian Orakpo, outside linebacker, Washington Redskins (one)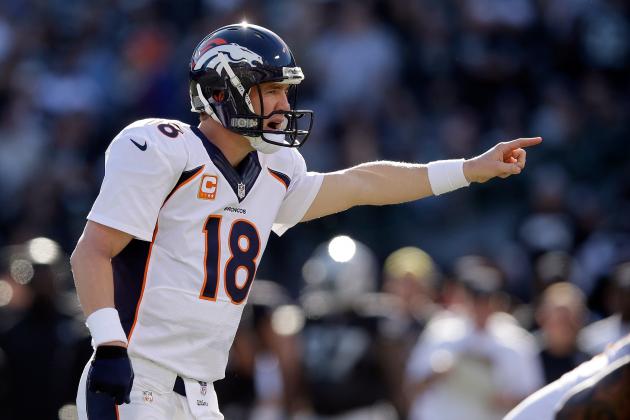 Ezra Shaw/Getty Images

Peyton Manning, quarterback, Denver Broncos (Consensus)
Without an absolutely monstrous year from megastar Calvin Johnson, Manning ran away with this award as well.
AFC East Lead Writer Erik Frenz gave his idea for a possible renaming of this award:
"We should just rename this the Peyton Manning Honor."
Not a bad suggestion. After all, Manning has won the Offensive Player of the Year award eight times.
It's somewhat surprising that LeSean McCoy didn't get a single vote, but Manning was that good this season.
How good?
National NFL Lead Writer Michael Schottey gave a short and sweet response:
"The Broncos scored 600 points this season. 'Nuff said."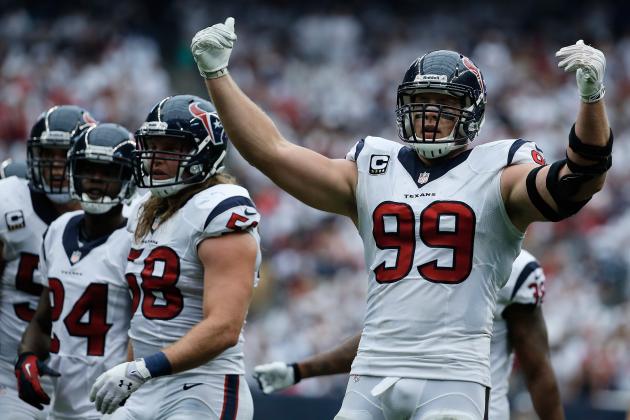 Scott Halleran/Getty Images

J.J. Watt, defensive lineman, Houston Texans (five votes)
The Houston Texans went 2-14 and earned the No. 1 overall pick in the 2014 draft—heck, they didn't win a game after September 15.
However, NFC East Lead Writer Brad Gagnon tackled the biggest, but most foolish, gripe about Watt's 2013 DPOY candidacy:
"It won't be a landslide like last year because the Texans stunk, but the guy was still leaps and bounds ahead of every other defensive player in the game."
This is true.
Pro Football Focus (subscription required) actually gave Watt a higher seasonal grade for 2013 than 2012.
Others receiving votes: Robert Mathis, outside linebacker, Indianapolis Colts (three); and Robert Quinn, defensive end, St. Louis Rams (two); Luke Kuechly, middle linebacker, Carolina Panthers (one)
Justin Edmonds/Getty Images

Keenan Allen, wide receiver, San Diego Chargers (eight votes)
He was the eighth wide receiver selected in the 2013 draft, but Keenan Allen turned in the most productive rookie campaign.
Imagine that.
National NFL Lead Writer Matt Bowen gave a logical explanation as to why he picked Allen over Eddie Lacy: "Eddie Lacy is the popular pick, but the transition to the wide receiver position in the pro game for rookies is as tough as it gets. Allen looked like a veteran with his route running ability and has the numbers to back it up."
Allen snagged 71 passes for 1,046 yards and eight touchdowns in San Diego this year.
Others receiving votes: Eddie Lacy, running back, Green Bay Packers (three)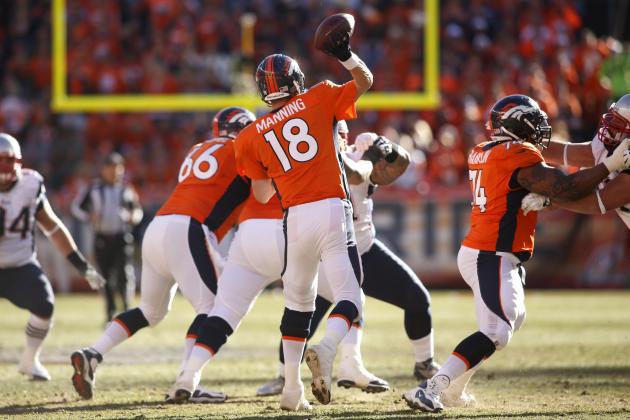 Chris Humphreys-USA TODAY Sports

Peyton Manning, quarterback, Denver Broncos (Consensus)
Peyton Manning led the NFL with 450 completions, 659 attempts, and, of course, 5,477 passing yards. He tossed 55 touchdowns to only 10 interceptions.
Sure, it's the third award in this article for Manning, but AFC North Lead Writer Andrea Hangst made a sound point about Peyton cleaning up: "Awards. Peyton Manning deserves to win so many of them for what he accomplished in 2013."
After having the greatest quarterback season in NFL history, that sounds about right.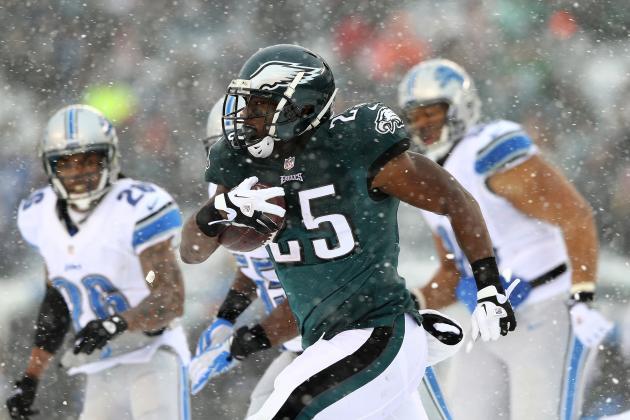 Elsa/Getty Images

LeSean McCoy, running back, Philadelphia Eagles (10 votes)
His 1,607 rushing yards were the most in the NFL as were his 2,146 yards from scrimmage. Jamaal Charles had a prolific season as well, but LeSean McCoy was tremendous in all phases of the game in 2013.
National NFL Lead Writer Matt Miller described McCoy: "In today's era, LeSean McCoy is the perfect running back. His running skill and the added versatility he brings as a receiver out of the backfield makes him the best in the game this year."
After McCoy's highly efficient campaign, it's difficult to argue with him.
Others Receiving Votes: Jamaal Charles, running back, Kansas City Chiefs (one)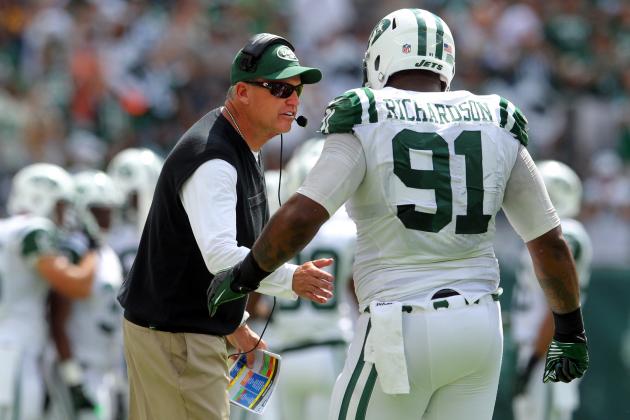 Brad Penner-USA TODAY Sports

Sheldon Richardson, defensive lineman, New York Jets (nine votes)
Although he didn't have the hot start competitor Kiko Alonso did, Sheldon Richardson finished his rookie season exceptionally strong for the New York Jets.
AFC West Lead Writer Chris Hansen was thorough when asked to justify his Richardson selection: "Sheldon Richardson was my preseason pick for this award (shamelessly pats self on back). Richardson landed in a perfect scheme and instantly became one of the league's best run defenders. Once he refines is pass-rushing technique he's going to be quite a force in this league."
Richardson was PFF's (subscription required) No. 5-rated 3-4 defensive end and second-best run-stopper at his position in 2013.
Others Receiving Votes: Kiko Alonso, inside linebacker, Buffalo Bills (two)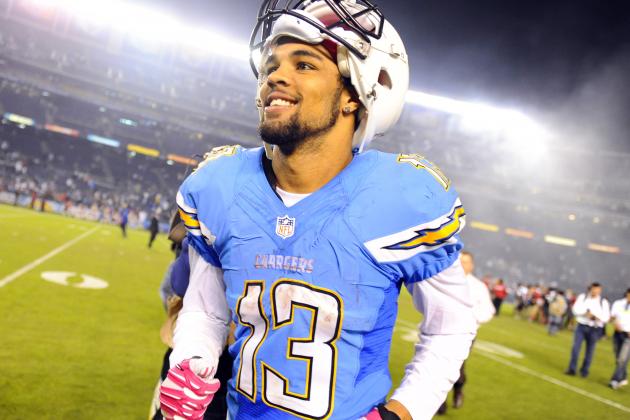 Christopher Hanewinckel-USA TODA

Keenan Allen, wide receiver, San Diego Chargers (eight votes)
Keenan Allen was a key piece to Philip Rivers' resurgence in 2013 and part of the reason the San Diego Chargers snuck into the playoffs this year.
He led rookie receivers in all major categories and had five 100-plus-yard outings during his rookie campaign.
Eddie Lacy and Sheldon Richardson were legitimate impact players, but Allen was slightly better than both and more consistent from start to finish.
Others Receiving Votes: Eddie Lacy, Green Bay Packers, (three)
Aaron Rodgers' NFC North-clinching touchdown to Randall Cobb (five votes)
The Green Bay Packers were down by one, 28-27, facing 4th-and-8 from the 48-yard-line with 46 seconds left.
With the season hanging in the balance, Aaron Rodgers avoided the blitz from the edge, drifted to his left and lofted a high-arcing pass to a wide open Randall Cobb down the middle of the field.
The speedy wideout caught the pass at the 10 and plunged into the end zone, scoring the game-winning touchdown for the Packers in the do-or-die clash in Week 17.
It doesn't get much more dramatic than that for a regular-season matchup.
NFC North Lead Writer Zach Kruse summarized the Play of the Year winner exquisitely: "No one play had the ramifications of Aaron Rodgers' fourth-down lob to Randall Cobb. On the road, and against a division rival with the NFC North crown on the line, the Packers pulled out a win from the jaws of defeat."
Others Receiving Votes: Giovani Bernard's TD run vs. Miami Dolphins (three); NaVorro Bowman's pick-six to close out Candlestick (one); Patriots volleyball INT vs. Miami Dolphins (one); Cam Newton's improvisation vs. New England Patriots (one)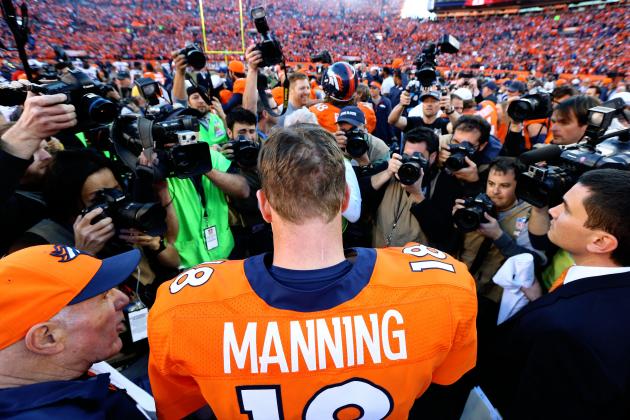 Mark J. Rebilas-USA TODAY Sports

Peyton Manning, quarterback, Denver Broncos (nine votes)
[Yaawwwnnn] Another award for Peyton Manning. Ok, well, this one is somewhat made up, but with only one game played with fewer than 266 yards passing, 56 total touchdowns and 10 interceptions, it's safe to say that Manning was a one-man wrecking crew in most fantasy leagues this year.
We all should agree with NFC South Lead Writer Knox Bardeen: "It's almost unfair how many fantasy points Manning put up in 2013."
If he was your starter and you didn't win something, you were either extremely unlucky elsewhere or you might want to reevaluate your future fantasy participation.
Others Receiving Votes: Jamaal Charles, running back, Kansas City Chiefs (two)