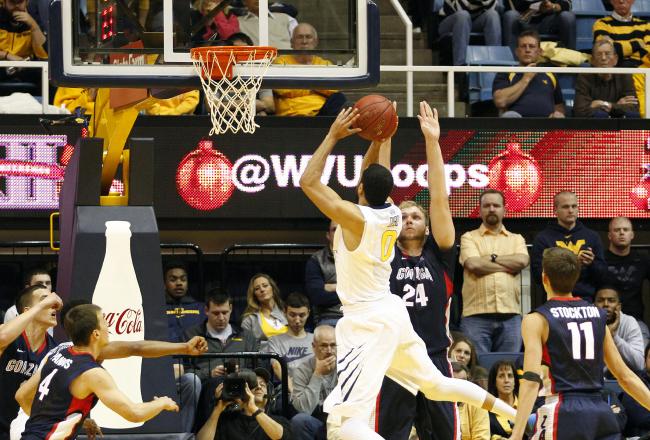 Justin K. Aller/Getty Images
The West Virginia Mountaineers played the Baylor Bears at the Bears' home court. This is the fourth time the two teams have met. Baylor has won all three of the previous games. Both teams were coming off of a rough streak, with the Mountaineers losing four of their last five and the Bears losing their last four games.
This is the first time that Baylor has lost five games in a row since 2009. They just fell off the AP Top 25 rankings for first time in 12 weeks and after this game, don't appear to be joining the rankings this week. After an upsetting final shot that would have put the Bears ahead at the buzzer, it was ruled that the ball was still in the hand when the clock hit zero.
On the other hand, the Mountaineers were coming off a close game against Oklahoma State. The 11th-ranked team beat West Virginia, but it showed that, although they may not be ranked, the Mountaineers are still a tough team to play. The Mountaineers led for the majority of the game and clung on for the win in an exciting last few minutes.
West Virginia beat Baylor in a close, hard fought game. The final score is 66-64.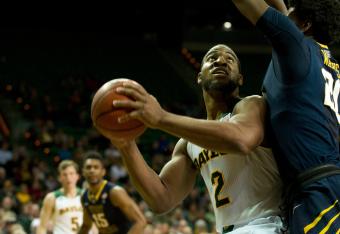 Baylor fans (the ones that showed up) are incredibly nervous. Gathers' missing one of his free throws might come back to haunt the Bears if they can manage to get a two pointer in the last few seconds.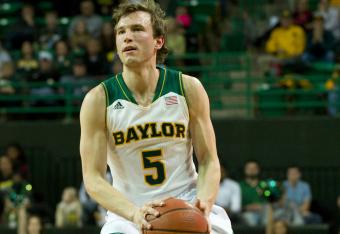 Baylor used to be in the Top 10. Now their fans aren't showing up and they've struggled for the last five games. This team needs to push each other for the last minute if they expect to turn around the season.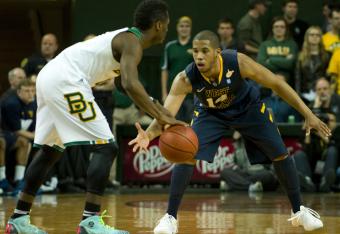 Kevin Noreen of West Virginia has fouled out of the game with only 3:23 remaining. Let's see if his team can hold onto the lead. Huggins still looks very agitated on the sidelines.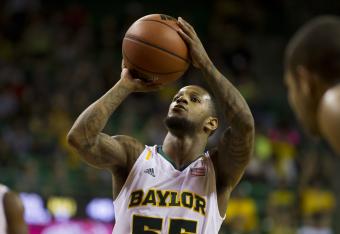 West Virginia can't seem to entirely pull away. But Baylor can't seem to stay caught up. Both teams went back and forth with a few missed three pointers but now have each returned with a three pointer. Baylor can't afford to keep missing their three pointers and free-throws.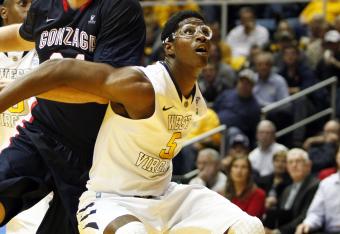 Baylor fans are furious over the foul. It didn't seem like anything intentional. Two missed free throws are a quick way to cheer these fans up, though. The stands look like they're only about half full. The cameramen should probably avoid shots of the audience. It just looks sad.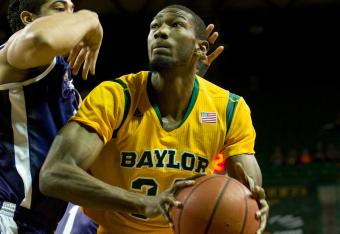 The start of the second half has had a lot more energy than the first. This is still anybody's game. It will be a hard fight to the finish.
If we're going to have so many commercials so close together then maybe we should tell the advertisers to step up their game.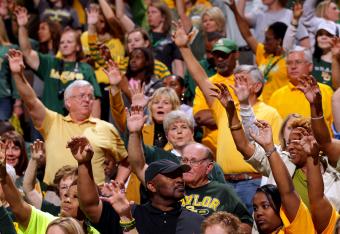 Gathers' slam ignited crowd, but Austin missed potential tying 3 and #WVU answered with 2 layups, leads 45-38. pic.twitter.com/xq0BGXEOXz

— Allan Taylor (@AllanTaylorWVU) January 29, 2014
That fan with the green and yellow striped overalls must be excited over this switch in momentum. Baylor is still behind but at least the fans have started making some noise.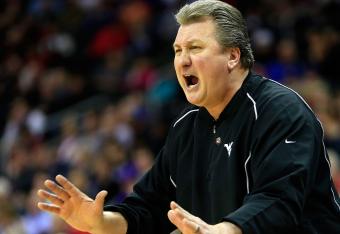 There is some clear frustration in the Bears' players and Mountaineers' coach, Bob Huggins. Baylor hasn't scored nearly as much as West Virginia on turnovers. After getting some nerves out of their system, maybe both teams will come out making fewer turnovers and capitalizing on the other team's errors. West Virginia has done fairly well turning points our of Baylor turnovers. The Bears need to settle their frustration if they want momentum heading into the rest of their season.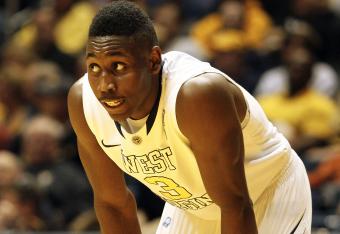 West Virginia has been leading most of this quarter. The commentators were saying the Mountaineers haven't been capitalizing on Baylor's mistakes. I think the biggest thing to help West Virginia is that they stay strong on defense and don't turn over the ball as much as Baylor.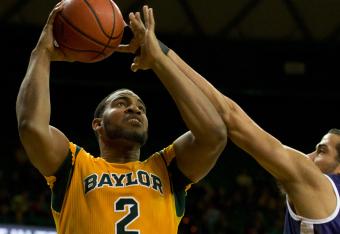 It just looks like Gathers was trying to intercept that ball. Unnecessary foul called against Baylor, in my opinion.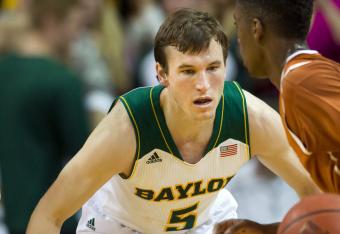 An evenly matched game so far. A few penalties on both sides. Let's see if this is a trend that continues from two teams that are likely frustrated with their last couple of games.