Peyton Manning and Richard Sherman are the headliners heading into Super Bowl XLVIII. Both the Denver Broncos and Seattle Seahawks have a strong supporting cast surrounding those superstars, which means there are always some players who get overlooked.
That said, in a game that certainly has the feeling of a closely contested battle, it's going to take more than one or two stars to come out on top. It's going to take some key plays from those players who have avoided the hype machine to gain an edge.
With that in mind, let's check out one underappreciated player from each side who will likely need to shine on the big stage for his team to raise the Lombardi Trophy.
Which team is your Super Bowl pick?
Where: MetLife Stadium in East Rutherford, N.J.
When: Sunday, Feb. 2, at 6:30 p.m. ET
Watch: Fox
Live Stream: Fox Sports Go
Seahawks: Malcolm Smith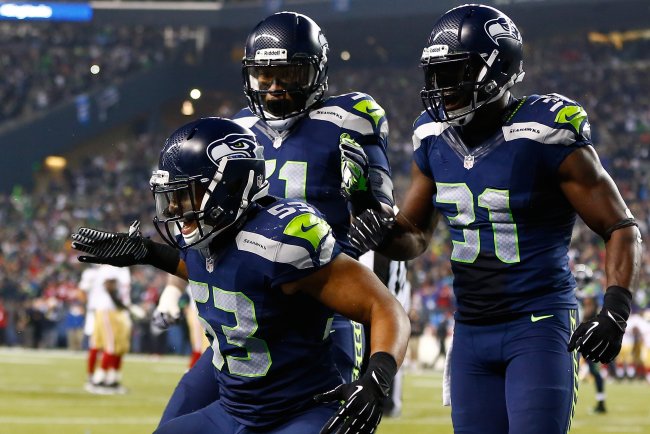 Jonathan Ferrey/Getty Images
Often lost in the discussion about Sherman's game-changing tip play that allowed the Seahawks to put away the San Francisco 49ers in the NFC title game was the player who actually made the interception. That was Smith, who got himself in the right place at the right time.
Cian Fahey of Football Outsiders passed along a nice picture of the play, which shows the amount of space the linebacker had to cover to keep pace with Sherman and Michael Crabtree running down the sideline:
Malcolm Smith in red. Wide open receiver in black. Final Kaep throw: pic.twitter.com/esDvfPs4bM

— Cian Fahey (@Cianaf) January 21, 2014
It really helps sum up the type of player Smith has developed into for Seattle. He doesn't post monster stats and often gets overshadowed on a star-studded defense, but he's able to play several different roles based on what the Seahawks need at any given point.
Against the Broncos, Seattle will likely put that versatility to full use. His two most important tasks will be helping in coverage on Julius Thomas and trying to get pressure on Peyton Manning.
Christian Petersen/Getty Images
Given their overall strength in the secondary and willingness to play man coverage, Thomas will likely be the biggest matchup problem for the Seahawks. The athletic tight end will likely try to stretch the field down the seems.
In many looks, the Seattle safeties will be asked to pick him up, but Smith is capable of playing underneath coverage to force Manning to thread the needle over the middle.
The other task for Smith is getting pressure on the legendary quarterback. The Seahawks must find a way to get consistent pressure on Manning, something few teams were able to do this season. It means they will likely have to bring some unexpected blitzes.
Smith had only one sack during the regular season, but it certainly wouldn't be a surprise to see him coming off the edge a little more often in the Super Bowl. If they stick with basic looks and no added pressure, Manning will eventually find his comfort zone.
Broncos: Montee Ball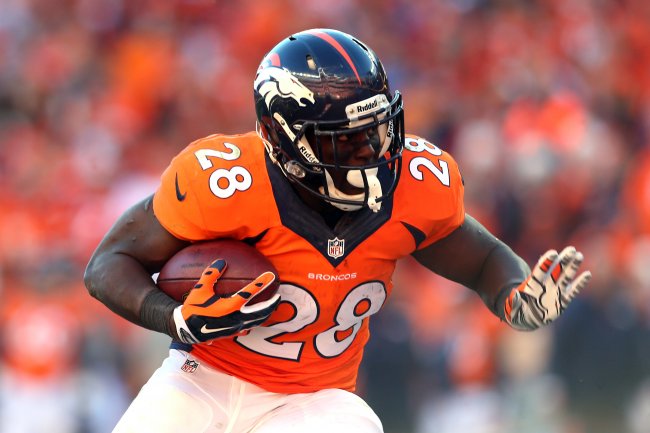 Elsa/Getty Images
Knowshon Moreno earned the starter role early in the season because he was the most reliable of Denver's back. His ability to grind out yards on the ground, help protect Manning and serve as a check-down option in the passing game set him apart from Ball.
The rookie out of Wisconsin carved out a role for himself as the season went on, though. It's reached a point where he's received double-digit carries in each of the team's playoff wins and should play the same change-of-pace role in the big game.
Seth Walder of the New York Daily News provided remarks from Ball, who said confidence he's gained since the early portion of the season is the biggest difference for him:
I think it's just maturity. Confidence. And not telling myself I'm a rookie. A rookie, he can be make a few (mistakes). My running backs coach (Eric Studesville) would always tell me, 'You're not a rookie anymore...it's time to step up.'
Yes, the Broncos are a pass-first team with Manning leading the way. What they don't want, however, is to become one dimensional to the point where the offense ends up attempting 50 throws and the defense starts getting a read on the play calls.
Which player will make a bigger impact?
They must strike a balance, which probably means a workload of around another dozen touches for Ball. He must play mistake-free football. There's no room for a key error like a fumble, which was a problem for him early in the season.
The Broncos certainly don't need him to run wild with the passing game and Moreno leading the charge, but if he can put up around 60 yards and protect the football, it will help round out the offense. Anything more is a bonus.
Those type of numbers aren't going to win him a Most Valuable Player award, but his teammates will recognize the contribution. And if he eventually wants to take over the starter's role, there's no better stage to begin proving himself.
Ball isn't the most important player on the Broncos offense, but if he struggles the impact will be felt. That's the sign of a key asset.