The NBA has already enjoyed the arrival of one "Greek Freak," and soon it may relish another.
Nineteen-year-old prospect Giannis Antetokounmpo burst onto the radar last spring and became one of the biggest steals of the 2013 draft. With a 7'4" wingspan and electrifying athleticism, he's a two-way highlight reel for the Milwaukee Bucks and still has loads of untapped potential.
He's already wowed us with his slashing, rebounding and defensive talent in a season when no one expected him to play much at all. Oh, and he's literally still growing.
By now, most hoops fans have heard of him and caught glimpses of his prowess. But few have seen his 6'7" older brother, Thanasis, in action.
Giannis' 21-year-old sibling is draft eligible this spring and is currently playing for the NBA D-League's Delaware 87ers. He's not the most polished prospect; however, his physical tools and natural talent suggest a productive ceiling.
That's right, we'll likely have two Antetokounmpos in the Association next year.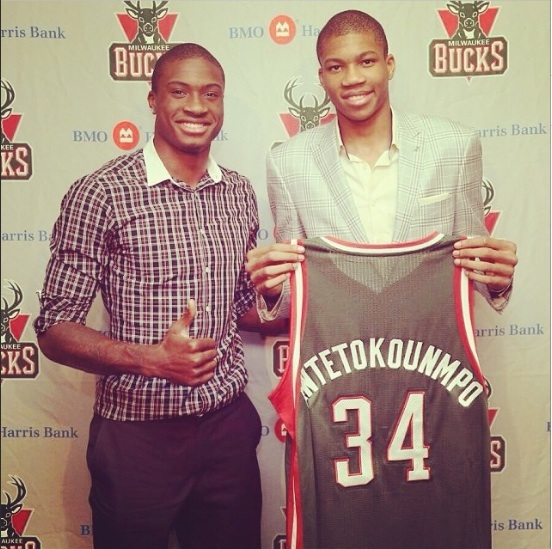 Via @Thanasis_Adeto Instagram
How good can Thanasis be on the big stage, and how does he compare to his brother?
Explosive Scoring
On the offensive end, Thanasis' success is primarily a product of his hustle, length and athletic superiority. It's evident that he's not well-versed in fundamentals or advanced ball skills, so right now he relies on slashing and finding catch-and-convert opportunities at the rim.
He has a developing three-point shot, and his ball-handling is gradually improving, but the vertical aptitude and finishing skills are what make him attractive to begin with.
Thanasis stands out in the D-League, and it's clear that he has the size and explosiveness to compete at the next level:
He's at his best when he catches on the wing, pump fakes and drives. His quick first step to the left cruises past defenders, and then he frequently scores above the rim or at least draws a foul.
While he doesn't have great court vision or a comprehensive grasp on offensive sets, Thanasis has shown how dangerous he can be without the ball. He's demonstrated some timely backdoor cuts and curl cuts for easy buckets.
As for his jumper, it's a work in progress, but it's promising nonetheless. When he stays balanced and shoots straight up in rhythm, he buries NBA-range triples. In December, he torched the Tulsa 66ers for five three-pointers en route to a 23-point outing.
There are still plenty of deficiencies in his game, and we'll address those soon. But how can you not be intrigued by Thanasis' slashing and shooting potential?
Defensive Tools
Thanasis' size, lateral foot speed and lightning-quick leaping make for an exciting defensive weapon. If he learns how to maximize those characteristics, he'll be able to defend point guards, shooting guards and small forwards in the NBA.
He has encountered some of his opponents' most dangerous swingmen this season, and when he plays disciplined, he holds his own. Long, swift strides enable him to stay in front of attackers, and his expansive reach obstructs passing lanes and shooting opportunities.
In the open floor, his natural shot-blocking skills are tremendous. Watch how he closes the distance, deters one shot and instantaneously bounces up to stuff another:
You can't teach that kind of talent and explosiveness.
Areas of Concern: Basketball IQ and Consistency
There are some significant downsides to Thanasis' game and draft value. Chief among them is his lack of polish and awareness on a possession-by-possession basis.
His inexperience manifests itself in poor shot selection, tunnel vision on drives and defensive lapses. Offensively, he doesn't always know when to cut, and sometimes he fails to make the easy play or the correct play. The result is copious turnovers and missed opportunities.
On defense, Thanasis shows poor discipline. He's often overzealous on closeouts and gets burned on pump fakes, or he finds himself in no-man's-land away from the ball.
Occasionally he suffers a lapse in focus and loses his man altogether: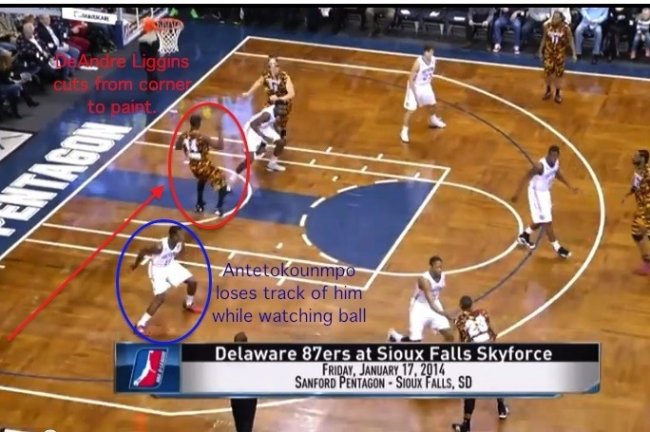 Via NBA D-League Youtube
Aside from the court-awareness issues, Thanasis' shooting inconsistency is a downside. He's converting just 25.9 percent from three-point land, a number that must improve if he wants substantial playing time in the NBA.
Lastly, there's his age: 21.
Most players with his rawness are 18 or 19, so clubs have a few more years to work with. If it takes Thanasis more than a couple campaigns to reach his NBA potential, he'll already be in his mid-20s, and his window for prime production will be closing shortly thereafter.
It's not a detrimental factor, but it does hurt his draft-day value.
Draft Projections and NBA Ceiling
Being a 21-year-old risk-reward pick will likely prevent Thanasis from landing in the first round, despite his high upside.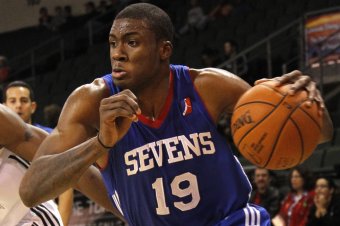 Chris Covatta/Getty Images
Most mock drafts, including sites like Draft Express, NBADraft.net and Basketball Insiders, project him to go in the mid-to-late second round. That's understandable considering the risk surrounding him, but I believe he could sneak into the early second round.
If he continues to improve and does well during workouts and skill drills, he could get plucked in the 30s.
Once he enters the league, he could immediately be a rotational sub used a couple times per game. Liberty Ballers' 76ers and 87ers columnist Roy Burton says Thanasis "has the ability to be an end-of-the-bench contributor today."
What, then, does his long-term role look like?
If he cultivates a greater understanding of the game and sharpens his fundamentals, coaches will entrust him with more responsibilities and heavier minutes.
His ceiling is in the neighborhood of a critical sixth or seventh man: A swingman whom coaches bring off the bench to guard positions 1 through 3, and who can provide energy, fill the lane, slash and finish.
I'm not ruling out the possibility of eventually starting, but for now his more realistic ceiling is a key reserve.
Comparing Thanasis to Giannis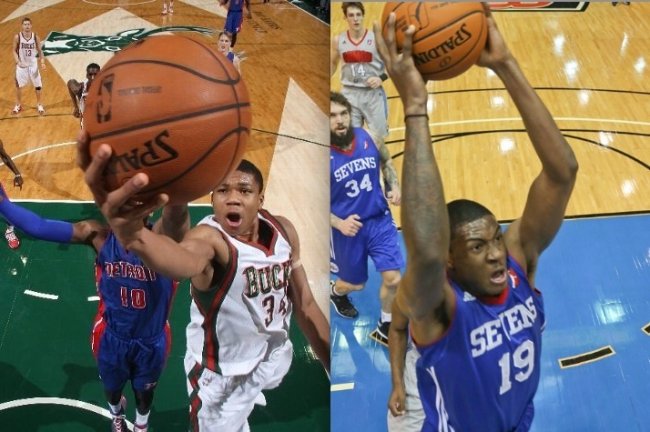 Gary Dineen/NBAE via Getty Images
Both Antetokounmpo brothers use their long limbs, huge hands and extraordinary athleticism to make plays on both ends of the floor. They aren't carbon copies, though.
For starters, remember Thanasis is at least a couple inches shorter, so he won't be a combo forward who can match up with stretch 4s. He won't be able to score over the trees as often as Giannis, and he won't be as productive on the glass. Those extra few inches also give Giannis the advantage when it comes to contesting or blocking shots.
Where Thanasis makes up for it is in the speed department. He can move with or without the ball much quicker than Giannis, as he's much more equipped to defend guards. Thanasis may also prove to be a better perimeter shooter, as his form and delivery are faster than Giannis'.
Ultimately, Thanasis doesn't possess quite as much upside as his younger, taller brother. But that's not much of an insult, because Giannis has All-Star potential.
Dan O'Brien covers the NBA Draft for Bleacher Report.
Follow him on Twitter: @DanielO_BR