Super Bowl Prop Bets: Analyzing Most Intriguing Odds for Seahawks vs. Broncos
Use your ← → (arrow) keys to browse more stories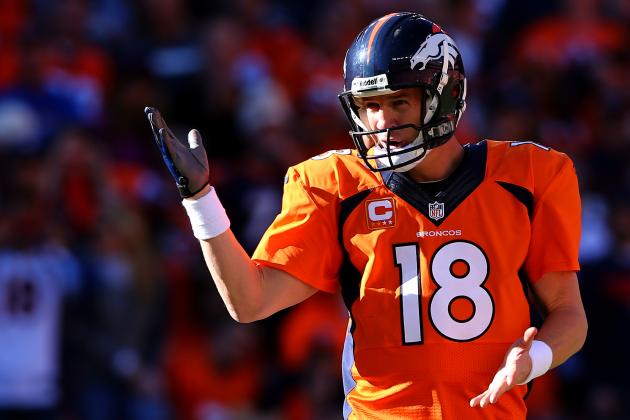 Elsa/Getty Images

The excitement surrounding Super Bowl XLVIII's showdown between the Seattle Seahawks and Denver Broncos extends well beyond the on-field matchup between the two teams.
In addition to the pregame festivities and highly anticipated halftime show, the NFL's championship clash will feature a bevy of prop bets for bettors and viewers alike to wager on throughout.
Below I'll break down some of the more intriguing prop bets ahead of the big game.
*Betting info and odds according to bet365.com.
First Offensive Play of the Game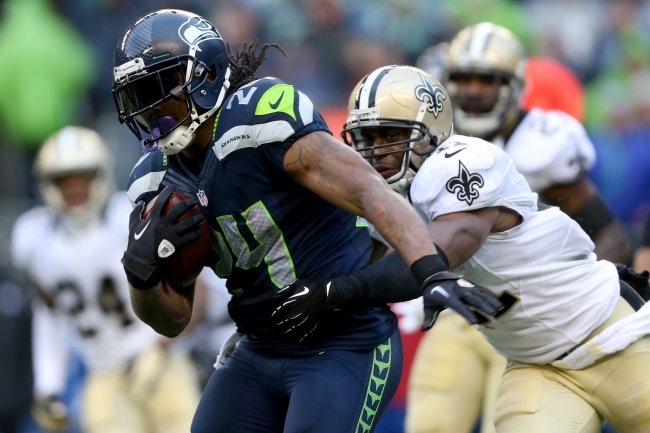 Jeff Gross/Getty Images
One intriguing prop bet to watch for during Super Bowl XLVIII will come on the first offensive play of the game.
Will it be a run or a pass?
Currently, the odds are 5-7 for a run and 6-5 for a pass, meaning that the oddsmakers are leaning toward either the Seahawks or the Broncos opening up with a handoff on the game's first possession.
@Buddha_original Broncos dropped back to pass on 52.1 pct of 1st downs in reg season, 16th highest in NFL. NFL avg was 51.3 pct in 2013.

— ESPN Stats & Info (@ESPNStatsInfo) January 18, 2014
The result will likely depend on which team receives the ball to begin the game. While Seattle's offensive attack has been predicated on the run this postseason (64 rush attempts to 43 pass attempts), the Broncos' offense has been pass-heavy by comparison (62 rush attempts to 79 pass attempts).
If Seattle receives to start the game, expect a run by Marshawn Lynch. Beast Mode is the heart and soul of the Seahawks' offense and is playing at an elite level as Hall of Fame running back Emmitt Smith recently pointed out, per NFL.com's Marc Sessler:
Number one, he's hard to bring down. He's very, very strong. He's a tough-nosed running back and he's going to take at least more than one man to tackle him. When I look at him running, his running style, I haven't seen anyone out there quite like him. I know Adrian Peterson is a little different, but Marshawn Lynch is a very, very tough running back.
However, if Denver opens up with the ball, there's a good chance we could see a quick pass from Peyton Manning.
Total Punts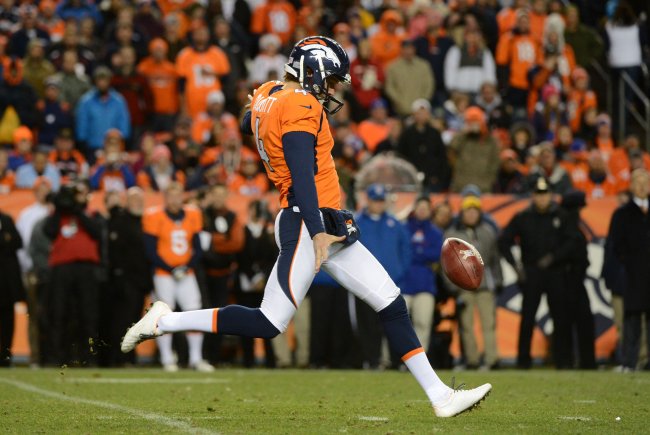 Kyle Terada-USA TODAY Sports
Bettors can also place wagers on the number of punts in Sunday's matchup. According to bet365.com, the over-under has been set at 8.5. With both teams playing superb defense coming in, the odds for the over are 20-27, compared to 20-21 for the under.
While Seattle has made a name for itself with its physical and relentless defense, Denver has been shutting down opposing offenses in these playoffs as well, forcing seven punts total in wins over New England and San Diego.
Meanwhile, the Seahawks forced a combined eight punts in their victories over San Francisco and New Orleans.
However, keep in mind that while Seattle has punted eight times in two playoff wins, Denver has punted just once this entire postseason, making the under the more attractive bet in this case.
Longest Field Goal Scored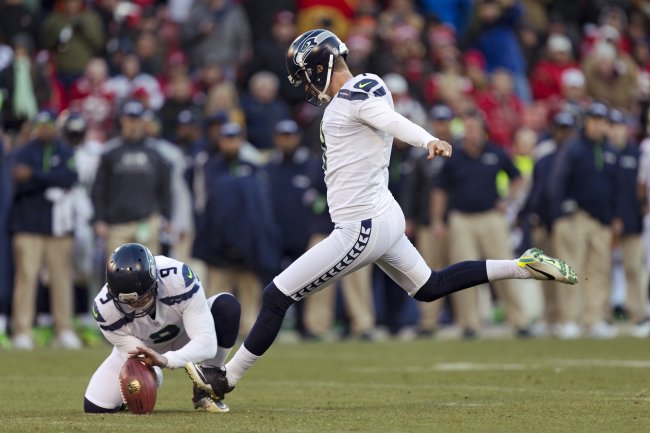 Brian Bahr/Getty Images
Another appealing prop bet for bettors to consider on Super Sunday is the longest field goal scored.
The over-under mark has been set at 44.5, according to bet365.com, with the odds favoring the under at 5-6. Odds for over are currently at 1-1.
Which kicker will have the bigger impact on Super Bowl XLVIII?
Although the elements could come into play on Sunday and make field-goal kicking difficult, it seems like the over is the safer choice based on the defensive prowess of each squad.
On top of that, both kickers have been stellar this postseason. Seattle's Steven Hauschka is a perfect 6-of-6 in the playoffs, converting two kicks from 45 or more yards out. On the other hand, Denver's Matt Prater is 5-of-6, with two of those successful attempts coming from 45 or more yards out.
Not to mention, Prater's jersey is on display at the Pro Football Hall of Fame after he converted a record 64-yard field-goal attempt back on Dec. 8.
Matt Prater's @Broncos jersey is now on display! Check it out: https://t.co/IVROFpFfhN

— Pro Football HOF (@ProFootballHOF) December 19, 2013
With two of the more consistent and strong-legged kickers set to go head-to-head in Super Bowl XLVIII, the over is clearly the smarter choice ahead of kickoff.
But if you're searching for a good reason to take the under, consider that there hasn't been a field goal of more than 44 yards converted in the Super Bowl since Super Bowl XLIV, when New Orleans Saints kicker Garrett Hartley connected on three field goals from 44 or more yards out.
Follow Bleacher Report Featured Columnist Patrick Clarke on Twitter.