NHL Teams That Will Suffer the Biggest Post-Olympic Hangovers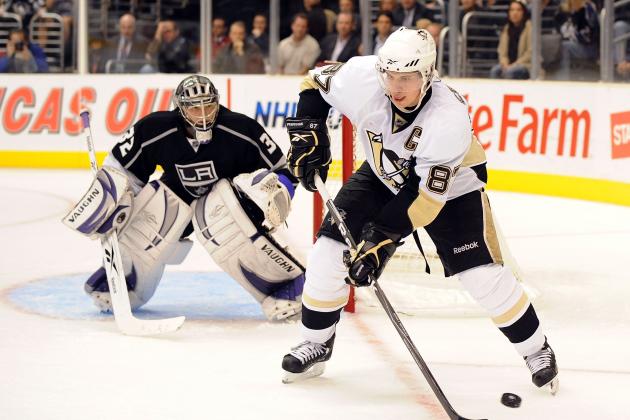 Harry How/Getty Images

In less than two weeks, the NHL will shut down for its Olympic vacation while its best players go for gold in Sochi, Russia. Fans are eager to see how the players and nations perform at the Bolshoy Ice Dome, but have also begun to wonder how their favourite teams will fare when the race to the playoffs resumes on Feb. 25.
For us, sometimes a hangover means we don't bring our best work to the office after having a little too much fun the night before. For NHL players, there's a risk of emotional letdown after the bright glare of the Olympic spotlight as well as the possibility of injury or exhaustion from a two-week tournament played at a very high level.
A few teams in the playoff hunt will be able to rest most of their group during the Olympic break—the Colorado Avalanche, for instance, are sending just four athletes while the Boston Bruins will send five. As you might expect, most of the world's top players suit up for the NHL's top teams.
Here's a look at eight NHL clubs in the thick of the battle who will likely feel the strongest adverse impact from the Olympics once play resumes.
As a point of reference, these are the types of hangovers that each team could experience:
One Alarm: A good night's sleep should set things right
Two Alarm: Need a couple of aspirin and a gallon of water
Three Alarm: Craving greasy food, zero concentration
Four Alarm: Nausea, shakes, can't handle food or fluids
Five Alarm: Bedspins
Stats and standings courtesy of NHL.com and current through January 26. Injury info from TSN.ca. Hangover experiences are the author's own.
Begin Slideshow

»
Brad Watson/Getty Images

Players Going to Sochi: 10
David Backes - USA
Patrick Berglund - Sweden
Jay Bouwmeester - Canada
Jaroslav Halak - Slovakia
T.J. Oshie - USA
Alex Pietrangelo - Canada
Vladimir Sobotka - Czech Republic
Kevin Shattenkirk - USA
Alex Steen - Sweden
Vladimir Tarasenko - Russia
Current Status: Third in Western Conference with 75 points. The Blues have no injured Olympians.
How Bad the Hangover Will Be: Three Alarm
The Blues are tied with the Chicago Blackhawks and Detroit Red Wings with the highest number of players heading to Sochi. St. Louis' top defensive pair of Bouwmeester and Pietrangelo is used to logging big minutes; If anything, their ice time will likely drop on Canada's all-star defense.
St. Louis' 10 players all play for teams that could go deep into the tournament. They'll be weary when they get home but should be inspired for the stretch run.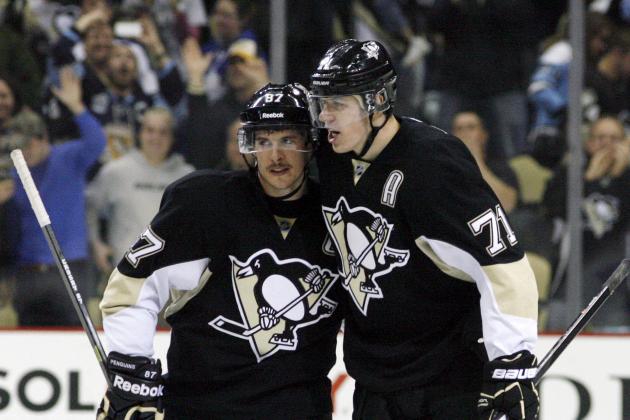 Charles LeClaire-USA TODAY Sport

Players Going to Sochi: 7
Sidney Crosby - Canada
Jussi Jokinen - Finland
Chris Kunitz - Canada
Olli Maatta - Finland
Evgeni Malkin - Russia
Paul Martin - USA
Brooks Orpik - USA
Current Status: First in Eastern Conference with 74 points. No injured Olympians.
How Bad the Hangover Will Be: Three Alarm
Not only are the Pittsburgh Penguins sending seven players to Sochi, they are seven important players. Crosby and Malkin are arguably the top two centers in the entire league and will be expected to carry big loads for their national teams. In addition, half of the Penguins' defense will be deployed in Sochi.
The post-Olympic impact for the Penguins will be eased by their comfortable perch atop the Eastern Conference. Pittsburgh currently holds a seven-point lead over the Boston Bruins and Tampa Bay Lightning, so the team will be able to afford to deploy its Olympians strategically through the last month of the season, when they won't have too much on the line.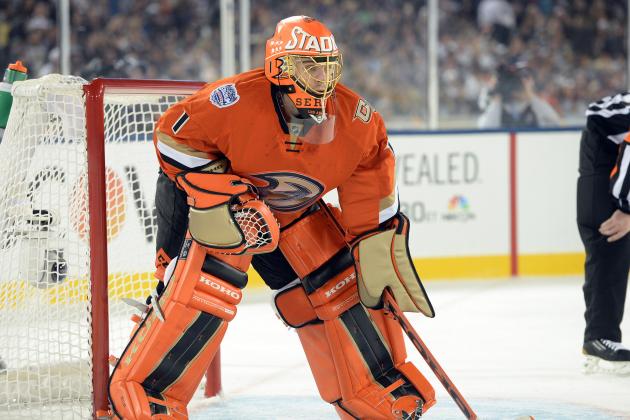 Jayne Kamin-Oncea-USA TODAY Spor

Players Going to Sochi: 7
Cam Fowler - USA
Ryan Getzlaf - Canada
Jonas Hiller - Switzerland
Corey Perry - Canada
Teemu Selanne - Finland
Jakob Silfverberg - Sweden
Sami Vatanen - Finland
Current Status: First in Western Conference with 83 points. The Ducks have no injured Olympians.
How Bad the Hangover Will Be: Three Alarm
Just like the Penguins, the Western Conference-leading Anaheim Ducks are sending seven players to Sochi. Also like the Penguins, they've opened up a comfortable lead atop their conference so they shouldn't feel too much pressure once NHL play resumes after the Olympic break.
Jonas Hiller has been the Ducks' one superstar in 2013-14. The way he's playing, he couldsingle-handedly engineer an upset for Switzerland and add another feather to his cap. Otherwise, he'll have a chance to get some rest.
Getzlaf and Perry will be key forwards for Canada but the rest of the Ducks' Olympians likely won't find themselves at the center of the action. Teemu Selanne is the Games' all-time leading scorer but he's not expected to be a key contributor for Finland this time around.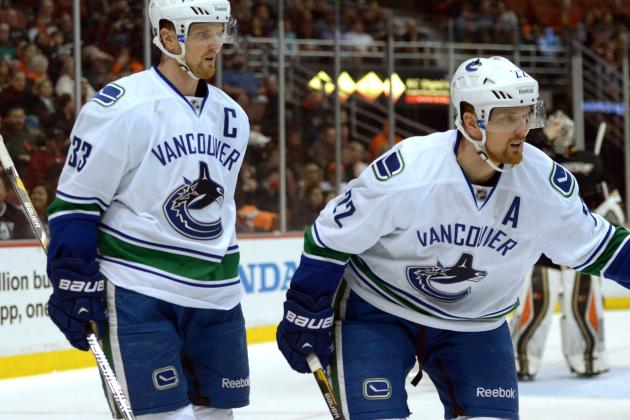 Kirby Lee-USA TODAY Sports

Players Going to Sochi: 7
Alex Edler - Sweden
Dan Hamhuis - Canada
Ryan Kesler - USA
Roberto Luongo - Canada
Daniel Sedin - Sweden
Henrik Sedin - Sweden
Yannick Weber - Switzerland
Current Status: Seventh in Western Conference with 63 points. Henrik Sedin is day-to-day with bruised ribs.
How Bad the Hangover Will Be: Three Alarm
The Vancouver Canucks have played through a bumpy month of January but could be getting their house in order as the Olympic break comes around. There's no timetable yet for Henrik Sedin, who has missed three games with a rib injury, but Alex Edler has been back in the lineup for seven games since missing six weeks with a knee injury and Roberto Luongo looks to be in fine form after being knocked out of the lineup with groin and ankle issues earlier this month.
If healthy, the Sedin twins should form an important part of Team Sweden's offense after their stellar play led Sweden to a gold medal at the 2013 World Championships. Meanwhile, Luongo is looking to complete his redemption by repeating his gold medal performance from Vancouver in 2010.
Confidence has been a big issue for the Vancouver Canucks this season. A good tournament for a few of their players could help the final run towards playoff time.
Rob Grabowski-USA TODAY Sports

Players Going to Sochi: 10
Michal Handzus - Slovakia
Niklas Hjalmarsson - Sweden
Marian Hossa - Slovakia
Patrick Kane - USA
Duncan Keith - Canada
Markus Kruger - Sweden
Johnny Oduya - Sweden
Michal Rozsival - Czech Republic
Patrick Sharp - Canada
Jonathan Toews - Canada
Current Status: Second in Western Conference with 76 points. The Blackhawks have no injured Olympians.
How Bad the Hangover Will Be: Four Alarm
The Blackhawks are contributing top offensive stars to three national teams: Patrick Kane to Team USA, Jonathan Toews to Team Canada and Marian Hossa to Team Slovakia. Each of those players will receive plenty of attention from other teams' checkers—including their own teammates like Keith, Hjalmarsson, Oduya and Kruger.
After a strong start to their post-Cup season, the long grind is evident in Chicago. With this year's regular season Western Conference title likely out of reach, the 'Hawks could falter after the break with tired players and not much to play for until the postseason begins.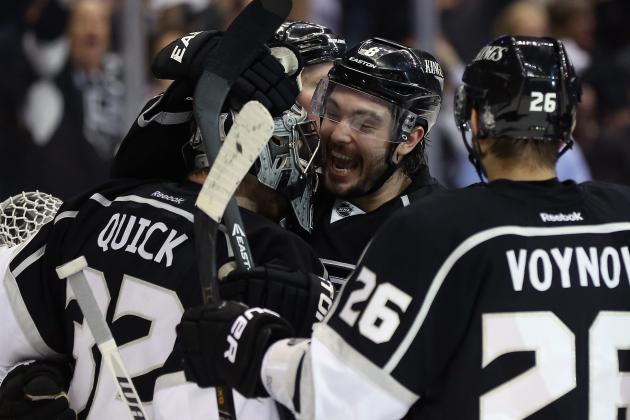 Jeff Gross/Getty Images

Players Going to Sochi: 6
Dustin Brown - USA
Jeff Carter - Canada
Drew Doughty - Canada
Anze Kopitar - Slovenia
Jonathan Quick - USA
Slava Voynov - Russia
Current Status: Sixth in Western Conference with 64 points. The Kings have no injured Olympians.
How Bad the Hangover Will Be: Four Alarm
The Los Angeles Kings are sending just six players to Sochi, but its key lines of defense will be worked to the bone. Both Drew Doughty of Team Canada and Slava Voynov of Team Russia will play a lot on top pairings and special teams, while Jonathan Quick and Ryan Miller will battle it out for the main minutes between the pipes for Team USA.
Anze Kopitar's the one Los Angeles player who should enjoy some downtime in Russia: His Slovenian squad has qualified for the Olympics for the first time ever. He'll carry the weight of the team on his shoulders in the early going but likely won't last past the tournament's first elimination.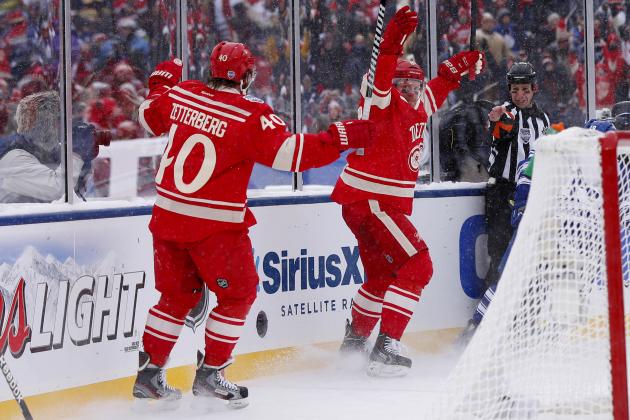 Rick Osentoski-USA TODAY Sports

Players Going to Sochi: 10
Daniel Alfredsson - Sweden
Pavel Datsyuk - Russia
Jonathan Ericsson - Sweden
Johan Franzen - Sweden
Jonas Gustavsson - Sweden
Jimmy Howard - USA
Tomas Jurco - Slovakia
Niklas Kronwall - Sweden
Tomas Tatar - Slovakia
Henrik Zetterberg - Sweden
Current Status: Seventh in Eastern Conference with 57 points. Datsyuk and Howard are on injured reserve; Zetterberg missed the Red Wings' Jan. 26 game with an upper body injury.
How Bad the Hangover Will Be: Five Alarm
The Red Wings are currently sitting in a wild card position in the Eastern Conference but their competition is bunched so tightly, they are three points out of fourth, and three points out of 13th.
Assuming everyone's healthy by the time the Olympics start, Detroit will be sending nearly half its team to Sochi. Good or bad, the fate of Team Sweden—and the Wings' six players on its roster—will largely determine the nature of Detroit's stretch run. The Wings could be a tired bunch as the playoffs draw near.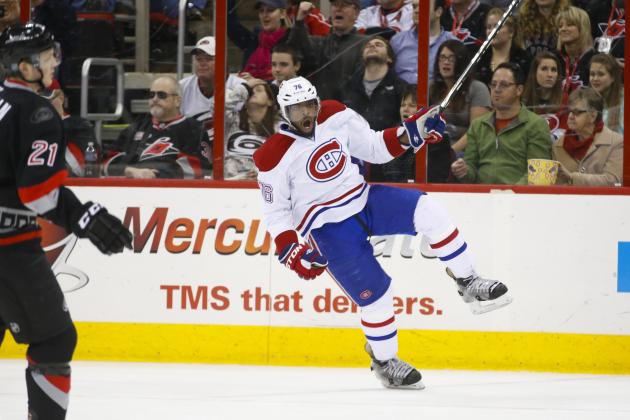 James Guillory-USA TODAY Sports

Players Going to Sochi: 8
Peter Budaj - Slovakia
Raphael Diaz - Switzerland
Alexei Emelin - Russia
Andrei Markov - Russia
Max Pacioretty - USA
Tomas Plekanec - Czech Republic
Carey Price - Canada
P.K. Subban - Canada
Current Status: Fifth in Eastern Conference with 59 points. The Canadiens have no injured Olympians.
How Bad the Hangover Will Be: Five Alarm
With two weeks to go before the Olympic break, the Montreal Canadiens are already in free fall. The Habs have lost a season-high four straight games and are in danger of falling out of the Eastern Conference playoff picture, looking once again like the team that collapsed so abruptly against the Ottawa Senators in the 2013 playoffs.
A change of scenery and a good experience for some of the eight Canadiens who are heading to Sochi could help with confidence and center the team for a tight stretch run. Fatigue and letdown could just as easily turn out to negatively impact a squad that's suddenly looking very fragile.