As it should be, Super Bowl XLVIII between the Seattle Seahawks and Denver Broncos is about impossible to predict.
Regular-season predictions were easy. The buzzword "parity" gets thrown around a lot, and rightfully so, but most of the time each matchup had some semblance of a favorite for one reason or another.
That is simply not the case when Peyton Manning meets the "Legion of Boom" for the first time with unpredictable weather a potential factor.
Whether it is odds, the MVP winner or the outright team that gets to hoist the Lombardi Trophy at the end of the night, the NFL has done right by fans with such a stellar matchup in Super Bowl XLVIII.
When: Sunday, Feb. 2, at 6:30 p.m. ET
Where: MetLife Stadium, East Rutherford, N.J.
TV: FOX
Live Stream: Fox Sports Go
Betting Lines (via Bovada)
Over/Under: 47
Spread: Denver (-3)
Spread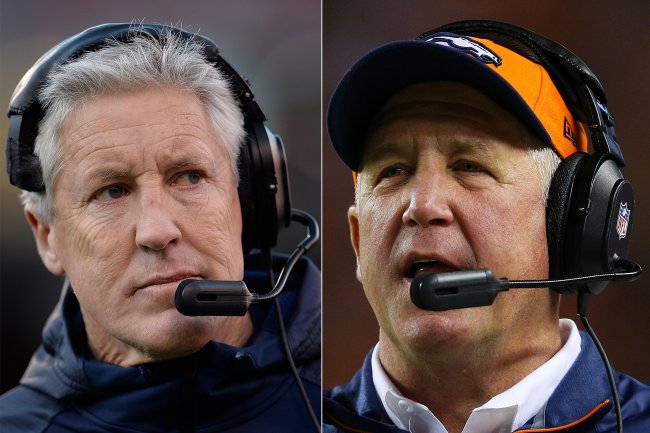 Getty Images/Getty Images
The spread itself shows just how unsure oddsmakers are as to how this one will play out. It makes sense considering the No. 1 pass offense will meet the No. 1 pass defense.
Now add in the chance for foul weather, and this is a recipe for a defensive battle where the highlights come from the running game and the team that can break the big play.
The weather itself is perhaps being talked about more than the actual game, as the NFL Network's Albert Breer colorfully illustrates:
Monitoring of Super Bowl weather reports is already at a stupid level. By next week, they'll have you thinking the game's at the North Pole.

— Albert Breer (@AlbertBreer) January 24, 2014
But there is reason to be concerned about the weather, as CBS Sports' Will Brinson points out:
BREAKING: Today's Super Bowl weather forecast very similar to yesterday's. My column: http://t.co/GfhS8Ew62B via @cbssports

— Will Brinson (@WillBrinson) January 26, 2014
What does this mean? Expect the Seahawks to stay on the ground with elite running back Marshawn Lynch. While this seemingly favors Seattle, it is easy to forget that the Broncos have a top-10 defense against the rush.
A large chunk of this rank can be accredited to stud defensive tackle Terrance Knighton, who goes by the name "Pot Roast." Seattle quarterback Russell Wilson is aware of the challenges his team faces thanks to Knighton, via Bob Condotta of The Seattle Times:
Well their defensive front is very strong. You think about number 94 [Terrence Knighton], he's Knighton I think that's how you say it. He's just a very physical football player, he causes havoc and he can do a lot of things and same with the rest of their guys. So I think the biggest thing for us is staying on schedule, being very physical at the point of attack, and when we throw the football, try to come up with some explosive plays but also making sure that we're getting first downs and doing a great job on third down.
Explosive plays will be few and far between as the weather potentially limits the pass and two stellar defenses keep the rush in check. ESPN's Louis Riddick is getting a lot of publicity for this Tweet, and rightfully so as he hits the nail on the head:
<---Thinks this Super Bowl will be the very definition of offense selling tickets, but defense winning championships.

— Louis Riddick (@LRiddickESPN) January 25, 2014
Winner
Unfortunately for Seattle, the trip to the Super Bowl will not have a positive result, and the team will not improve on its mediocre postseason record:
Seahawks are 11-12 all-time in the postseason. Their postseason record hasn't been at .500 since they were 3-3 entering the 1988 postseason.

— ESPN Stats & Info (@ESPNStatsInfo) January 27, 2014
Be sure to take the Broncos to cover the spread.
Manning and the Broncos are simply too powerful regardless of the weather. When Manning is not using his mind to pick apart the Seattle secondary with weapons like Demaryius Thomas, Julius Thomas, Wes Welker and Eric Decker, his committee of backs in Knowshon Moreno and Montee Ball will be able to find some room to work against a box that will not be stacked.
While there is something to be said about the elite skills of Seattle corner Richard Sherman, his lack of ever tracking a star receiver around the field will hurt the Seahawks against Manning.
Manning is the smartest quarterback to perhaps ever play the game, and he knows to avoid Sherman's side of the field at all costs. So while Sherman is busy locking down a Julius Thomas or Decker, Demaryius Thomas will have room to operate on the other side of the field.
This game will come down to Wilson's ability to elevate his play, which has been sorely lacking as of late:
Russell Wilson is averaging 159 pass yds per game this postseason, 4th fewest by a QB entering the SB in last 20 years (H/T @EliasSports)

— ESPN Stats & Info (@ESPNStatsInfo) January 22, 2014
There is no reason to believe Wilson can snap out of his funk away from home in the cold weather, especially in a head-to-head duel with one of the greatest of all time.
Prediction: Broncos 24, Seahawks 20
MVP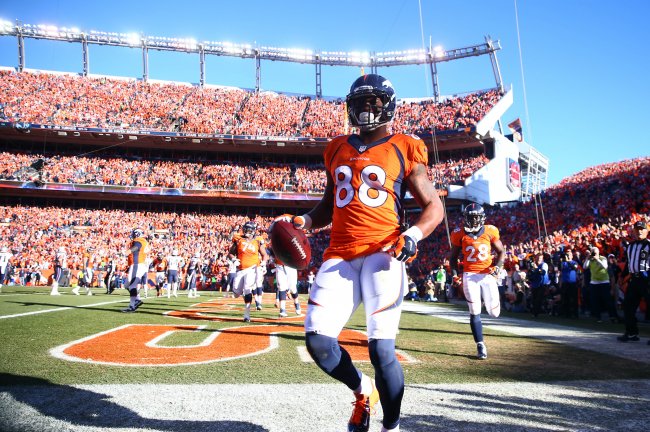 Mark J. Rebilas-USA TODAY Sports
As poetic as it would be for Manning to waltz away with the MVP award, his game in previous Super Bowls suggests he is good for about enough production to potentially land him the award but average enough for him to be the absolute goat if the Broncos take a loss.
In cold weather against the NFL's best pass defense, Manning will rely on his weapons—namely, Demaryius Thomas.
Thomas has been Manning's go-to option all year. Not only does he have an ability to beat defenses deep, he is arguably the league's best at catching a pass behind or at the line of scrimmage and taking it all the way for a big score.
Of Thomas' 1,430 yards and 14 touchdowns this season, a jaw-dropping 643 of those came after the catch, per Pro Football Focus:
Top 3 WRs in YAC: Pierre Garcon 662, Demaryius Thomas 643, Josh Gordon 629

— Pro Football Focus (@PFF) December 28, 2013
This skill to turn small plays into major ones will be magnified tenfold in miserable conditions. Thomas will bail Manning out by catching short passes to both keep the pressure off him and not take risks with the weather working against his arm.
After that, Thomas can use his elite skill set to get up the field while the Seattle defense is already stretched thin as it accounts for the other Denver receivers.
Thomas will be the hero as the man with the answer to the tough questions the title bout poses.