Nicolas Anelka has sparked doubts over his future as a football player after revealing that he won't be switching clubs until this summer, by which point he could even decide to hang up his boots for good.
That was the message sent by the West Brom forward via his personal Twitter account on Monday, Jan. 27, where he also responded to winter speculation:
Thanks to Lazio & all the others clubs who wanted to sign me this last days. See you this summer if I decide to continue...

— nicolas anelka (@anelkaofficiel) January 27, 2014
The Daily Mail's Graeme Yorke has reported that the Baggies striker had rejected a move to the Italian top flight, before going on to discuss the FA hearing that awaits Anelka in relation to the "quenelle" gesture that has landed him in hot water in the last month.
The 34-year-old has caused a huge fallout as a result of the hand-over-arm salute, alleged to have anti-Semitic and anti-Zionist connotations by varying parties.
So dramatic are the ramifications, in fact, that the Metro's Danny Griffiths says West Brom may be forced to sack the veteran forward, signed last summer on a one-year deal, if found guilty of his alleged offence.
Anelka once held the accolade of being the most expensive player ever on combined transfer fees, but surrendered that position to Zlatan Ibrahimovic upon his €23 million move to Paris Saint-Germain in 2012, as detailed by Charlie Scott of Goal.com.
However, the journeyman won't be breaking the record again, it seems, with retirement now playing on his mind.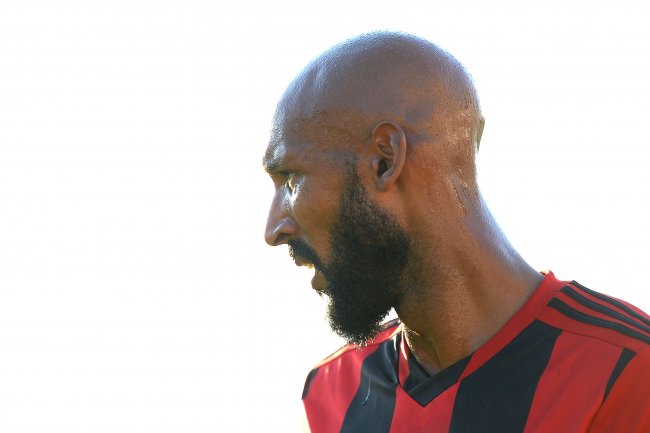 Laurence Griffiths/Getty Images
Anelka has scored just two goals in 11 Premier League appearances this term, per Transfermarkt, but his tweet would suggest that a number of sides are nonetheless eager to rise his talents away from the Hawthorns.
That being said, the Birmingham Mail's Chris Lepkowski claims that no contact was ever made by Lazio for the player's services, hinting that Anelka may not be as "in control" of the whole matter as he would make out:
There has been no contact between #wba and Lazio. General bewilderment over reports claiming Anelka has 'rejected' them. Not the case

— Chris Lepkowski (@chrislepkowski) January 27, 2014
Attention now turns to the end of the season and what possibilities presumably await Anelka as a free agent, and whether he'll be interested in opting to continue at all.