Arsenal are facing the prospect of losing Bacary Sagna this summer. If he does leave London, Eintracht Frankfurt's Sebastian Jung could be a potential replacement.
Sagna's current deal expires at the end of this season. According to Arsenal manager Arsene Wenger, the Gunners are working hard to try and extend his contract. However, speaking to John Drayton of The Daily Mail Online, he admitted that if Sagna's doesn't sign, he will be forced to scour the globe for a suitable replacement:
At the moment if he doesn't extend we will have to look at a new right-back.

We will try to secure Sagna because he is an important part of the group. But he is fully committed.
That "fully committed" Wenger added at the end of his response will concern Arsenal fans. It sounds like the start of a sentence that ends with "if he doesn't sign." There is a growing suspicion that if Sagna was going to agree to a new deal, he would have done so by now.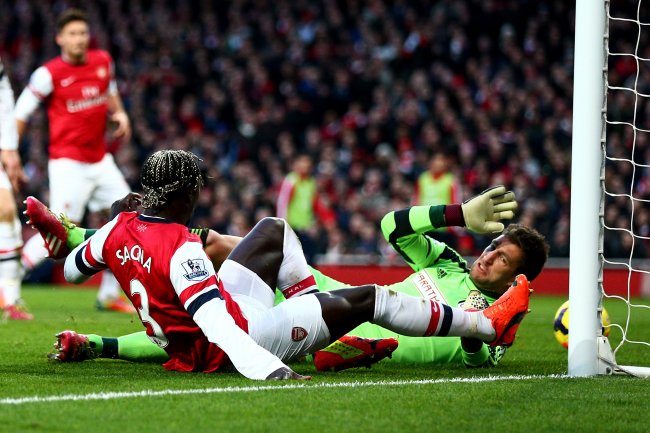 Clive Mason/Getty Images
Arsenal already have another right-back in the squad in the shape of Carl Jenkinson. However, the England international is still only 21. Based on his performances in 2013/14, he is not yet ready to inherit Sagna's place in the team.
Perhaps that's why Arsenal are looking at Jung. According to Wayne Veysey of Goal.com, the Gunners intend to make a double-swoop on Germany, combining a move for Jung with their well-publicised bid for Julian Draxler:
Arsenal officials will meet with their counterparts at Frankfurt in the coming days for talks about a move for Jung, 23.

The German is valued at £7m and has jumped to the top of the Gunners' list of right-back targets as question marks remain over the future of Bacary Sagna. Arsenal could hold off until the summer for a formal move for Jung, but the immediacy of the talks suggests a bid may be imminent.
Jung is unlikely to move until the summer. If he were to sign in January, Arsenal would have a surplus of right-backs.
However, were Sagna to move on, Jung could fit the bill. He has superb crossing ability, and he could provide Olivier Giroud with plenty of chances with his expert delivery.
There is evidence to suggest he provides a greater attacking threat than Sagna.
He has created 14 goalscoring chances in 14 Bundesliga appearances. Sagna has created one chance fewer in five more appearances.
He is a different style of defender to Sagna. The Frenchman relishes last-ditch defending, throwing his body in the way of shots to protect the Arsenal goal.
Jung's style is based more on his speed and positional intelligence. Thirty-three percent of his defensive actions are interceptions; he is blessed with a preternatural ability to read the game.
Could Sebastian Jung replace Bacary Sagna?
If he is to move to England, he may have to work on his aerial game. For a full-back, Sagna is extremely proficient in the air. Not only does that help Arsenal defend set pieces, but it also gives Wojciech Szczesny a target wide on the right when aiming his goal kicks.
This season, Sagna has won 65 percent of his aerial duel, while Jung was won 54 percent of his. There is a gap to make up, but at 23, Jung has plenty of time to improve.
If Sagna does move on this summer, then Jung could be a sensible addition to Arsenal's German contingent.
All statistics via Squawka.
James McNicholas is Bleacher Report's lead Arsenal correspondent and will be following the club from a London base throughout the 2013-14 season. Follow him on Twitter here.