Tottenham Hotspur's primary transfer need heading into the final week of the January transfer window is at left-back.
Danny Rose Concerns
Rose, Spurs' current left-back, missed 17 total games in the current campaign due to a toe injury, per Ben Pearce at TottenhamJournal.co.uk.
You can pinpoint Rose's lay-off as a reason why his form has fluctuated.
Danny Rose does not look match fit . The TV commentators are pointing out .

— Lord Sugar (@Lord_Sugar) January 1, 2014
His defending is below-par, as evidenced by his tackle success percentage being 46 percent, which is not even passable.
He became a negative talking point after being caught in possession by Tomas Rosicky, who scored Arsenal's second goal in a 2-0 FA Cup win over Spurs.
From an offensive perspective, Rose has been dire.
He is a former left-winger, per TottenhamHotspur.com, but has sent in 38 inaccurate crosses from 48 attempts, not to mention his shooting is inconsistent (yet to score a league goal this season).
"Danny Rose has been taking shooting lessons from Jason Puncheon," tweeted Mirror Football, a reference likening Rose's shooting to Puncheon's embarrassing penalty miss against Spurs.
Danny Rose looks like he had a few too many beers last night.

— Addicted to Spurs (@AddictedtoSpurs) January 1, 2014
Another factor in Rose's form slump is there being no serious threat to his starting left-back position.
Kyle Naughton, a natural right-back, is just a fill-in left-back.
"I prefer right back but I've played left back for other teams as well," Naughton said in 2011, per Alex Kay at the Daily Mail. "So I can't see that being a problem if I have to play there."
Jan Vertonghen, a world-class centre-back, does not want to play at left-back, per Sky Sports.
I can play at left-back and I can help the team at times. But everyone knows I am not a left-back.

Once there are injuries, I'm the first to fill in the gap. Sometimes it's better if you can play in only one position.

Other players specialise on one position and they can completely concentrate.
Zeki Fryers has only started one Premier League game in his career, and while he has been serviceable in the UEFA Europa League, making four starts, Spurs need a more proven left-back.
Real Madrid's Fabio Coentrao has been a mooted transfer target for Spurs, per ESPN.
Though, this deal seems unlikely, as his fellow Portuguese Andre Villas-Boas, the only plausible reason why Coentrao would choose Tottenham, was dismissed as Spurs manager.
Spurs face competition for Coentrao, who is being targeted by AC Milan, per Corriere dello Sport (h/t Football Italia), and Manchester United, per talkSPORT.
Here are two alternative transfer suggestions to Coentrao for Spurs management to ponder. Please note these two suggestions are not rumoured targets, just transfer suggestions.
Ricardo Rodriguez, Wolfsburg, Age: 21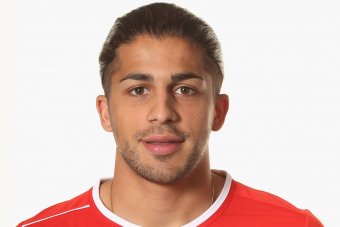 David Rogers/Getty Images
Rodriguez has started every single one of Wolfsburg's Bundesliga games this season.
He is the undisputed left-back at the club, unlike the right-back position, which is being fought over by Christian Trasch and Patrick Ochs.
Rodriguez is an active ball-winner, making 56 tackles and intercepting 34 passes in 18 league games.
With Wolfsburg spending in excess of €40 million this season, per Stephan Uersfeld at ESPN FC, they are not in a mindset of selling; therefore, the chances of Spurs signing Rodriguez are minimal.
Oliver Sorg, Freiburg, Age: 23
Kerstin Joensson/Associated Press
Freiburg have needed Sorg more at right-back this season while also wanting to give Christian Gunter a chance to prove himself at left-back.
This is why Sorg has started 76.2 percent of games this season at right-back.
That said, Sorg has the Philipp Lahm-esque ability in playing right- and left-back without any noticeable discrepancy in performance.
In 2012, Freiburg sold Papiss Cisse, who scored 22 Bundesliga goals the previous season, in the January transfer window to Newcastle United.
Goals win games, meaning he was more important to that Freiburg team than Sorg is to his team right now.
So, there is a possibility a sizable bid could entice Freiburg to sell a highly rated prospect like Sorg, despite the club attempting to stave off relegation.
The flip side in Freiburg keeping him is that his transfer stock will be cut in half if the club do suffer relegation.
Statistics via WhoScored, FFT Stats Zone, Squawka and Transfermarkt.