Name: Diego Costa
Age: 25 (Birth Date: 7 October 1988)
Nationality: Brazilian (Born), Spanish (Naturalised)
Current Club: Atletico Madrid (Spain)
Position(s): Striker / Centre-forward
Current Market Value: £26.5 million (via TransferMarkt)
2013-14 Season Statistics: 29 games played, 23 goals and three assists
Alternative Chelsea Target(s): Wayne Rooney (Manchester United), Mario Balotelli (AC Milan), Hulk (Zenit Saint Petersburg), Edinson Cavani (Paris Saint-Germain)
---
Chelsea boss Jose Mourinho has stated on numerous occasions his club will not be buying a striker in this January window, but that hasn't stopped the Portuguese manager from shopping.
According to the Mirror, via Spanish broadcaster La Sexta, agent Francois Gallardo has claimed Chelsea are willing to meet Diego Costa's buyout clause—set at £32 million—this summer. The article suggests the clubs have a "verbal agreement" in place for the transfer come warmer days starting in June.
Diego Costa agrees to join Chelsea in the summer and will complete his £32M move #CFC

— BBC Transfer News (@BBCTransferNews) January 26, 2014
The Brazilian-born Costa has been in the form of his life this year. Scoring 24 times in 29 matches, the front man has been linked with every "big" side on the planet.
It's worth noting a Costa move to Stamford Bridge could seal the fate of goalkeeping sensation Thibaut Courtois, as any deal bringing the striker to London might only happen if the Belgian shot-stopper remains in Madrid, according to ESPN FC.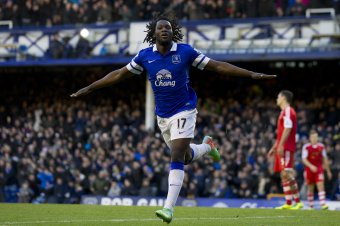 Jon Super/Associated Press
Another Belgian who could be influenced by the alleged move is striker
Romelu Lukaku
.
If a striker with a similar physique to Lukaku is purchased, it signifies either Mourinho is looking to sure up a preferred playing style by getting numbers, or it means the Chelsea boss is ready to part ways with the on-loan striker.
In all honesty, £32 million for a striker is reaching; especially considering the wealth of talent Chelsea have on loan. There are cheaper options available on the market; and if giving up what looks to be the best emerging goalkeeper in the world for a dime-a-dozen striker is part of the prospective deal—you've got to pass on it from a Chelsea point of view.
Wayne Rooney
and
Mario Balotelli
have been linked with Chelsea the past two transfer windows. Both Manchester United, in the form of
Juan Mata
, and AC Milan, in the form of Michael Essien, have completed business with the London side recently. Which may be a sign of: "I rub your back, you rub mine?"
Which striker is best for Chelsea next season?
In any event, either one of those transfers would be less than the reported sum of £32 million. Not to mention, both are proven Premier League players, while Costa could be a flash in the proverbial pan.
Just a thought—take it how you will.
Nevertheless, with Fernando Torres, Samuel Eto'o and Demba Ba not looking to be the best striking options moving forward, it is clear the Chelsea boss needs a change in his strike force.
At this stage the reports are just that—reports. Nothing is set in stone until pen meets paper (see Willian and Tottenham). Only time will tell what Mourinho decides to do, but for his and the club's sake, he needs to do something.