The week leading up to the Super Bowl is always bogged down by statistics, player rivalries and the like. This year's clash between the Denver Broncos and Seattle Seahawks is no different.
Peyton Manning put up the best numbers this season by a quarterback in the history of the NFL. The best numbers. Ever.
Richard Sherman will be fresh off his epic postgame tirade with Erin Andrews of Fox Sports. How he handles the media circus that is the Super Bowl will be well documented.
Not all of that information is actually "must-know" stuff, though. Here is what you really need to know heading into the NFL's championship game.
The good stuff. The nitty gritty.
When: Sunday, Feb. 2, at 6:30 p.m. ET
Where: Metlife Stadium, East Rutherford, N.J.
TV Info: Fox
Live Stream: Fox Sports GO
Spread: Denver by 3, according to Bovada
The Legion of Boom
If you've yet to acquaint yourself with Seattle's "Legion of Boom," then do yourself a favor and keep reading.
Here's a quick definition from Ebenezer Samuel of the New York Daily News:
The Seahawk defense has dubbed itself "The Legion of Boom" and it's spent the past two years pushing Seattle to the top of the NFL. It's a brash unit with an intimidating secondary, and it's developed a penchant for erasing superstars (just ask Jimmy Graham).
Richard Sherman, Brandon Browner, Kam Chancellor and Earl Thomas have combined to form the most ferocious secondary in the NFL over the past several seasons, and guys like Byron Maxwell and Jeremy Lane have also stepped in to make plays from time to time.
The Legion of Boom will be the most difficult unit to handle in the Super Bowl—period.
In the last 2 seasons Richard Sherman has allowed a single receiver more than 3 catches in a game just once...Titus Young! (5)

— Pro Football Focus (@PFF) January 24, 2014
Inc playoffs QBs targeting Richard Sherman have a league-low 44.5 QB rating. Completing exactly 50% of passes.

— Pro Football Focus (@PFF) January 20, 2014
Sure, Denver's offense in 2013 was the best in NFL history. Manning and his bevy of star receivers lit up scoreboards with a blatant disregard for the opponent's feelings. Sherman and his teammates in the secondary will severely limit the damage Manning will do.
Do yourself a favor and get to know the Legion of Boom before the game begins. You'll certainly know who they are by the time the game is finished, but knowing what you're watching will make it that much more entertaining.
Percy Harvin Will Be Active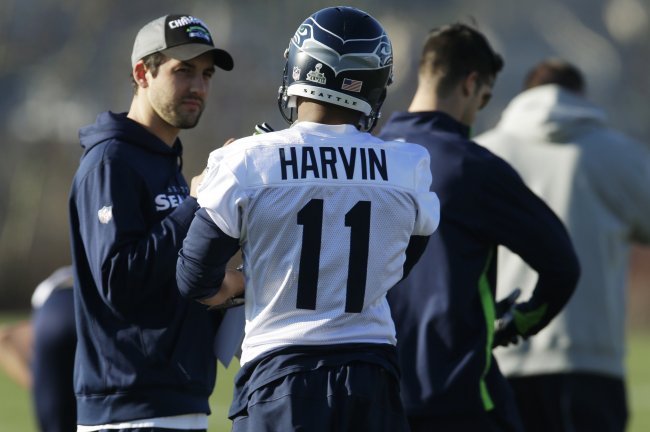 Ted S. Warren/Associated Press
The Broncos need to be prepared, because oft-injured speedster and playmaker Percy Harvin will be active for Super Bowl XLVIII, reports Kevin Patra of NFL.com.
Harvin did not play in the NFC Championship Game against the San Francisco 49ers and has played a whopping 40 snaps in 2013. If nothing else, you can say that Harvin has fresh legs heading into the final game of the season.
Patra offers some interesting insight that might go unnoticed regarding Harvin:
The dynamic pass-catcher will have more than a week to prepare for the Broncos. The one benefit of Harvin's year-long struggle with injuries is that Denver has little film of his in the Seahawks' offense.

Don't discount Darrell Bevell's ability to creatively utilize his best offensive weapon on the biggest stage.
The Broncos will have to do their best to prepare for Harvin. If fully utilized, he has the ability to transform Russell Wilson from a game manager to a playmaker. That type of transformation will leave Denver on the wrong end of a strong offensive showing.
Watch the little film there is available of Harvin in a Seahawks uniform to know what to expect in this one. You know the Broncos will be.
Peyton Manning Versus...the Cold?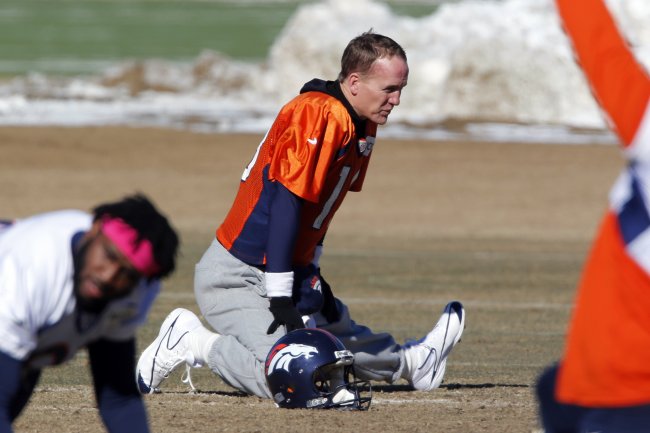 Ed Andrieski/Associated Press
Despite playing his home games in the often chilly city of Denver, Manning isn't exactly the best bet to perform well in frigid temperatures—the exact conditions expected for kickoff.
ESPN's John Clayton breaks it down rather well (via accuweather.com):
If it is going to be anywhere between 19 and 25 degrees, the colder it gets, the tougher it gets because gripping the football can become a problem. If it's going to be sleety or rainy, that's going to be a problem that he (Manning) is going to have and that will definitely have an impact on the game.
Denver did defeat the New York Giants at MetLife Stadium back on Sept. 15, but it wasn't freezing temperatures then. The Seahawks won 23-0 at MetLife against the Giants on Dec. 15, and that's probably a better indication of cold weather play.
The Broncos cannot—no, will not—win if Manning doesn't put on a show. Knowshon Moreno and Denver's defense can't do it by themselves.