Jim Thome Likely Next in Cleveland Indians Hall of Fame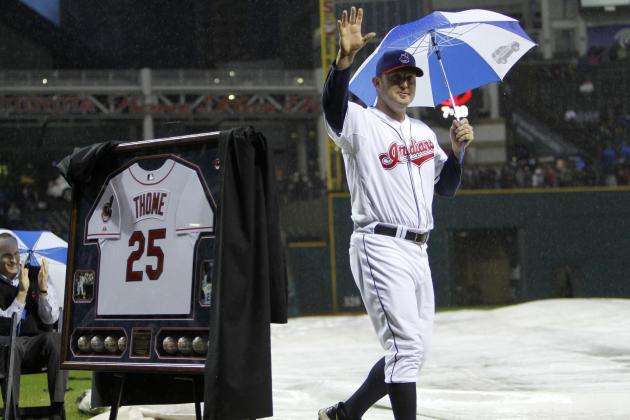 Mark Duncan/Associated Press

Just days after the team announced that former shortstop Omar Vizquel will be inducted into the Indians Hall of Fame, the Cleveland Indians announced on Saturday during their annual TribeFest event that legendary first baseman Jim Thome will have a statue built in his honor and unveiled before a game on Aug. 2.
The 40th member of the Heritage Park Hall of Fame, Vizquel joins an elite class of more than 1,700 ballplayers who donned the Cleveland uniform, and Thome will almost certainly join him in the near future.
Looking forward to 2015, the Indians will likely give a 41st player the franchise's highest honor.
The five individuals in the list that follows are the most qualified candidates—either for their incredible statistics, or their overall contribution to the city—to punch their ticket into the hall beginning next season.
Stats courtesy of Baseball-Reference.com
Begin Slideshow

»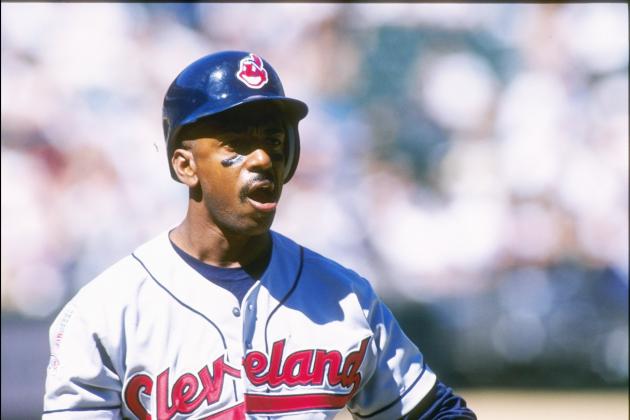 Otto Greule Jr/Getty Images

Julio Franco (1983-88, 96)
| | | | | |
| --- | --- | --- | --- | --- |
| H | BB | RBI | HR | AVG |
| 1,272 | 627 | 490 | 18 | .316 |
Julio Franco played 1,088 of his 1,891 career games with the Tribe. As a colorful shortstop, Franco hit over .300 in each of his last three seasons with the Tribe. Franco hit .295 with 131 steals in 898 games as a shortstop during his first tour on Lake Erie. Upon his return in 1996, Franco hit .322 as a first baseman and designated hitter.
Doug Jones (1986-91, 98)
| | | | | |
| --- | --- | --- | --- | --- |
| W | L | ERA | IP | SV |
| 27 | 34 | 3.06 | 452.1 | 129 |
In 295 appearances with the Tribe, Doug Jones struck out 357 and walked 104 in 452.1 innings on his way to 129 saves, which was a club record until Bob Wickman broke it in 2006. Jones was known as a changeup specialist, keeping hitters off balance by throwing extremely slow pitches and a fastball that topped out in the low- to mid-80s. In three straight All-Star appearances (1988-90) as a member of the Indians, Jones had 112 saves and a 2.40 ERA.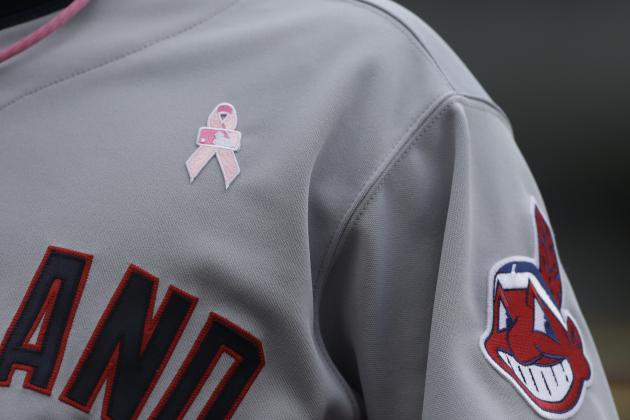 Carlos Osorio/Associated Press

| | | | | |
| --- | --- | --- | --- | --- |
| H | BB | RBI | HR | AVG |
| 1,753 | 627 | 490 | 18 | .316 |
Charles Jamieson, who had a sterling reputation as an excellent defender, was the most beloved Indians player between Nap Lajoie and Bob Feller. His expansive range was on display for a club record 1,242 games in left field over 14 seasons with the Tribe. In a total of 1,483 games, Jamieson posted a batting average of .316 and totaled over 1,700 total hits, 296 doubles and 107 steals while playing Gold Glove-caliber outfield. He scored a career-high 130 runs in 1923, when he led the league with 222 hits, batted .345 and finished sixth in the American League MVP voting.
Now more than 70 years since Jamieson last played for the Indians, his enshrinement in the Indians Hall of Fame is long overdue.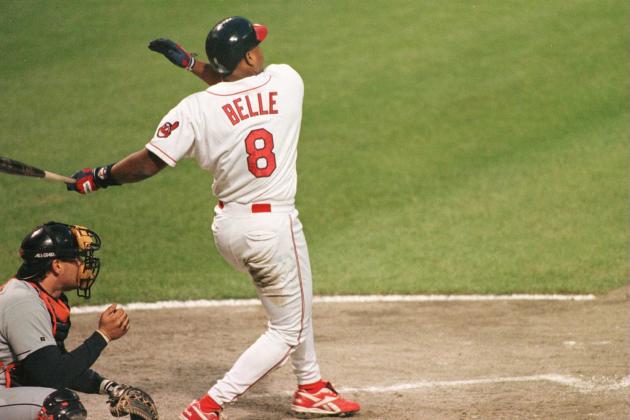 Jed Jacobsohn/Getty Images

| | | | | |
| --- | --- | --- | --- | --- |
| H | BB | RBI | HR | AVG |
| 1,014 | 396 | 751 | 242 | .295 |
Albert Belle was undeniably the most dangerous force on a resurgent Indians roster that finally became worthy of a postseason appearance in the early 1990s. Belle hit .357 with 36 home runs and 101 RBIs in just 106 games (a pace of 55 home runs and 154 RBIs) during the strike-shortened 1994 season and, a year later—within a 144-game schedule—he became the first player ever to accumulate 50 doubles and 50 home runs in the same season.
Belle's eye-popping statistics, however, were oftentimes overshadowed by his inability to stay out of the news for all the wrong reasons. The muscular Belle played with a me-against-the-world attitude that only made it easier for the world to hate him back. His frequent run-ins with fans, photographers and journalists were widely reported, and the 1994 corked bat incident seemingly solidified his role as baseball's Public Enemy No. 1.
Statistically, Belle may have been on the cusp of an induction in the National Baseball Hall of Fame, but voters likely took his turbulent behavior into account when casting their ballots in 2006 and 2007. Despite averaging 39 home runs, 119 RBIs and a .300 average over six seasons with Cleveland, Belle disappeared from the ballot after just two years.
Now that he has returned to spring training with the Indians, Belle seems to have mended his broken relationship with a club that he has had little to do with since signing with the White Sox as a free agent after the 1996 season.
With bad feelings now in the past, Belle may very well be destined for Heritage Park.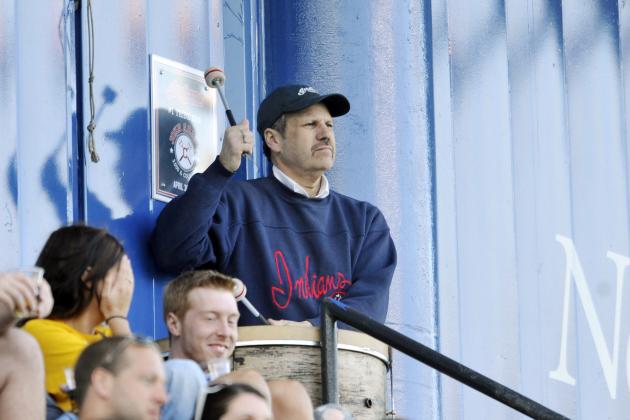 David Richard-USA TODAY Sports

John Adams has enjoyed the longest tenure with the Tribe in the franchise's history.
Not a player. Not a coach. Adams, the city's beloved drummer, has enjoyed more than 3,000 games in 40 years at Progressive Field, and Municipal Stadium before it.
His presence has become an icon for all Cleveland home games and has drawn praise from numerous Tribe players over the years. Adams sits in the last row of the left field bleachers and bangs his 26-inch bass drum when the Tribe takes the field in the first inning, when an Indian is on second or third, during a home run trot, when the Indians are behind or tied in the eighth inning and when the Indians lead for the last out in the top of the ninth inning or extra innings.
As players, managers, executives and owners have come and gone, only one person has remained since Aug. 24, 1973: John Adams. Though the Indians have recognized Adams before—including his own bobblehead in 2006—he is deserving of a place in history.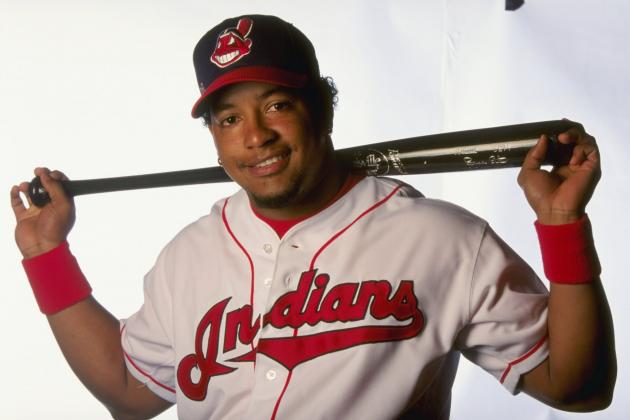 Vincent Laforet/Getty Images

| | | | | |
| --- | --- | --- | --- | --- |
| H | BB | RBI | HR | AVG |
| 1,086 | 541 | 804 | 236 | .313 |
Upon joining a star-studded lineup that already featured Belle and Jim Thome on the prolific Indians rosters of the 1990s, Manny Ramirez became an instant star. Ramirez seemingly always kept his batting average well above .300 and made a living on his ability to knock in runs. Ramirez, a four-time All Star, had 236 home runs and 804 RBIs in 967 games with the Tribe, including a team-record 165 RBI in 1999, when he hit .333 and amassed 44 home runs and a career-high 131 runs.
While he was tamer with Cleveland than he would later be as a member of the Red Sox, his unpredictable behavior was famously described by Indians manager Mike Hargrove as "Manny being Manny."
Though he is closely linked to baseball's steroid era—he was suspended on two separate occasions later in his career—the power hitting outfielder's contributions to the Tribe during the 1990s is worthy of an induction into the Indians Hall of Fame.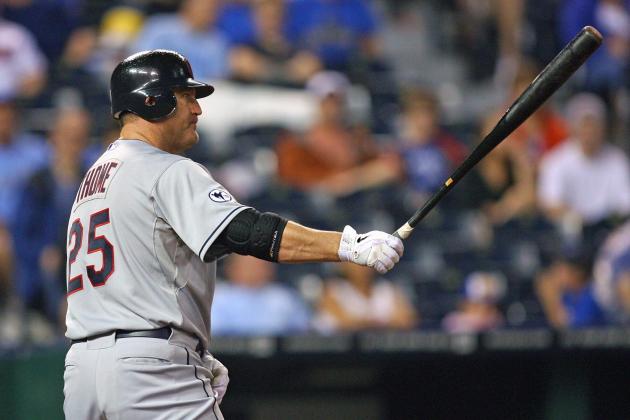 Tim Umphrey/Getty Images

| | | | | |
| --- | --- | --- | --- | --- |
| H | BB | RBI | HR | AVG |
| 1,353 | 1,008 | 937 | 337 | .287 |
No surprise here.
Unlike Belle and Ramirez, Jim Thome had the whole package.
After taking three years to establish himself as a regular in the Indians lineup, Thome belted a franchise-record 334 career home runs over a dozen seasons as the face of the Tribe. He played an integral role in leading the Tribe's high-powered offense to the World Series in 1995 (lost to the Atlanta Braves) and 1997 (lost to the Florida Marlins).
Owner of the longest ball hit in Jacobs Field (now Progressive Field)—a 511-foot shot in 1999—Thome belted a career-best 52 home runs in 2002 and frequently finished among the league leaders in base on balls.
As likeable as he was powerful, a 2003 fan poll named Thome the most popular man in Cleveland sports history. Though he has yet to make his way into Heritage Park, Thome will join Bob Feller as the only two former Tribe players to be enshrined in bronze at Progressive Field. His pre-pitch batting stance will greet fans just inside the gates of Progressive Field in an unannounced location beginning on Aug. 2.
Thome will very likely join Vizquel and many of his other 1990s teammates in Heritage Park next season.