Stanislas Wawrinka claimed the first major win of his career at the 2014 Australian Open, triumphing over an injury-hit Rafael Nadal in four sets to win 6-3, 6-2, 3-6, 6-3.
He benefited from the lower back injury that appeared to have struck Nadal during the course of the second set. Still, there was nothing to take away from Wawrinka's display, as he survived a comeback attempt from his opponent to rise from the ashes and take home the title.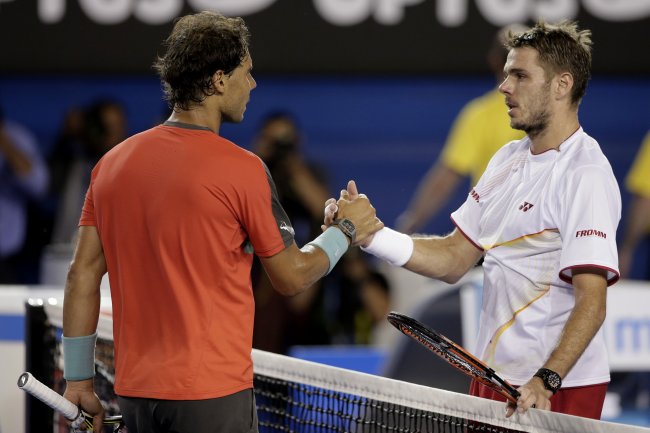 Rick Rycroft/Associated Press
Wawrinka impressed from the beginning, drawing first blood in the opening set with a break of Nadal's serve just four games into the match.
The No. 8 seed may have come into the encounter as the firm underdog, but the final was turned into more of a spectacle thanks to the initiative shown by Nadal's tormentor.
The Sun's Dan King was quick to praise Wawrinka for his start out of the blocks:
Wawrinka holds to 15. Good start for the Swiss. Doesn't want to wait til 3rd set for a break point on Rafa serve like Fed had to.

— Dan King (@DanKing_1974) January 26, 2014
Nadal looked as though he might stage a comeback in the seventh game. He initially went down 40-0 before managing to hit back with two points of his own, but Wawrinka recollected his thoughts to head into a 5-2 lead.
The blisters that affected the Spaniard's serve in the semi-final against Roger Federer were perhaps to blame for some of Nadal's ongoing issues. His double-fault count rose to two before the first set was over.
Neil Harman of The Times praised the leader for his look of ease against big opposition:
Wawrinka sustaining his terrific start to this final. Leads 5-2. Looks exceedingly comfortable. Rafa not so

— Neil Harman (@NeilHarmanTimes) January 26, 2014
However, the 27-year-old wouldn't suffer another break and drew to within two games at 5-3. It was here that Wawrinka's first-serve success rate took a slight dip. Though after falling to a 40-15 deficit, his second-serve proficiency stood out.
He took the ninth game to win five straight points and earn his first set in 13 attempts playing against Nadal.
Stanislas Wawrinka takes the first set 6-3 against Rafael Nadal at the #AusOpen. http://t.co/AsSZJXvHwz #bbctennis pic.twitter.com/O2HTpcPK86

— BBC Sport (@BBCSport) January 26, 2014
The momentum continued to swing in Wawrinka's favour, and it took six minutes for the 28-year-old to again break Nadal's opening serve, the Melbourne audience erupting into applause.
Mike Dickson of the Daily Mail described Wawrinka as having "out thought and outhit" Nadal:
So far Wawrinka has out thought and outhit the great Nadal, who is firing very anxious looks to Toni in the box.

— Mike Dickson (@Mike_Dickson_DM) January 26, 2014
It was admirable to see the world No. 8 persevere with his fierce serving method. Irrespective of where his first attempts ended, time and again Wawrinka would chase up with a strong second serve. That gave him the means to take a 2-0 lead in games.
Nadal forced some concerns upon taking a 40-30 lead in the second set, wincing as he hit the ball low into the net and clutching at his lower back in response.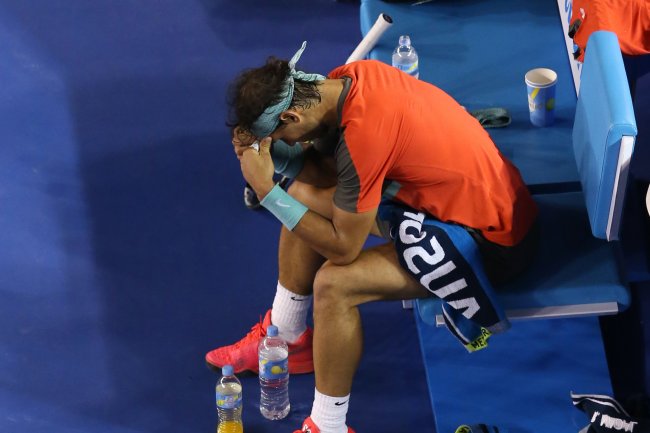 Eugene Hoshiko/Associated Press
Injuries notwithstanding, Nadal nevertheless finished off with a flourish, coming to within a game of his opponent and opting for a timeout in order to assess his concern with trainers off the court.
Wawrinka was upset with the time Nadal took in getting back to the court, violating the time limit afforded to him and courting some controversy with the length it took him to return, as was pointed out by the umpire's expressions.
Harman describes the scene:
Nadal gets a time violation call. Now we hope Ramos is consistent. Wawrinka broke to love by the way

— Neil Harman (@NeilHarmanTimes) January 26, 2014
Wawrinka now in long conversation with referee Wayne McKewen. This is all very unsatisfactory. Jeering inside RLA

— Neil Harman (@NeilHarmanTimes) January 26, 2014
Disaster struck at this point. Injury took its toll on the world No. 1's service as the look across Nadal's face told the story of how crushing it would be for him to take a retirement.
He hung on, though, as Wawrinka's lead eventually rose to 5-1. Despite Nadal's best efforts at forcing a turnaround at 5-2, the crippled Spaniard slipped to a two-set deficit upon Wawrinka's serve.
#Wawrinka takes a 6-3 6-2 lead v #Nadal who is receiving more treatment at the change of ends. #ausopen #Stanadal

— Australian Open (@AustralianOpen) January 26, 2014
More treatment followed for Nadal, who was suspected to be suffering from a spasm, as his longstanding rivalry with the hard court gradually took its grip on his back.
#Nadal gets more treatment on his back before rushing into the next set. Watch it live now! http://t.co/p64c8VnSjo #ausopen

— Australian Open (@AustralianOpen) January 26, 2014
There was only so much that could be done for the 2009 Australian Open champion. But Nadal would incredibly manage to muster something from his reserves, claiming a two-game lead at the start of the third set against the run of play.
His talent from the baseline rose to the occasion at this point. While the serve was still afflicted, strengths began to shine through.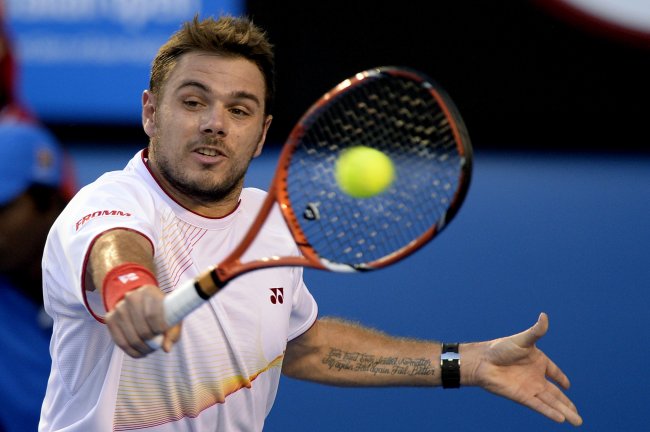 Andrew Brownbill/Associated Press
It's worth noting that Wawrinka's own complacency played its part; commentators noted that an opponent's injury can often lead to one forgetting to play his own game. Such certainly looked to be the case here.
Dickson delves into how the Swiss began to lose his cool:
Wawrinka is all over the place here as Nadal leads 3-0 in third.

— Mike Dickson (@Mike_Dickson_DM) January 26, 2014
Down 3-0, Wawrinka had already given up a disappointing nine unforced errors.
Trading blows, the major final debutant brought matters to within two games at 4-2 down. But it was clear by this point that the Grand Slam hopeful was far from as in control of the fixture as he was in the opening stages, going on to surrender the third set 6-3 and give a lifeline to his foe.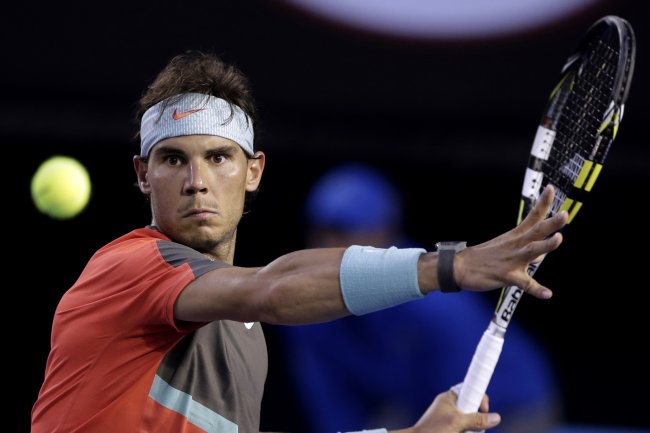 Rick Rycroft/Associated Press
With time to gather his thoughts, here is where the final really began for Wawrinka. For the first time in a decent stretch, each player held his serve at the beginning of the fourth set, the Swiss giant taking a 2-1 lead as his power in the first serve once again took shape.
Tancredi Palmeri of CNN wasn't concerned with a winner but merely lauded the quality of these two fighters:
I don't know if to support the once in a lifetime chance of Wawrinka or the infinite determination of Nadal. In any case, tennis wins

— Tancredi Palmeri (@tancredipalmeri) January 26, 2014
The pattern continued as scores shifted to 3-2 in his favour. The serve statistics were telling at this stage, Wawrinka registering 19 aces to Nadal's one after 31 games.
Looser margins would beckon, however, and Wawrinka wrestled the first break of the fourth set in what was possibly the most important game of the match. He skimmed a forehand swing down Nadal's left side, far too wide for the favourite to reach.
And it wasn't a sole example. After showing some grand defence at their own serve, the pair gave up three back-to-back breaks, Nadal faring the worse of the two to give Wawrinka a 5-3 lead.
The forehand of his life gives Wawrinka 5-3, will serve for the title, again the mind unscrambles #AusOpen

— Mike Dickson (@Mike_Dickson_DM) January 26, 2014
While it may have been his first attempt on this stage, Wawrinka's most amicable traits continued to boss the show. His strength at the second serve, combined with a very resistant backhand, paved the way.
Both arms were held aloft as Nadal's serve return was followed up by the most dominant of net forehands, Stanislas Wawrinka the third Swiss player to win a major.
#Stanadal #stats: Stan 53 winners to Nadal's 19, 116 points won to 88, 19 aces to 1, 11 volley winners to 5. #ausopen

— Australian Open (@AustralianOpen) January 26, 2014
Match point celebration for @stanwawrinka! #ausopen https://t.co/CQwDyDMIa4

— Australian Open (@AustralianOpen) January 26, 2014
#Nadal "He was playing amazing. V tough to stop him when he's playing that way. He's playing better & better w/amazing confidence" #Wawrinka

— Australian Open (@AustralianOpen) January 26, 2014
Of course, tribute must be given to Nadal for the superb spirit shown after injury. Medical timeouts and painkillers notwithstanding, it was a terrific performance from a player who refuses to give opponents anything but his all on the big stage.
In the end, though, Wawrinka is fully deserving of his win after the last year of his career. He's soon to soar up the world ranks, establishing himself as a true bastion of the sport.