In front of his hometown crowd at the D.C. Armory in Washington, D.C., IBF light welterweight champion Lamont "Havoc" Peterson (32-2-1) successfully defended his title. He took down Dierry Jean (25-1) by unanimous decision.
Officially, the fight was scored as follows, per Showtime Sports:
And STILL champion @kingpete26 delivered a complete performance winning via UD (115-113,116-112,118-111) #PetersonJean #Boxing

— SHOWTIME SPORTS (@SHOsports) January 26, 2014
I scored the fight 117-111 for the champion as well.
Peterson rebounded from a devastating loss at the hands of Lucas Matthysse in his last fight. Matthysse stopped him in the third round of their bout in May 2013. This type of performance is consistent with the character that has allowed Peterson to persevere through a variety of hardships.
He has overcome a tough upbringing, professional losses and suspensions during his career.
Showtime Sports captures analyst Steve Farhood's take on Peterson's resilience.
. @SteveFarhood - "It looks like the old Lamont Peterson again." . @kingpete26 clearly knows how to bounce back from a loss. #PetersonJean

— SHOWTIME SPORTS (@SHOsports) January 26, 2014
There were some concerns as to how he would respond after the KO defeat, but Peterson put those worries to rest quickly. He was clearly the aggressor as he beat Jean to the punch most of the night.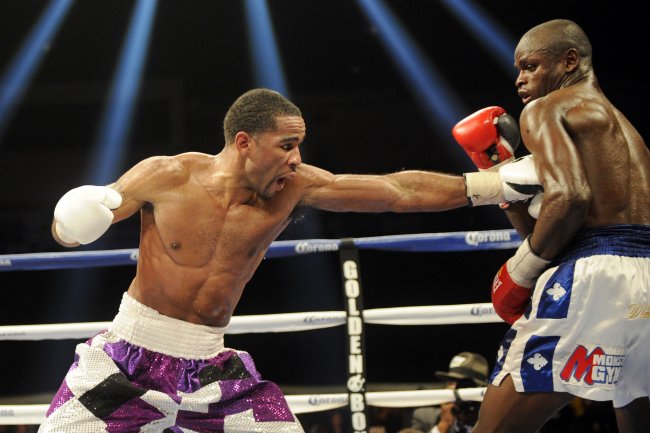 Nick Wass/Associated Press
The challenger needed to be busier, but he couldn't seem to get off as much as he needed to. When he did put combinations together, he had his moments. He seemed to want to potshot Peterson and crumble him with one-shot power punches, but the champion's chin and will were strong.
Jean came into the fight undefeated but as a relative unknown. He hadn't faced anyone on par with Peterson, and his lack of top-notch competition showed. When asked after the fight why he lost, he pointed to a lack of experience as the culprit.
. @DierryJean - "The difference was experience. I'm leaving with my head held high. My fans are behind me and I fought a hard fight."

— SHOWTIME SPORTS (@SHOsports) January 26, 2014
The win has Havoc right back in the mix to face some of the biggest names at light welterweight or welterweight. When the fight was over, Showtime Sports captured Peterson partially calling out WBA and WBC champion, Danny "Swift" Garcia.
. @kingpete26 - "I would like to be considered the best 140 pounder in the world, so if it is @DannySwift next, that is what it is."

— SHOWTIME SPORTS (@SHOsports) January 26, 2014
Jean may get another opportunity to fight on a big stage, but he squandered an opportunity to make a major statement and to become a world champion. At 30 years old, this was a pretty significant defeat for the Canadian.
He'll have to go back to the drawing board in hopes of finding some answers.
Follow me. I'm addicted to the Sweet Science.