Now that Li Na defeated Dominika Cibulkova to capture the women's title at the Australian Open, it's time to look back and relive the most dominant performances of the 2014 Open.
It was a tournament of upsets and brutal heat, but the players battled through to provide fans with a truly memorable tournament.
What were some of the most dominant results of the Australian Open 2014?
Read on to find out.
Li Na over Dominika Cibulkova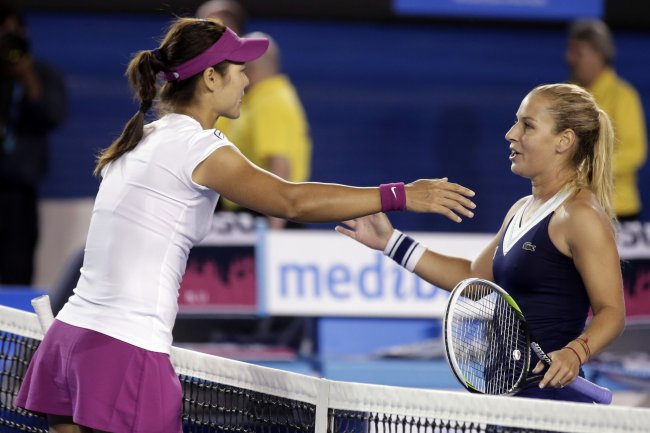 Rick Rycroft/Associated Press
We'll start with the most recent result, that of Li defeating Cibulkova 7-6, 6-0:
China's Li Na wins the #AusOpen women's final 7-6 6-0 against Dominika Cibulkova. http://t.co/6rlDwovFPu #bbctennis pic.twitter.com/BIuh7N2SPs

— BBC Sport (@BBCSport) January 25, 2014
The victory made Li the oldest woman to ever win the event, according to ESPN Stats & Info:
While You Were Sleeping: Li Na won her 2nd career major title. She's oldest woman to win the Aussie Open in Open Era (31 yrs, 333 days).

— ESPN Stats & Info (@ESPNStatsInfo) January 25, 2014
Cibulkova kept it interesting in the first set, even taking a 5-4 lead at one point. But Li fought back and forced a tiebreak, which she eventually won.
And from there, it was smooth sailing. Li absolutely dominated the second set, and Cibulkova didn't have a chance.
Here's the scene after the match was finished, via the Australian Open official Twitter page:
January 25, 2014
This is the third final, but the first win for Li. Li lost last year in three sets to Victoria Azarenka.
But this was her year from the start, as she cruised to the final. She benefited from losses by Serena Williams and Maria Sharapova, to be sure, but Li was never really in trouble during any of her matches.
Li seemed relieved when she finally got her hands on the trophy, telling John Pye of the Associated Press: "Finally I got her. Last two times was very close."
It was well-deserved after the performance she gave in the final.
Dominika Cibulkova over Agnieszka Radwanska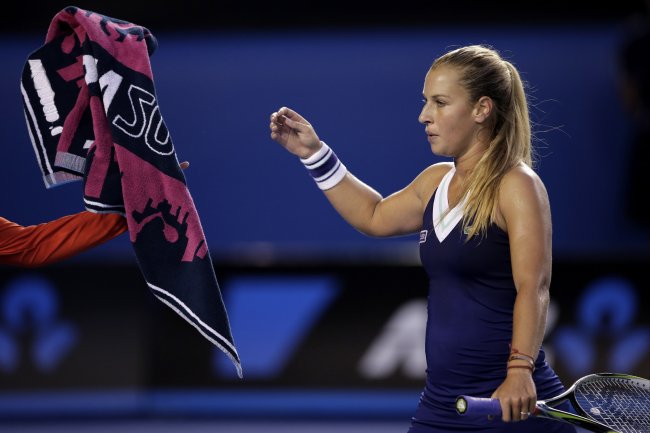 Rick Rycroft/Associated Press
Before she lost to Li, Cibulkova made waves with her dominating 6-1, 6-2 victory over No. 5 Agnieszka Radwanska.
Heading into this match, Cibulkova lost just one set. This match wasn't any different. The Slovakian never trailed in this massive upset.
The numbers in this match were absolutely ridiculous.
Cibulkova had 21 winners, 20 unforced errors and won 12 of 14 net points. In all, Cibulkova won 63 points, while Radwanska won just 40.
Cibulkova was focused but surprised at her victory, telling Tim Clement of Sky Sports: "Aga is an unbelievable player and I expected a tough match. I just knew I had to go for my shots. I had so many thoughts in my head (during the match) but just focused on my game. I can't believe I'm in a final."
The final point looked like this:
She may not have won the tournament, but Cibulkova has put herself on the map. She dominated throughout the tournament, especially in this match against Radwanska. She is a star in the making.
Rafael Nadal over Roger Federer
Once upon a time, this used to be everything. This used to be the apex. This used to be clear off the schedule, plop in front of the TV and enjoy. This used to be it all.
That was then. Now, what used to be the best is stunningly one-sided.
After years of battle, Rafael Nadal is now routinely defeating Roger Federer. He did it once again in the semifinals by a score of 7-6, 6-3, 6-3.
Nadal, who missed the 2013 Australian Open due to injury, was quite happy to be back in Australia, telling ESPN:
It's really, really emotional for me to be back on this court, Rod Laver Arena, and to be able to play another final. I think tonight I played the best match of the tournament. I go on court (against Federer) knowing that is a really tough match and if I am not playing my best, I will not have the chance to win.
Nadal was dominant throughout. He hit 13 of his 28 winners on the forehand, and the once-mighty Federer had 50 unforced errors.
He made it look easy. Jon Wertheim of Sports Illustrated was incredulous at the play of the Spaniard:
Can this be right? Nadal is winning higher % of second serve points than first serve points? Come on….

— Jon Wertheim (@jon_wertheim) January 24, 2014
Ri. Dic. U. Lous.

— Jon Wertheim (@jon_wertheim) January 24, 2014
For his part, Federer seemed a bit in awe of the performance by Nadal, telling ESPN: "I tried a few things ... then again, Rafa does a good job of neutralizing you. So I guess at times I couldn't quite do what I wanted to do, but that's because of Rafa."
Nadal, who will take on Stanislas Wawrinka in the final, is destined for another major. It makes perfect sense that he will start off 2014 with a great chance at his 14th career major.