It is only proper that the final match at Melbourne has the propensity for an epic upset as underdog Stanislas Wawrinka looks to take down the tennis juggernaut that is Rafael Nadal.
The 2014 Australian Open so far has been headlined by jarring upsets such as the one suffered by former No. 1 Novak Djokovic, who was usurped by Wawrinka himself, while women's top players such as Serena Williams and Maria Sharapova also bowed out rather early.
Wawrinka and Nadal are familiar foes who first met back at the 2007 Australian Open in a 6-2, 6-2, 6-2 affair the Swiss star would surely love to forget.
Things are much different now, and the final at Melbourne is set to be a memorable one.
Match Info
Where: Melbourne Park, Melbourne, Australia
When: 3 a.m. ET on Sunday, Jan. 26
Watch: ESPN
Live Stream: Watch ESPN
Breakdown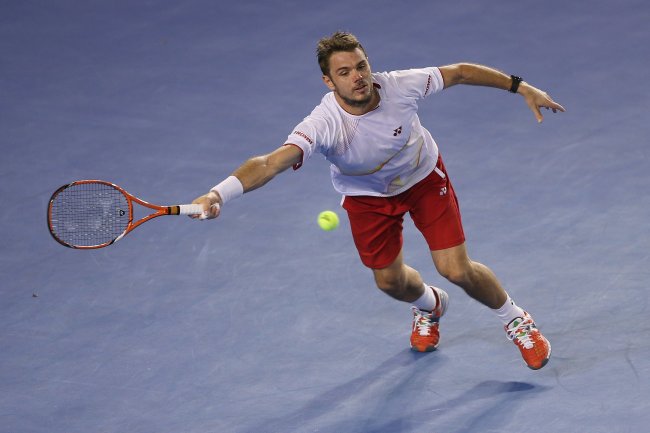 Clive Brunskill/Getty Images
Things certainly look bad for Wawrinka with the head-to-head record between him and Nadal currently at a 12-0 mark in the Spaniard's favor.
Wawrinka can take solace in the fact he continues to close the gap each time he hits the court with Nadal. These two last met in November of 2013 at the Barclays ATP World Tour Finals where Nadal survived, 7-6(5), 7-6(6).
Whether it is Nadal slightly losing a step or Wawrinka finally making his way past his rival does not matter. Wawrinka is familiar with his opponent as he told the media, per the tournament's Twitter:
"Happy to play Rafa, really good friend, we practice together he's an amazing champion, it will be a great final" - #Wawrinka on the final.

— Australian Open (@AustralianOpen) January 25, 2014
That familiarity extends both ways, as Nadal understands Wawrinka is currently riding an excellent wave into the final after upsets over Djokovic and Tomas Berdych:
#Nadal "I saw (Stan) play v Novak, v Berdych. He's doing great. I know him, he's a good friend, he's serving unbelievable." #ausopen

— Australian Open (@AustralianOpen) January 24, 2014
Perhaps the biggest storyline in the entire tournament, which has done much to potentially overshadow the excellent play of underdogs supposed to lose to big names, is the state of Nadal's hand. The Spainard suffered an inconveniently placed blister on the palm of his hand, which has yet to have a significant impact on his play.
Nadal told Piers Newbery of BBC Sport that the wound is taking some time to heal, with the only concern being the location:
The blister is good. It looks better every day. We are doing the right things. The blister today is not a problem any more for normal life. It's not painful. The problem is to play tennis. The only problem is the position of the blister, the place.
While Nadal does not sound too concerned about the potential issue, it is just that—something that could come up at the worst possible time and be a factor, so keep an eye on the situation.
Prediction
At the end of the day, the potential for an upset in the final at Melbourne is strong.
Nadal looks like the most dominant player in the world and did well in the face of a new, aggressive style from rival Roger Federer in the semifinal. But as Federer himself points out, via ESPN's Greg Garber, there is another element to this match worth consideration:
I hope he wins. There's no reason not to believe he can beat Rafa. He's clearly got a tough record against him, but many players have that. There's no difference there. Pressure's clearly on Rafa because he's got to win this final. Stan's in his first Grand Slam final, so that makes Stan also unpredictable. He's got to use that to his advantage.
Certainly valid points, and if Wawrinka is going to make his move and surpass Nadal, the time would be now as he can cap off the best tournament of his career with a storybook ending.
The problem is, it is hard to suggest that Wawrinka can move past Nadal, who showed against a rejuvenated Federer that he can handle the top players in dominant fashion.
As long as Nadal keeps up his current level of play, Wawrinka will not have enough to overcome the current best in the world.
Prediction: Nadal wins in four sets.