The Tim Tebow Movie: Five Actors To Portray No. 15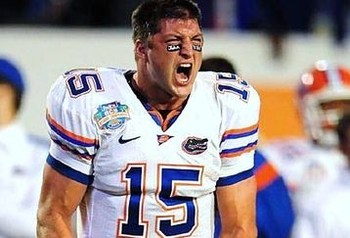 Already a collegiate icon, Tim Tebow is fast approaching the Chuck Norris and Jack Bauer zone of reputational impenetrability. With that being said, given Hollywood's dwindling creativity, it should only be a matter of time before the Tim Tebow story is written out and sold as a movie.
Don't act like it isn't going to happen. Remember, they made a movie about Rudy, a guy who sucked so bad that he struggled to stay on Notre Dame's practice squad.
Conversely, Tebow is a quarterbacking cyborg who plows through defenses like the Stay Puft Marshmallow Man stomping through New York City. I'd say that should escalate the time table for a biopic, right?.
Add to all that the media obsession with Tebow and his deliverance of stats, championships, and innate awesomeness and you have a guaranteed blockbuster for 2010: TEBOW.
Obviously, such a movie would require a solid supporting cast, because an otherwise decent movie can be sabotaged by a terrible casting call (see Reeves, Keanu). But the crux of the movie will be built upon which young actor could pull off the look and sound of Tebow.
With that being said, here are the top candidates (in no particular order) to play Tim Tebow…
Jake Gylennhaal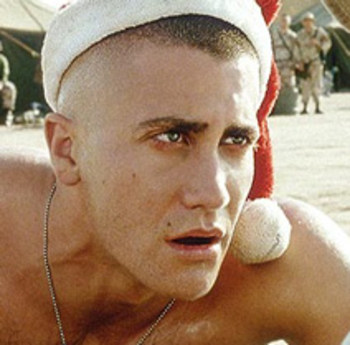 He got absolutely jacked to play a marine in Jarhead and he is one of the few young actors in Hollywood who isn't actually 5'5" and wears lifts. Zac Efron may be cool or something, but him supposedly prancing around SEC defenses isn't going to cut it on the believability scale.
Beyond the size though, Gylennhaal would be a legitimate choice as he is obviously talented in ranging from the darkly complicated Donnie Darko to the, ahem, alternatively life-styled Jack Twist.
Reasons why he would: Talk about cult-icon? If he were to pull off Donnie Darko and Tim Tebow, then he could lay claim to the most comprehensively weird and redneck fans of anyone in Hollywood. No small feat there.
Reasons why he wouldn't: Too big for the role. Something risky like this could dissuade him from risking credibility on a movie vehicle that isn't terribly significant in a big picture kind of way. Then again, what am I saying? This is a guy with Bubble Boy, The Day After Tomorrow, and Rendition on his permanent record. Not exactly shrewd movie choices.
Chris Pine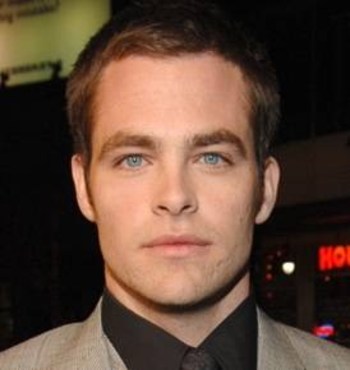 Starring as America's most beloved quarterback would be the logical next step for Pine as he rides the wave of momentum created by his take on James T. Kirk in this summer's Star Trek. Though he would need a thickening of the neck, Pine offers enough of a resemblance to pass as the QB.
Even though he is something of an unknown quantity, pulling off Captain Kirk and Tim Tebow would be as impressive as Derek Jeter cycling through Jessica Alba, Scarlett Johansson, Jessica Biel, Adriana Lima and Minka Kelly in the span of a few years.
Ok, maybe not quite as impressive, but you get the point.
Why he would: Pine can risk a flame out or two in the grace period immediately following Star Trek, so something like a Tebow movie with it's immediate relevance could be a decent job with a high upside.
Why he may not: He may not be interested in making a mainstream movie immediately after emerging from the Star Trek production. Perhaps he is set on making a couple art house indie flicks where he's a gay rodeo clown with a violent streak or something. That, or he may try to parlay his success into supporting roles on larger and safer movies.
James Van Der Beek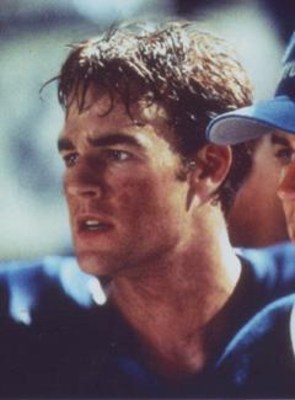 Only because how fantastic would this development be? First Jonathan Moxon and now Tim Tebow? James Van Der Beek would have a monopoly on my generation's important football movies.
It's not that he's even remotely convincing or good. Call it the William Hung Phenomenon: he's so poor at it that the entertainment value is not found in his portrayal, rather it is found in both the absurdity and futility of the effort.
Case in point? "I….DON'T WANT….YER LIFE!"
Although JVDB is neither built like nor does he even closely resemble Tebow, a quick glance at his IMDB dossier suggests his career's arrival at a desperation point. This can only mean that he is the actor most ripe for a complete physical transformation, because remember, anything is possible after 5 shipments of HGH. Just ask Brady Anderson.
Let's be honest though. What else does he have going for him? He's about 4 months away from a perp walking stint on Law & Order. Even the old lady who played "Grams" is experiencing more subsequent success than JVDB.
Why he may: Because it's either this or informercials. Isn't ShamWow looking for a new guy?
Why he may not: He may have already fallen off the face of the earth, but we have yet to take notice.
Channing Tatum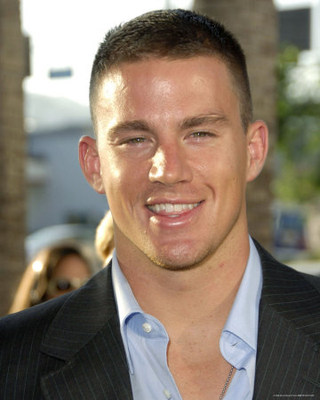 Although not as critically acclaimed as someone like Gylennhaal, Tatum bears a closer resemblance to Tebow in both size and appearance. Not only that, but his movie credits include a wide range of films featuring his athleticism.
Additionally, Tatum and Tebow share similar speech patterns. Neither are particularly eloquent and Tatum's natural cadence and rhythm would serve Tebow's sometimes meandering and stilted comments well.
With classics under his belt such as, She's the Man, Step Up, The Trap, and Step Up 2, let's just say that he's in need of a little role diversification. Like maybe towards movies that the average male would willingly watch.
Why he may: You could do a lot worse than be cast as the white media's golden boy. He has yet to land a role to put him on the map in terms of recognizability, so a role like this could help him resonate with southern males ages 18-36.
Why he may not: Conflict with filming Step Up 3.
Mark-Paul Gosselaar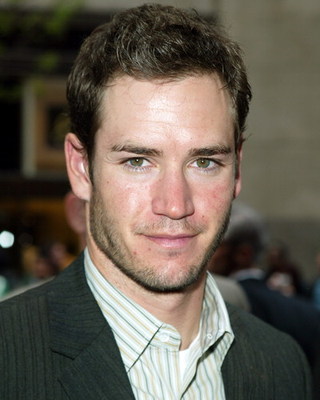 Yeah. That's right. Freaking Zack Morris as Tim Tebow. Don't even try saying you wouldn't watch this movie because you would and don't tell me he couldn't do it because he could. If he made us believe that Zack was capable of a senior year romance with Lisa Turtle, then he can pull off Tebow pancaking defenders. Of this, I am sure.
Worst-case scenario? He bombs and the movie sucks, but it would still be compelling in the confluence of iconic things in my generation's life span: Saved By the Bell and the Heisman Trophy. This movie would combine the smoothest high school slacker since Ferris Bueller with the greatest mobile quarterback since Tommie Frazier.
Even if it experienced a supernova-like implosion at the box office, it would still thrive on a basic level because of all the peripheral and fascinatingly relevant details behind the movie. It would be like the guy that played Steve Urkel (Jaleel White) starring in a Lebron James biopic. You can say it would suck, but you would see it. Twice probably.
Why he would: Because Raising the Bar seems nice and all but success within a niche fanbase can elevate a profile very quickly. Just ask Robert Pattinson.
Why he may not: In being largely defined by his time as Zack Morris, the bigger the stage, the more difficult it is for him to emerge from behind that role. Playing Tebow for a Lifetime movie could be plausible, but for a studio-backed movie? Risky.
Keep Reading

Florida Gators Football: Like this team?