Where: MetLife Stadium, East Rutherford, N.J.
Date and Time: Sunday, Feb. 2, at 6:25 p.m. ET
TV: Fox
Live Stream: Fox Sports Go
Spread: Broncos -2.5, per Vegas Insider (as of Jan. 24)
Over/Under: 47, per CBS Sports
Super Bowl XLVIII will be defined both before the game and afterward by how the No. 1 offense in the NFL in the Denver Broncos performs against the No. 1 defense in the NFL in the Seattle Seahawks.
Peyton Manning and his offensive weapons broke numerous scoring records this year, but Richard Sherman and the "Legion of Boom" will be Manning's most formidable test yet.
However, don't overlook Russell Wilson's impact from the other sideline.
Yes, Marshawn Lynch is the biggest star on paper for the Seattle offense, but the quarterbacks are always in the spotlight when it comes to the Super Bowl. ESPN Stats & Info provided a couple of intriguing tidbits regarding Manning and Wilson after each finished their respective conference championship game:
Russell Wilson: 27-9 as starter, tying Ben Roethlisberger for most wins by a QB in his first 2 seasons in the Super Bowl era

— ESPN Stats & Info (@ESPNStatsInfo) January 20, 2014
Manning: 4th QB in SB era to win Conf. Champ. after leading NFL in Pass yds & Pass TD, joining Marino (1984), Warner(2001) & Brady (2007).

— ESPN Stats & Info (@ESPNStatsInfo) January 20, 2014
So we have one of the best winners in the league in Wilson going up against arguably one of the best quarterbacks of all time in Manning. Let's dig into a few bold quarterback predictions for Super Bowl XLVIII.
Peyton Manning Throws Two Interceptions
Nobody is going to argue with Manning's greatness, but he will throw two interceptions during the Super Bowl.
That's less of a comment on Manning and more of a nod to the overall excellence of the Seattle secondary.
The Seahawks gave up a mere 172 passing yards a game during the regular season, and they picked off Colin Kaepernick twice in the NFC Championship Game. Sherman gets all the credit, and rightfully so, but this secondary wouldn't be nearly as good as it is if he was the only star.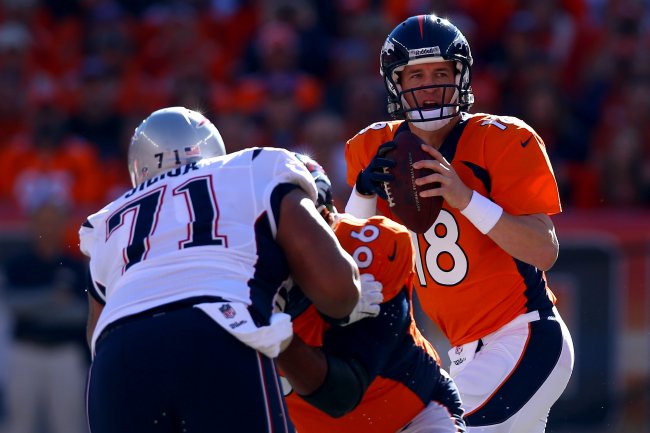 Doug Pensinger/Getty Images
Byron Maxwell will record one of the picks, while safety Earl Thomas snags the other. Manning is smart enough to avoid Sherman for much of the game, but he will try to the force the ball to the likes of Eric Decker and Wes Welker if Sherman shuts Demaryius Thomas down.
Thomas and Maxwell have nine interceptions between the two of them, and they will be ready to step up when the moment calls for it at Super Bowl XLVIII.
Russell Wilson Runs for More Than 50 Yards
The Broncos haven't been the best defense from a statistical standpoint this year, but that only tells half the story.
Teams are almost always behind against Manning and company, which forces them to throw it downfield for most of the game. That explains why Denver is 27th in the league in opposing passing yards allowed per game. The Broncos have also suffered from a number of injuries on the defensive side but have still turned in two excellent postseason performances thus far.
However, Von Miller's absence will finally be felt when Wilson breaks free with his legs.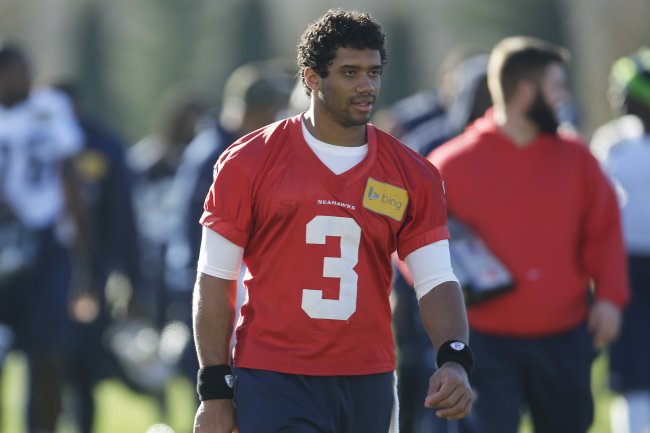 Ted S. Warren/Associated Press
Wilson ran for 539 yards this season and had four carries of 20 yards or more. The Denver defense will be so keyed in on stopping Lynch, that the bootleg will be available for the speedy Wilson more than once.
Look for Wilson to break free from containment and get the edge against the Denver linebackers throughout the game.
But He Wins the Game with His Arm
All season long the Seattle passing game has been overlooked.
Yes, it ranks a paltry 26th in the league in passing yards per game, but that is largely a factor of how often the Seahawks run the ball. Having Lynch in the backfield, as well as the fact that they led in almost every game they played, will do that to a game plan.
However, if you listen to Wilson, confidence is certainly not an issue for the Seattle passing attack (per Randy Covitz of The Kansas City Star):
It's one of those things that my confidence never wavers. Every time I step on the field, every time I place a call, I believe in it. That's never going to change for me…We have a great passing game. We can do things on time, on the money. We're explosive in the passing game, have been all year. We can do a lot of things. We're versatile on offense and it makes it tough on defense.
It was the Wilson-to-Baldwin connection that was so critical in the NFC Championship Game (Baldwin tallied 106 receiving yards), and it will be again in the Super Bowl.
Denver's defense will have trouble stopping the running games of Lynch and Wilson for three quarters, which will force it to commit more defenders to the box. Wilson will make the Broncos pay by connecting with Baldwin on a deep play-action pass in the final minutes for the final blow in a back-and-forth affair.
Seattle wins 28-27.