Grading Each Chicago Bulls Player's Performance at the Midseason Mark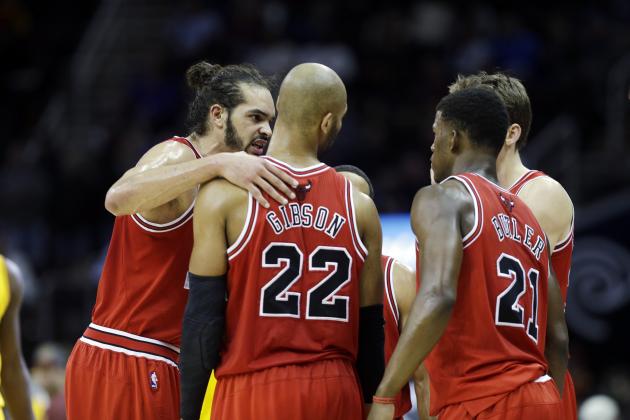 Mark Duncan/Associated Press

Handing out midseason Chicago Bulls grades is a tough job, but somebody had to do it.
We'll cover each player except for the injured Derrick Rose and newcomer Tornike Shengelia, who hasn't logged a single minute for his new squad.
And no appearance from Luol Deng either. Although he played 23 games as a Bull this season, the Chicago sports legend is now a member of the Cleveland Cavaliers.
But don't worry, guys like Joakim Noah, Taj Gibson and rookie Tony Snell received grades, as they have contributed to Chicago's surprisingly successful campaign.
The Bulls own a 22-22 record, which is incredible for a team without a pair of All-Stars in Rose and Deng. Coach Tom Thibodeau's gang is playing their usual top-notch defense and sharing the basketball each and every night.
What midseason grades did Noah and Co. receive?
All stats are from Basketball-Reference.com and accurate as of Jan. 28, 2014
Begin Slideshow

»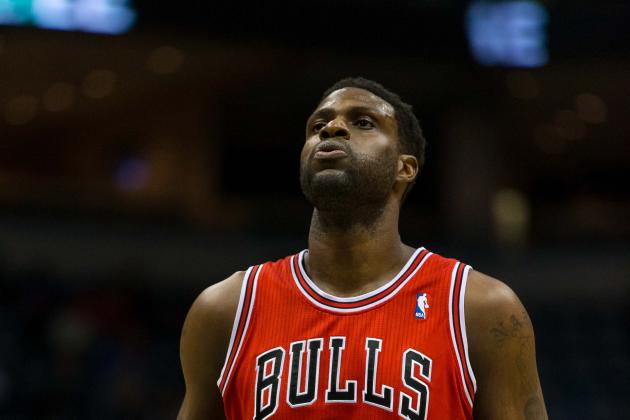 Jeff Hanisch-USA TODAY Sports

Nazr Mohammed
During the offseason, Nazr Mohammed was re-signed to back up Joakim Noah, which was the same role he played last year.
The Chicago native has seen his playing time decrease, as Taj Gibson has received more minutes at center.
In 7.8 minutes, he is averaging 1.6 points and 2.3 rebounds while shooting 36.4 percent from the field.
Grade: C
Erik Murphy
The Bulls selected Erik Murphy during the second round of last June's draft. So far, we haven't seen much of the sharpshooting big man. He has logged only 42 minutes, totaling four points, four rebounds and two blocks.
He may turn out to be the next Matt Bonner down the road, but right now he's just a guy who collects a lot of did not plays.
Grade: B
Mike James
Mike James is in his second Bulls stint of the season. The veteran point guard was waived by the team on Dec. 16 and then recently re-signed.
He has put up one point and 1.5 assists in 11 games for the Bulls this season.
Grade: Incomplete
Cartier Martin
Cartier Martin is on his second 10-day contract with Chicago. He had a nice performance during the Jan. 11 victory over the Charlotte Bobcats. Off the bench, he poured in 11 points and hit both of his three-point attempts. There's a chance that he'll stay with the Bulls for the remainder of the season.
Grade: Incomplete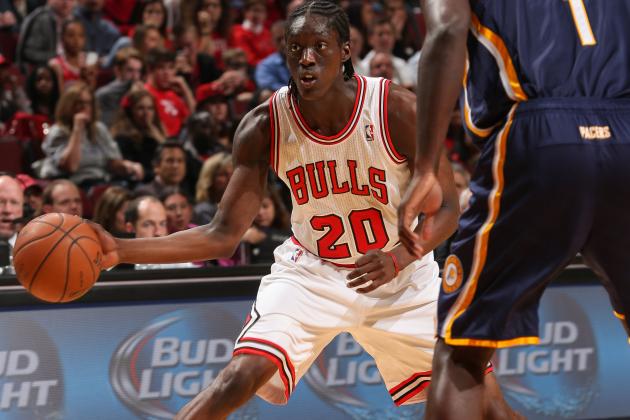 Gary Dineen/Getty Images

Drafted 20th overall in last June's draft, Tony Snell wasn't expected to play much as a rookie. If you've followed the Bulls over the past few years, you know Thibodeau isn't a fan of using first-year players.
However, Snell has served as a rotation player, averaging 20.3 minutes a night and actually starting 10 games.
The 6'7" New Mexico product could emerge as a starter in the not-so-distant future, especially with the departure of Deng. A solid defender, he can shoot and put the ball on the floor at times.
Bulls management is often criticized for being cheap, but it definitely knows how to draft well. Taj Gibson and Jimmy Butler are prime examples, and now Snell is making Gar Forman and Co. look like geniuses.
Grade: B-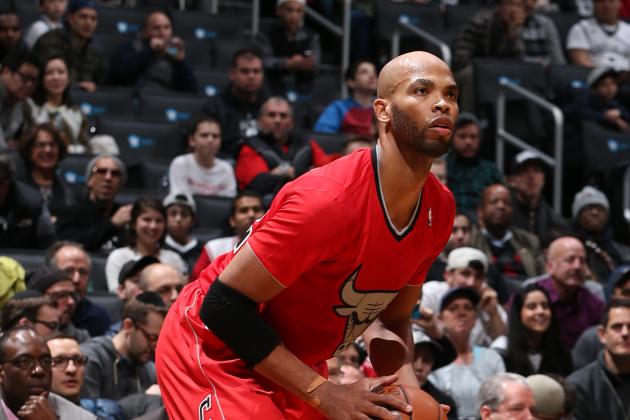 David Sherman/Getty Images

The Bulls signed Taj Gibson to a four-year, $38 million extension back in Oct. 2012. While that's a huge contract for a reserve, it appears that the team isn't wasting its money.
Gibson, who bulked up and worked quite a bit on his game during the offseason, is having his best season since joining the league in 2009. He's averaging career highs in scoring, blocks, assists and free-throw percentage.
Starting only 99 of his 334 career games, he needs to become a full-time starter. He has averaged 17.2 points and 9.4 rebounds per contest in five starts this season, which are remarkable numbers.
He was phenomenal during the Dec. 2 triple-overtime loss to the New Orleans Pelicans, contributing 26 points, 14 rebounds and five blocks. He also scored 26 against the Cleveland Cavaliers on Jan. 22.
Yeah, this guy needs to be a starter. Move over Carlos Boozer!
Grade: A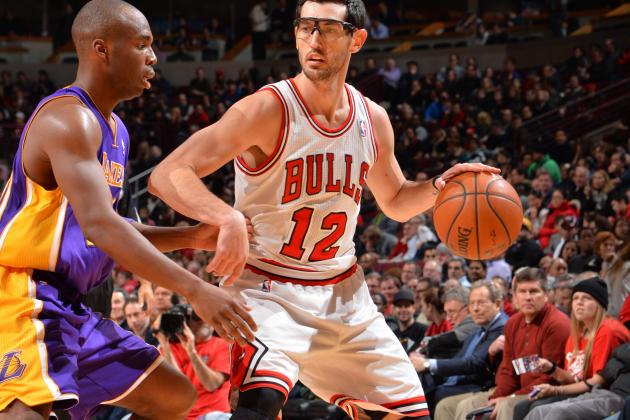 Jesse D. Garrabrant/Getty Images

Injuries have Kept Kirk Hinrich out of the lineup for nine games. When healthy, he has played lousy this season, to say the least.
While he always plays hard-nosed defense—which makes him a Thibodeau favorite—his offense has been horrific. He's averaging eight points and just 4.7 assists while shooting 35.1 percent from the field and a miserable 29.2 beyond the arc.
In the Dec. 10 loss to the Milwaukee Bucks, Hinrich played 39 minutes, finishing with one point on 0-of-10 shooting from the field. Yes, it has been that kind of season for "Captain Kirk."
There's a possibility that Hinrich will be dealt to a contender at the trade deadline. Although he won't contribute Stephen Curry-type shooting, he can provide quality D off the bench as well as veteran leadership.
Grade: D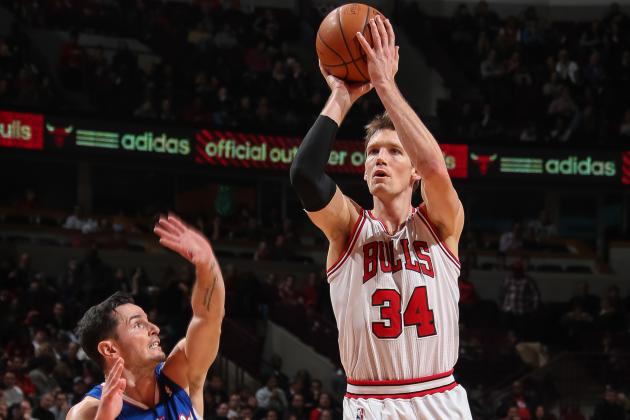 Joe Murphy/Getty Images

Signed by Chicago last summer, Mike Dunleavy Jr. figured to back up Deng at the small forward spot. Yet, he has started 23 games due to injuries and the Deng trade.
He has shown the ability to shoot from deep (41.0 percent) and pass the rock (2.1 assists). He's also averaging a respectable 11.3 points per contest.
The former Duke star has come up with a few stellar performances as a Bull. He produced 24 points, five rebounds, three assists and two blocks against his former team, the Milwaukee Bucks.
In addition, he recorded 23 points, seven boards, five assists and two steals against the New Orleans Pelicans. He also hit six of his 10 three-point attempts in that contest.
Whether starting or coming off the bench, Dunleavy has proved to be an excellent signing for the Bulls.
Grade: B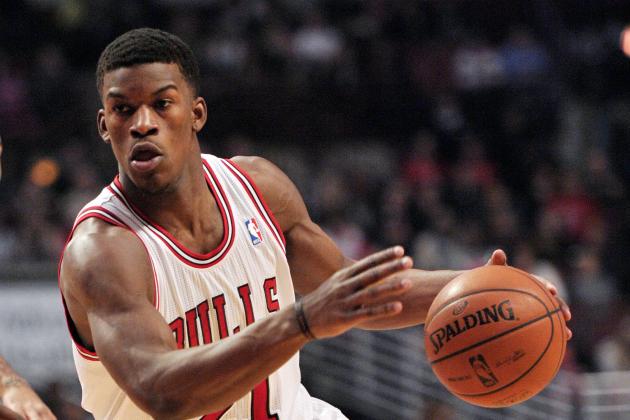 Rob Grabowski-USA TODAY Sports

Jimmy Butler has come a long way. He went from rarely playing as a rookie (2011-12) to being Chicago's starting shooting guard this season.
He provides incredible effort on both ends of the floor. Yet, he is known more for his defense, as he's capable of locking down the opposing team's top perimeter scorer on a nightly basis.
He is averaging 11.9 points, 4.6 rebounds, 2.2 assists and a team-leading two steals per contest. He has reached the 20-point mark four times, already matching last season's total.
He played a franchise 60 minutes in the Bulls' triple-overtime win over the Orlando Magic. That's an insane amount of minutes for one game. He was huge in that contest, contributing 21 points, seven boards and six assists.
Unfortunately, he is shooting only 36.3 percent from the field and has hit 27.4 percent of his three-point attempts this season.
Hopefully Butler, who has missed 13 games due to injuries, can stay healthy for the remainder of the year.
Grade: B-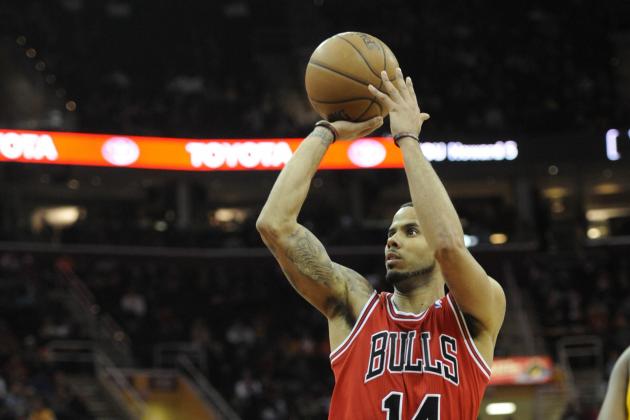 David Richard-USA TODAY Sports

Like every year, there have been several surprises around the league. The Portland Trail Blazers, Phoenix Suns and Michael Carter-Williams come to mind. You can go ahead and add D.J. Augustin to the list as well.
In early December, the 2008 lottery pick was jobless after being waived by the Toronto Raptors. Nowadays, though, he is one of the top players on the Bulls roster.
Signing with Chicago on Dec. 13, he has played like an All-Star at times rather than a guy who the Raptors didn't want.
Through 24 games as a Bull, he is averaging 13.6 points, six assists and 1.2 steals. He has reached the 18-point mark in eight of those contests.
His 28 points and six three-pointers helped the Bulls defeat the Charlotte Bobcats, where he played for his first four seasons. It was the third time in the last four games that Augustin had scored at least 27 points.
The Bulls landed a cheap impact player last year in Nate Robinson, and now they've found another.
Grade: A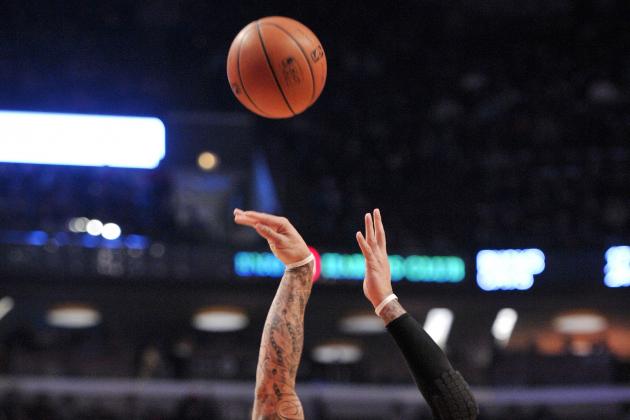 Rob Grabowski-USA TODAY Sports

Sadly, you can't say much about Carlos Boozer without mentioning the word "amnesty." Chicago will likely part ways with the 12th-year forward this summer after years of rumors, per DeAntae Prince of Sporting News.
Boozer is putting up decent stats this season (15.1 points and 8.6 rebounds), but those aren't the numbers that a player who earns $15 million should be producing.
He has looked great against the defending champion Miami Heat, though, averaging nearly 30 points per contest in two contests.
He has put together several other great performances like his 26-point, 16-rebound night against the Utah Jazz as well as 19 and 13 against the Milwaukee Bucks.
Unfortunately, he has six single-digit scoring games under his belt. He'll have to put up Kevin Love/LaMarcus Aldridge-type number for the rest of the season in order to avoid the amnesty clause.
Grade: C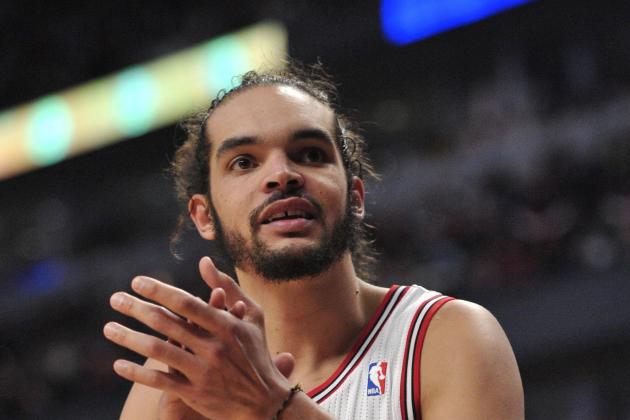 Rob Grabowski-USA TODAY Sports

With Rose and Deng out of the picture, Joakim Noah is "The Man" for the Bulls.
He just wasn't himself at the start of the year, after playing just one preseason game due to injury. Thankfully, he has turned things around and could possibly make his second consecutive All-Star appearance.
Noah is one of the most complete big men in the game today. He can score, rebound, block shots and passes the ball extremely well (4.1 assists per game). There's not much he can't do on the basketball court.
During the Jan. 15 win over the Orlando Magic, he recorded 26 points, 19 boards, six assists, two blocks and two steals. He deserves to be called "Mr. Everything" after a performance like that.
Deng was traded earlier this season, and Boozer is basically guaranteed to be amnestied during the offseason. But it's safe to say that Noah isn't going anywhere.
Grade: A