The inevitable debate that comes with the announcement of the NBA's All-Star starters is well underway, and with the abundance of snubs, there's plenty to discuss.
Indeed, the absences of LaMarcus Aldridge and Roy Hibbert from their respective conference's lineups has left more than a few fans scratching their heads, but it's the surprise inclusion of oft-injured stars Kobe Bryant and Dwyane Wade that is particularly puzzling.
Aldridge has led the Portland Trail Blazers to a 32-11 start with a player efficiency rating (23.96) that ranks eighth in the NBA. Hibbert has been nearly equally as impressive, acting as the defensive anchor for the NBA's best defensive team.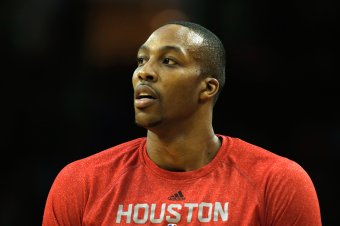 Scott Halleran/Getty Images
While strategy certainly doesn't factor into the All-Star voting process in the slightest, those who will be supporting the Western Conference in New Orleans have to wonder whether Dwight Howard's presence would have been too much for the center-lacking Eastern Conference to overcome.
Indeed, Howard's absence from the starting lineup means we almost certainly won't see a matchup between him and the East's likely starting center, LeBron James, though that could still occur later in the game. It would have been a treat for basketball fans to see that matchup, but it's possible we'll never know how it would've played out.
Who is this year's least-deserving starter?
Finally, despite the surprise of Kevin Love's inclusion, it's clear that he belongs. He ranks fourth in the NBA in player efficiency rating and points per game, and he is second in rebounds. For those who are upset about Howard's exclusion, blame Blake Griffin instead of the more-deserving Love for stealing the forward spot.
With the inclusion of Bryant and Wade, and the snubs that include Aldridge and Hibbert, the All-Star voting system is still far from perfect. With that being said, let's see what Twitter had to say about the snubs and surprise inclusions from the 2014 NBA All-Star game voting.
First off, for a bit of a refresher, USA TODAY Sports posted a graphic of the starters for each conference.
A look at the NBA All-Star Game starters: http://t.co/GZPKYoJEFp pic.twitter.com/9WHc3OAyuL

— USA TODAY Sports (@USATODAYsports) January 24, 2014
Despite Hibbert's absence from the East's lineup, SB Nation's Tom Lewis was in good spirits about the inclusion of Pacers MVP candidate Paul George.
Congratulation to Paul George, set to take his place among the NBA's elite at the 2014 All-Star game! http://t.co/gr54GCzUI2

— Tom Lewis (@IndyCornrows) January 24, 2014
ESPN's Chris Broussard also agreed with the selection of George, but he felt Hibbert also deserved a starting spot.
My East starters: LJ, PGeorge, RHibbert, DWade, JWall

— Chris Broussard (@Chris_Broussard) January 24, 2014
Continuing with the theme of Eastern Conference snubs, the Washington Wizards' SB Nation team made sure John Wall knew their ad campaign was a valiant effort despite failing to grant Wall a spot in the starting lineup.
.@John_Wall We tried man. We really, really tried.

— Bullets Forever (@BulletsForever) January 24, 2014
In the West, Bryant made a classy gesture in light of his inclusion among the starters by acknowledging the hard work of the younger stars.
Kobe Bryant says he has no desire to accept All-Star start. pic.twitter.com/bfcyVrOk0v

— SportsCenter (@SportsCenter) January 24, 2014
Perhaps the biggest snub of all, Aldridge, expressed his displeasure following a 44-point, 13-rebound outburst on Thursday.
After lighting up the Nuggets for 44 points, LaMarcus Aldridge says he deserved to start the All-Star Game. http://t.co/hnOQ6LFfl6

— SB Nation NBA (@SBNationNBA) January 24, 2014
Despite there being a great deal of support for Aldridge, ESPN's Kevin Arnovitz doesn't think the Trail Blazer big man's cohort, Damian Lillard, is quite as deserving.
If CP and Westbrook don't play, Mike Conley should be next man up for West backcourt. Kept Grizz together w/ scotch tape. Also defends.

— Kevin Arnovitz (@kevinarnovitz) January 24, 2014
Who is this year's biggest snub?
While picking Conley over Lillard is rather puzzling, it's easy to see where Arnovitz is coming from, mostly thanks to Conley's stellar defense.
In short, it's clear that the fans didn't get everything right in this year's voting, but the majority of the starting rosters are still spot on. The given inclusions of LeBron James, Kevin Durant and George, in addition to the pleasantly surprising picks of Love and Warriors shooting and passing ace Stephen Curry (averaging 23.5 points, 9.2 assists with a 22.39 PER), means NBA fans still give some players their due when it is deserved.
Just wait for the reserve selections—this debate is only just getting started.