Updates from Saturday, Jan. 25
Durant will play tonight, according to Anthony Slater of The Oklahoman:
Kevin Durant WILL play tonight against the Sixers.

— Anthony Slater (@anthonyVslater) January 25, 2014
---Original Text---
Apparently there is one thing on Earth that can stop Kevin Durant—his own shoulder.
The Oklahoma City Thunder superstar has been on an absolute tear as of late, but he will miss the team's Jan. 24 game in Boston against the Celtics.
Durant had previously been a game-time decision due to a shoulder injury, per A. Sherrod Blakely of Comcast SportsNet:
#Thunder star Kevin Durant (shoulder) game time decision tonight vs #Celtics. Aggravated it in OKC's win over the #Spurs on Wednesday.

— A. Sherrod Blakely (@SherrodbCSN) January 24, 2014
Sean Grande, the voice of the Boston Celtics and a commentator on CBS Sports Network, let us know that the Celtics will have a much easier go of things against Oklahoma City now:
Kevin Durant out tonight in Boston. Perry Jones starts in his place.

— Sean Grande (@SeanGrandePBP) January 24, 2014
Durant lit up the San Antonio Spurs in his last game for 36 points, seven rebounds and five assists behind 12-of-22 shooting from the field and 10-of-11 from the free-throw line. However, it was apparent to those watching that there was some discomfort in his shoulder as he left the floor after the game.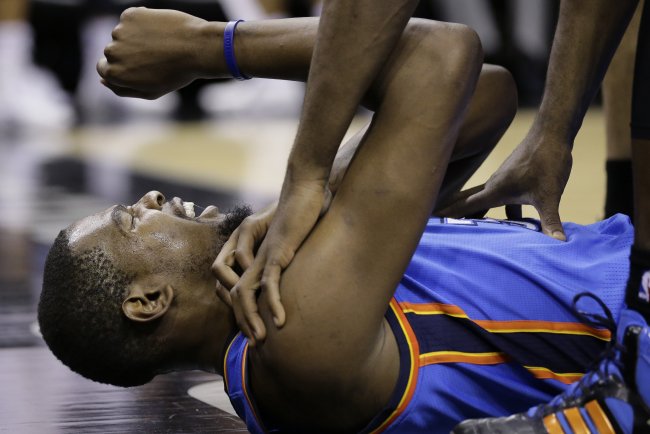 Eric Gay/Associated Press
The timing isn't ideal for Durant or the Thunder because he has been the most dominant player in the entire NBA as of late. He is averaging better than 38 points a game in his last 11 contests and topped 45 points in four of those. He also set a career-high of 54 points against Golden State in that stretch.
Mitch Lawrence of the New York Daily News pointed out just how incredible Durant has been playing:
Kevin Durant has never been better than he's been this month. He's averaging 37 ppg while leading his team - minus Russell Westbrook - to wins in the past week alone over the Rockets, Warriors, Blazers and Spurs. What's he trying to do, unseat LeBron James as MVP?

The timing is also less than ideal because of the other injury that Oklahoma City is currently dealing with. Royce Young of CBS Sports points out an interesting tidbit:
Wow, Kevin Durant is sitting out tonight because of his sore shoulder. First game in OKC history neither Westbrook or Durant will play.

— Royce Young (@royceyoung) January 24, 2014
Young also notes that it certainly isn't a lack of toughness that is keeping Durant out against Boston:
The injury happened with 5:41 left in the third. KD stayed in and scored 15 of his 36 after it.

— Royce Young (@royceyoung) January 24, 2014
The Thunder are currently battling with the San Antonio Spurs and Portland Trail Blazers for the top seed in the Western Conference, so any missed time for Durant is critical. However, with a trip to Miami on Jan. 29 looming, look for Durant to use this game against the weaker Celtics to try to heal.