5 Must-Have, "Super" Apps for Super Bowl XLVIII Visitors
Use your ← → (arrow) keys to browse more stories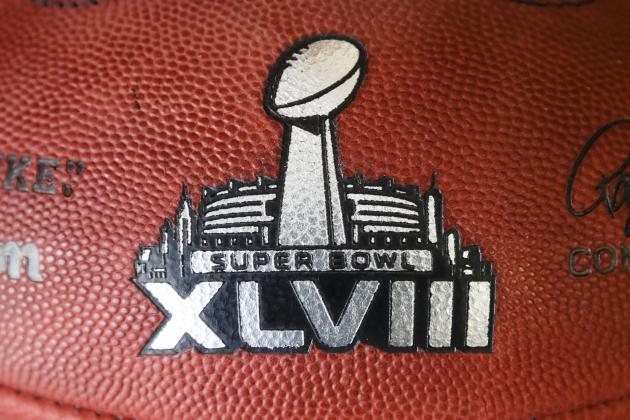 Rick Osentoski/Associated Press

If you're planning to be in the New York metro area for Super Bowl XLVIII, you can expect to be on the go almost daily.
That's because the events of Super Bowl week are spread out across the New York metropolitan area, with most taking place in Manhattan, such as Super Bowl Boulevard, and in New Jersey, such as media Day and the game itself.
The New York Metro area can be a bit intimidating to first-time visitors, but fear not! In addition to the numerous ambassadors you'll likely find at the airports and at key events, there are some smart phone apps that you can download that will help you get around with minimal delay.
Here's a list of five apps that I regularly use to help me get around the area with ease.
Exit Strategy NYC
The New York City subway system not only stretches for miles across the five boroughs, but many of the station stops can span several city blocks.
So if you're looking for a personalized tour guide to help you figure out where to board trains so that you're closest to the correct exit for your destination, Exit Strategy NYC is for you.
You'll spend less time wandering around the subway platforms and tunnels wondering which exit to use. This will probably be invaluable for users who are running late, or for who don't want to walk that extra long city block or two in the freezing cold weather conditions that are expected during Super Bowl week.
Exit Strategy NYC lets you do a search by subway line and advises what car you want to be on in order to be nearest to your exit at your destination station. You can also use the app to figure out your connecting trains.
The app also has complete and official maps of the New York City subway system, city bus maps for all five boroughs (Manhattan, Brooklyn, Queens, Bronx, and Staten Island) and maps of a few popular city neighborhoods.
The app's iOS version is listed as $4.99 on the developer's web site; however, the App store has it listed for $3.99.
There are also versions for Android, Kindle and Blackberry; please see the developer's web site for more information and pricing for each version.
CrossWalk NYC
Finding an address in Manhattan just became a lot easier thanks to CrossWalk NYC.
Developed by 10base-t Interactive, you can find the cross street in a few easy steps. Simply choose from avenues or streets, enter the building number of your destination's address and hit the calculate button.
Within seconds the app will tell you the cross street, provide a link that lets you plot it on Google Maps and instructs you how to reach that destination via HopStop if you have your location services turned on.
In addition, the app also provides service advisories for the New York City subway lines.
You can get a lite version of the app for free for your iOS device.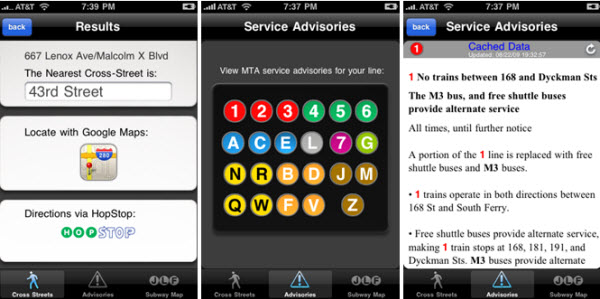 Courtesy of 10base-t Interactive
Beat the Traffic
If you hate getting stuck in traffic as much as I do, the "Beat the Traffic" app by Pelmorex Media Inc. is a must-have.
By enabling your location service on your smart phone, the app can advise you of vehicle accidents, construction lane closures, traffic hazards and more.
Simple color coding can also help you gauge the flow of the traffic's movement, e.g. green means all clear, orange means delays, and red means traffic is at a standstill.
Users can also report a traffic incident and create a turn-by-turn route to a destination based on the best possible route. User entered routes also show traffic delays and incidents along a specific route.
Not sure if the weather is affecting where you're going? Activate the app's weather feature to find out what the conditions are like on the roads ahead.
This free app, which you can use anywhere in the U.S. is available for both iOS and Android phones.
Courtesy of Pelmorex Media Inc.
Embark NJ
Need a good mass transit app to help you get around New Jersey, site of Media Day at the Prudential Center in Newark and, of course, the Super Bowl itself?
Embark NJ, developed by Embark, Inc, an independent developer not affiliated with NJ Transit, is a free app for iOS offering a system-wide map and trip planner of the NJ Transit rail and light rail systems.
Get estimated travel times, train lines, train numbers, and number of station stops to help you plan your travels to and from events.
You can also find nearby NJ Transit stations using the app's station search feature and map it in the Maps application. In addition, this app features trip advisories and links to NJ Transit's official web site.
You can learn more about the Embark series of apps from this video, which, although demonstrating Embark-NYC, is very similar to Embark NJ.
SitOrSquat
If you're on the go, and suddenly nature calls, Procter & Gamble, the manufacturers of Charmin toilet tissue, has a great app called SitOrSquat.
This handy little app will use your location to point you in the direction of the nearest public restroom.
Even better, if you're in the car and aren't sure how far the next rest stop is, you can type in your current location to bring up a list of available restroom facilities and their approximate distance from your current location anywhere in the country.
The free SitOrSquat app is available for both iOS and Android smart phones. For more information, visit https://www.sitorsquat.com/
As with any apps, please use discretion in disclosing personal information, especially over public hot spots.