Borussia Monchengladbach vs. Bayern Munich: 6 Things We Learned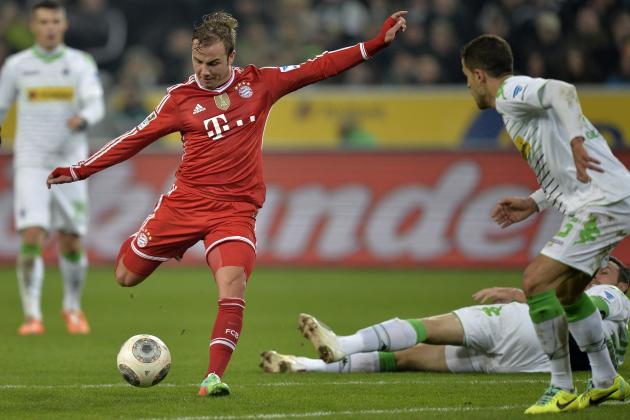 Martin Meissner/Associated Press

It should come as no surprise that Bayern Munich kicked off the first Bundesliga match of 2014 with a comprehensive 2-0 win at Borussia Park this evening with hosts Borussia Moenchengladbach powerless to deny them.
It took Mario Gotze just seven minutes to break the deadlock when a spirited run from Thomas Mueller rewarded him with space and time to cut the ball back to the false nine. Gotze duly knocked the ball past the helpless Marc-Andre ter Stegen in goal.
Pep Guardiola's side then took control and, for much of the first half the game, looked like no more than a training exercise with Philipp Lahm and Co. charging at an intimidated defence. Then a Juan Arango free-kick caught Manuel Neuer slightly by surprise before a shot from Max Kruse smacked off the right post a few minutes before half time. Bayern went into the break a goal up but with the job far from done.
Then came the second half, and with it an odd replay of events that had come before in the first half. A mix up in the Gladbach box—which saw an outstanding save from ter Stegen at one point—led to a blatant handball from Granit Xhaka. Just seven minutes after the restart, Mueller converted the spot-kick to double his side's lead.
In an even odder turn of events, we once again saw Gladbach have their brief stints of dominance, with Patrick Herrmann taking aim and almost pulling one back for his side with a fantastic shot that smacked off Neuer's right-hand post for the second time of the night. A few minutes later, the young wide-man missed a true sitter, and then Gladbach went silent.
Bayern had their two goals and were in cruise control. With the first game of 2014 all wrapped up, here are six things we learned.
Begin Slideshow

»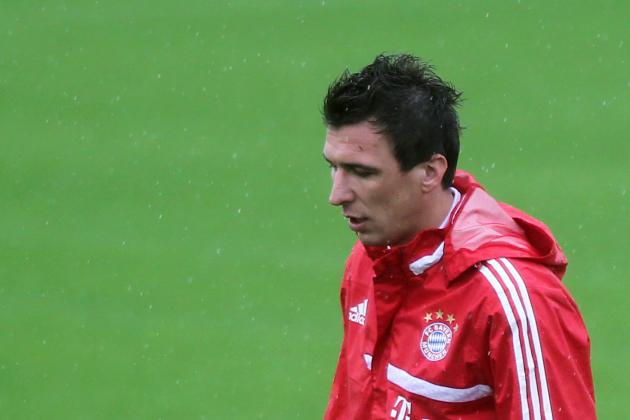 Osama Faisal/Associated Press

The Mirror reported Mario Mandzukic's absence in the side just prior to kick-off, allegedly due to the player's attitude during training sessions throughout the week—which will undoubtedly lead to a number of rumours linking the striker with moves all over the Continent next week. Yet Bayern did actually miss their towering Croatian forward in the form of some genuine direct accuracy up front.
Thomas Mueller and Gotze combined well at times, but the frustration that was clear from Guardiola at half-time was that of how his side hadn't scored more than one goal—a direct consequence of dropping his only striker.
They were lucky in the sense that a penalty was all that it took to put Gladbach to the sword, but against greater opponents, it will take more than a late appearance from Claudio Pizarro to keep the goals flowing.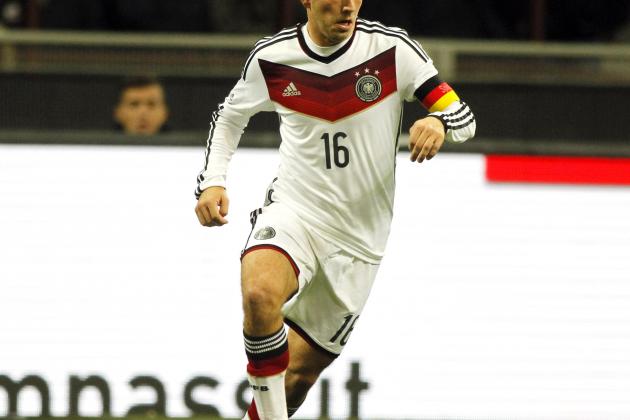 Felice Calabro'/Associated Press

Tonight's opening tie against Gladbach was a special occasion for Bayern's own captain, Philipp Lahm, who played in the 300th Bundesliga game of his career.
Lahm may have found himself in a new role at the club this season since the arrival of Guardiola, but he has taken it in his stride. As we saw in tonight's game, the newly transformed midfielder has a quiet brilliance about him that makes his skill vital to Bayern's success.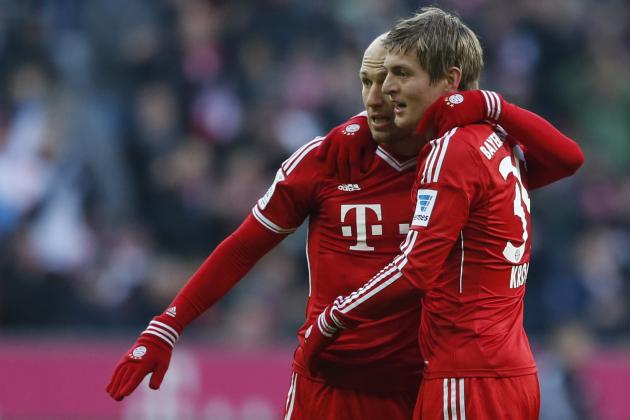 Matthias Schrader/Associated Press

It was Franck Ribery who made the initial call to arms after the turn of the year when he said his fellow European conquerors could continue their unbeaten run in 2014 and continue their march toward further silverware.
Alas after tonight's game Bayern, now sit with nine consecutive wins in the Bundesliga, 26 unbeaten away matches and an overall record of 42 games unbeaten since last season.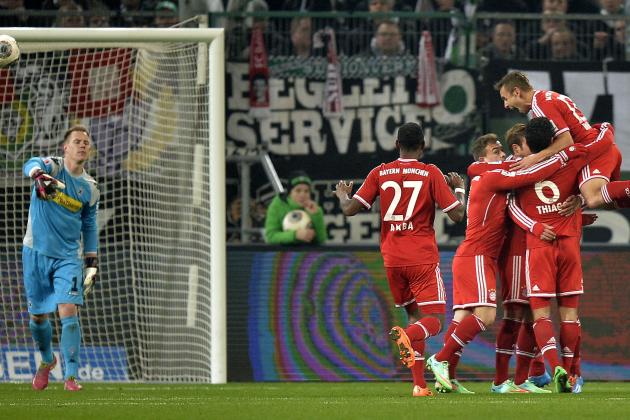 Martin Meissner/Associated Press

As previously mentioned, the manner of Bayern's goals in tonight's game had something of a pattern about them. Although not as if to say Gladbach looked completely inpenetrable at times, the home side did look significantly stronger at the back in the latter stages of both halves while looking incredibly vulnerable in the opening 10 minutes of each.
It's not a huge problem against a side like Bayern, but it's certainly a chink in the armour that other sides will have picked up on.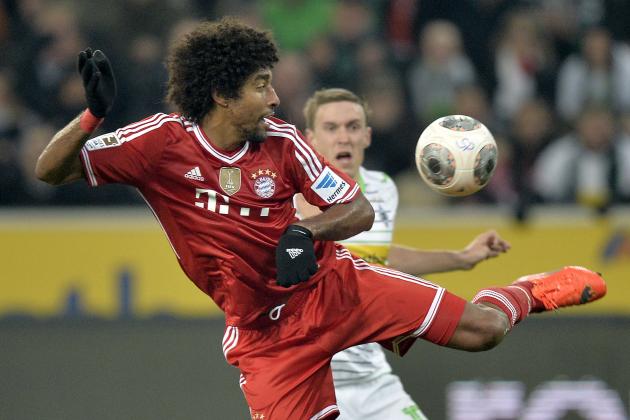 Martin Meissner/Associated Press

If we were to pick up on one minor point in Bayern's performance tonight, it would be the fact that they didn't quite look as perfect off the ball as they did when it was at their feet.
Gladbach had their chances, and each one undoubtedly came about from the home side going direct and putting pressure on Dante and Rafinha's positioning and the manner in which they marked the Foals' forwards. Kruse hit the post, and so too did Patrick Herrmann—each one finding time and space in Dante's shadow.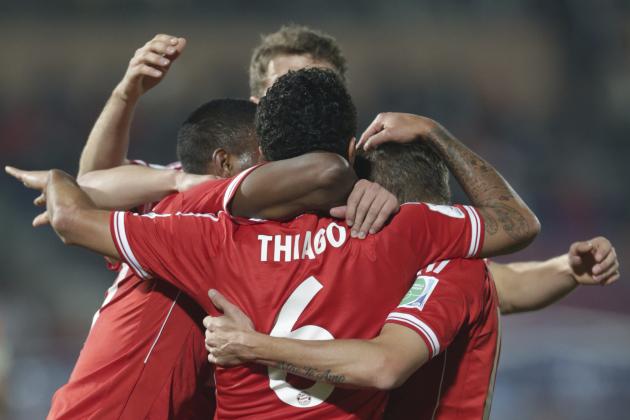 Matthias Schrader/Associated Press

There will be a lot of genuine anger and disappointment throughout Germany tonight through the manner in which Gladbach failed to really offer too much in terms of genuine competition to Bayern in this opening game of 2014.
Nobody would have expected the Foals to have had their way with Guardiola's side, but in the fortress that is Borussia Park, we should have seen more from Lucien Favre's team. There was an intimidation and fear that just echoed from Gladbach tonight, which is never a great sign from any side. Bayern walked through this game with relative ease and continued their domination of the Bundesliga season.