The 2014 edition of the Australian Open has been littered with wild twists and turns, highlighted by the defeat of No. 2 seed Novak Djokovic at the hands of No. 8 seed Stanislas Wawrinka.
Wawrinka's epic run has resulted in a men's final for the ages, as he must now overcome the red-hot Rafael Nadal.
Wawrinka and Nadal have plenty of history, although none of it favors the Swiss underdog—Nadal has won all 12 of the two meetings between the two sides. As Wawrinka's tattoo (which is beginning to garner national attention) illustrates, though, his motto applies perfectly to the situation.
"Ever tried. Ever failed. No matter. Try again. Fail again. Fail Better." #Wawrinka #AusOpen pic.twitter.com/chwECCTQ6c

— ESPNTennis (@ESPNTennis) January 21, 2014
Two storylines rise above the rest in what is sure to be an epic match.
Where: Melbourne Park, Melbourne, Australia
When: 3 a.m. ET on Sunday, Jan. 26
Watch: ESPN
Live Stream: Watch ESPN
Will Nadal's Health Hold for One More Match?
Matt King/Getty Images
Most of the talk in the tennis world as of late has concerned Nadal's hand, which has a nasty blister, as captured by BBC Sport on Twitter.
Rafa Nadal says a blister on his hand is affecting his serve, but he'll be fine with the rest of his game #bbctennis pic.twitter.com/eyaXKbM4Wy

— BBC Sport (@BBCSport) January 24, 2014
The injury certainly had an impact on Nadal's play, but fans would not know it with the way he dismantled rival Roger Federer in the semifinals, 7-6 (7-4), 6-3, 6-3.
After the match, Nadal told Piers Newbery of BBC Sport that the blister is fine in normal activities, but the location of the wound is horrific for tennis purposes.
The blister is good. It looks better every day. We are doing the right things. The blister today is not a problem any more for normal life. It's not painful. The problem is to play tennis. The only problem is the position of the blister, the place.
The injury should in no way encourage those in Wawrinka's corner. Nadal just dominated Federer in a little more than two hours. Similarly to Nadal's record against Wawrinka, Nadal holds a major career advantage over Federer with the mark now 23-10 in his favor.
Monitor Nadal's health closely in the final. He will undoubtedly attempt to play through any and all pain, but should the issue flare up, it may have a negative impact on his game.
Which Tidal Wave of Momentum Will Prevail?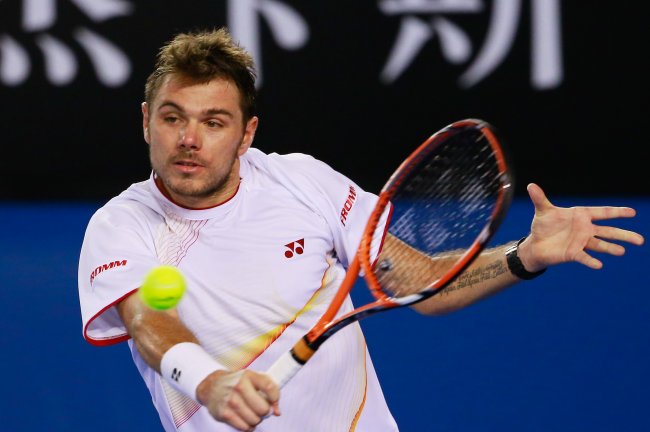 Scott Barbour/Getty Images
Both Wawrinka and Nadal enter the final with a hefty amount of momentum. Nadal's is the more well-known story at this point, as he has moved past a rather easy bracket outside of the unpredictably simple win against Federer.
Wawrinka has done well for himself with upsets over Djokovic and Tomas Berdych. These can be attributed to his outstanding serve and ability to score on long points, of which Nadal is more than aware, per the tournament's Twitter account.
#Nadal "I saw (Stan) play v Novak, v Berdych. He's doing great. I know him, he's a good friend, he's serving unbelievable." #ausopen

— Australian Open (@AustralianOpen) January 24, 2014
In the aforementioned win over Berdych, Wawrinka won 82 percent of his first serves. Throughout the course of the tournament, he has sprinkled in an effective backhand and forehand.
Wawrinka understands the impressive momentum he has obtained to reach the final, per Richard Hinds of The Daily Telegraph.
The most important is that my game is there. If I make the final here, it's because I beat Berdych tonight, I won against Novak also. I had some great matches. So that means I have the level to be there.
Nadal understands that his past history—both in the tournament and against Wawrinka—will mean little when the two hit the court in the final.
#Nadal "I go on court knowing that I play against a player that is unbelievable & what has happened in the past prob won't help me." #fedal

— Australian Open (@AustralianOpen) January 24, 2014
So will Wawrinka, riding an epic amount of momentum, finally arrive as a major force in men's tennis? Or will Nadal, who has overcome more odds than usual, merely continue on his path as one of the sport's best?
Fans will not want to miss the epic conclusion to an amazing start of the season.